Severe Weather Hits Yunnan Province
February 18, 2008 12:00 am Last Updated: February 18, 2008 12:00 am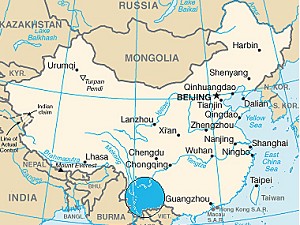 Since February 12, Qujing, the second largest city in southwest China's Yunnan Province, was hit by severe ice and snow storms. Power stations, coal supplies, and the entire transportation system all sounded emergency alarms in this sub-tropical area.
According to a Spring City Evening News report on February 16, since the evening of February 12, severe weather hit Qujing City. Almost the entire city is covered with ice, the lowest temperature was -10°C (14°F), and the daytime temperature is around -1°C (30°F). This was the most severe freezing weather in Qujing City in 30 years.
Yunnan Province Economic Committee Chairman Liu Shaozhong, indicated that 90 percent of Qujing City was covered with ice, the power transmission system was disrupted in a large area. As of February 15, five 500 kilovolt lines, six 220 kilovolt lines, eight 110 kilovolt lines in Qujing City stopped functioning, more than 39 counties and towns in the area are without electricity, the total population affected reached over 2 million.
Qujing City is an important heavy industrial base in Hunan Province, which also is the main power source. The total capacity of the coal-fired power plant in Qujing constitutes 56 percent of the provincial coal-fired power supply. Most surrounding cities and counties rely on power from Qujing City.
Presently Qujing City's coal reserve is only 20,000 tons which is five to six days' normal supply.
According to news from Yunnan Provincial Communications, because of the road blocks caused by the snow, since the evening of February 14, six highways in Qujing City were closed.
Huize County in Qujing City has had heavy continuous snow fall of up to 50 cm (20 inches) deep, which is extremely rare in this area of China. Because of the snow, rain and low temperature weather, as many as 20,000 cars and 50,000 passengers had been held up on the highways at one time.
Qujing City has an average winter daytime temperature of 14°C (57°F) and summer 19°C (66°F). Qujing City has typical sub-tropic temperatures in the lower elevations of the city. It is located in Yunnan Province, which borders on Vietnam, Laos and Burma.