Security Tightened for Parliament Sessions in Beijing
March 4, 2010 9:08 pm Last Updated: March 5, 2010 12:38 am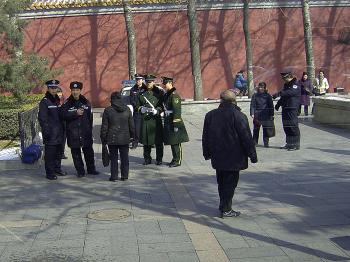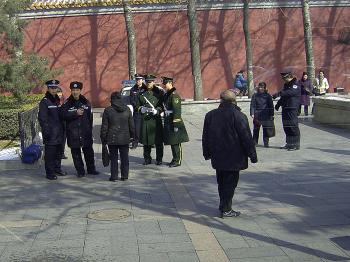 Security level for the two upcoming annual parliament sessions was raised to the highest level on March 1, with a tri-level defense line formed by 700,000 people.
According to the state-run Xinhua Net, a security plan called "Hu Cheng He Action" (i.e., "Operation Moat") will implement a dynamic, round-the-clock control in eight districts in Beijing by deploying police and armed patrol vehicles.
The heavy guard may be used to stop desperate appellants, who intend to spell out their grievances, and in reality want to catch a "people's representative" of either the Chinese People's Political Consultative Conference (CPPCC) or the National People's Congress (NPC).
Bags Searched and Petitioners Abducted
A female Beijing resident surnamed Wu told The Epoch Times, "There are many policemen patrolling the streets, riot police and also anti-riot vehicles. The area around the conference hall has been put under martial law." In addition to this, community guards wearing red armbands are also patrolling residential areas.
"The police searched bags around Tiananmen Square, and would immediately take away anyone carrying petition material. There are several buses waiting to transport those captured." said Wu.

Before and after the "two sessions" each year, or the annual meetings of CPPCC and NPC, Beijing maintains strict control of dissidents and petitioners across the country. Regardless of the severe interception and suppression from all governmental levels, petitioners from various areas still "infiltrated" by various means into the capital during the period, hoping someone in power could solve their problems.

Du Minrong , a petitioner from Northeast China said, "From Feb. 20th, they (police) started to arrest petitioners. The situation is very serious at Beijing Railway Station and Beijing South Railway Station, as well as in the Letter and Visiting Appeal Bureau. Your identity card could be checked anytime. The hotels in Beijing South Railway Station have been banned from taking any petitioners, otherwise the hotels will be fined 5,000-10,000 yuan ($800-$1500). However, petitioners still come to Beijing one after another. "
Zhang Jianping, a human rights activist from eastern China's Jiangsu Province said, "So far, as there is no smooth channel for petitioners in mainland China, we joke that Beijing spends so much money to maintain so-called social stability and to block petitions, instead of solving the issues."
"Such an iron-fisted policy will only create more conflicts between the people and the government, the system is like hypertension, and sooner or later, the blood vessels will burst."
Read the original Chinese article.