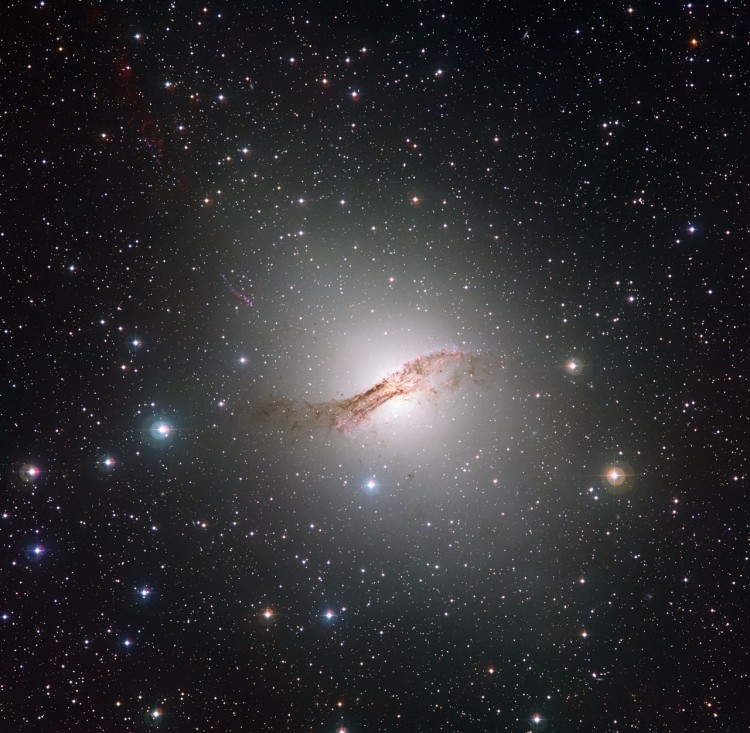 The elliptical galaxy Centaurus A is seen in this deep-view image captured by the European Southern Observatory (ESO) using an exposure time of over 50 hours.
Also known as NGC 5128, this unusual galaxy is situated in the southern constellation of Centaurus, about 12 million light-years away.
Centaurus A is one of the closest radio galaxies to Earth with strong radiation being emitted by the radiant supermassive black hole at its center, which has a mass around 100 million times that of our sun.
The galaxy's diffuse glow is due to hundreds of billions of cool old stars, but is obscured by a band of dark matter across its center that contains gas and dust, embedded with young stars.
Both these clouds and the galaxy's strong radio emission suggest that Centaurus A was formed by two galaxies colliding. The dust is probably all that remains of a smaller spiral galaxy.
This image is from the Wide Field Imager (WFI) on the MPG/ESO 2.2-meter telescope in the Chilean Andes, using long exposures and special filters to better reveal the galaxy's features, such as the relativistic jets shooting out from its black hole.
The red filaments in the upper left corner of the picture contain hot young stars and line up with the position of the jets when viewed with radio imagery.
The Epoch Times publishes in 35 countries and in 19 languages. Subscribe to our e-newsletter.