Rumour Mill Works Overtime on Cabinet Shuffle
July 3, 2013 11:07 pm Last Updated: July 3, 2013 11:09 pm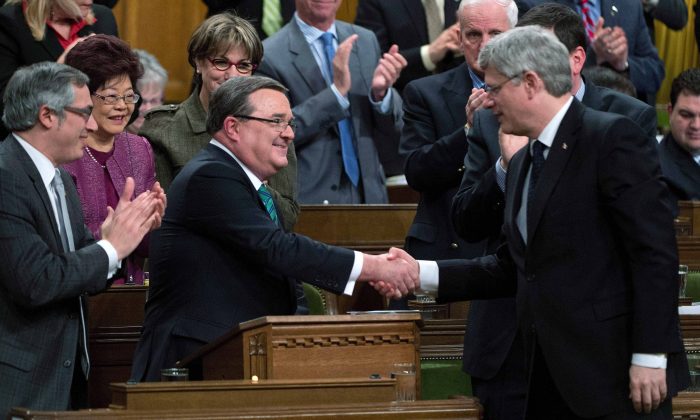 News Analysis
PARLIAMENT HILL—Prime Minister Stephen Harper is expected to rebuild his front bench of ministers this summer with a cabinet shuffle that could take place within days. 
Speculation about who is due for promotion and who could be on their way out is a favourite summer pastime of political observers, but few concrete details have emerged beyond the fact that a shuffle is imminent in the eyes of many.
Harper announced plans to review his cabinet mid-term during last summer's break, and Tory MPs recently told The Epoch Times they are expecting a shuffle during the break this summer as well. 
The Hill Times is reporting that the annual cabinet retreat could take place mid-July, but the Prime Minister's Office has not confirmed that time frame.
If that turns out to be the case, it would make sense for a shuffle to take place beforehand so that new ministers could participate in the strategic discussions at the meeting about legislative priorities and positioning.
In the void left by a lack of details, commentators are proposing everything from Harper's resignation to an overhaul of ministerial responsibilities. There seems to be some consensus on who the Tory star performers are, but the PM will have to factor in regional representation in his cabinet and could move to get more women onto the front bench.
Part of Harper's challenge is the relatively strong stable of MPs that come from Alberta—capable people with the right credentials but the wrong geography. Harper has no problems winning Alberta, but will need to broaden his appeal in other regions with the help of prominent MPs from those ridings to increase his odds in 2015.
One of the few certainties is that Fisheries and Oceans Minister Keith Ashfield will be replaced. Ashfield has asked to be shuffled out so he can focus on his health after being diagnosed with Hodgkin's lymphoma.
Minister of State for Finance, Ted Menzies, would also seem to be on his way out after announcing Tuesday he will not run in the 2015 election. Menzies issued a statement saying that the flooding in his home riding of Macleod in south-western Alberta made him realize it was more important for him to be there.
"Because of this decision, I have asked Prime Minister Harper not to consider my name for any future cabinet position," said Menzies. 
With Menzies not standing for re-election, it would make sense to give another MP the chance to earn some name recognition through the role before the 2015 election.
Possible Replacements
A summer shuffle could also give Harper a chance to quietly replace some of his more controversial spokespeople, like his own Parliamentary Secretary Dean Del Mastro. 
While Del Mastro has played the oftentimes difficult role of defending the government in the face of scandal or controversy, he has his own problems—his election finances are under investigation by Elections Canada. 
If Harper suspects charges are possible, he may decide now is a convenient time to shuttle Del Mastro to a quieter role without it seeming to be related to the investigation.
But while putting a new face on his government to win over voters is important, Harper could also make changes to resolve grievances within his own party.
Backbench MPs seem particularly disgruntled with Chief Government Whip Gordon O'Connor and his militaristic style, as well as with Government House Leader Peter Van Loan. 
When asked if he'd heard anything about Van Loan's possible replacement, the house leader's parliamentary secretary Tom Lukiwski answered in the negative.
"We've got a lot of very, very qualified and competent people," he said. "Whether there are any dramatic shuffles, we are just going to have to wait and see."
It's likely much of the line-up Harper selects will carry through until the next election, making it a key representation of the Tory brand Harper will campaign on if he contests the next election.
And while Harper has said nothing to suggest he won't continue to lead the party, there is some speculation he could step down before the next election, possibly a year or more in advance to allow time for a Tory leadership contest and for the new leader to establish him or herself.
While there are no obvious contenders within the Tory caucus to replace Harper, some suggest that facing a tough election after three terms as PM may give Harper pause as to whether he wants to run again. By 2015 he will be Canada's sixth longest serving Prime Minister and will not only have to contend with other parties, but also with voter fatigue with Conservative rule.
On the other hand, without a clear successor, losing Harper could hurt Tory election prospects and encourage him to give it one more go.