Rubio Asks Ohio to Vote for Kasich, Top Surrogate Refuses
Kasich won't reciprocate
March 14, 2016 4:58 pm Last Updated: April 3, 2016 3:57 pm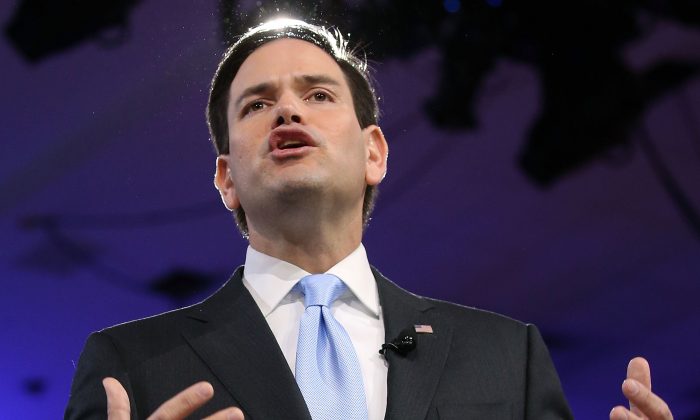 In an attempt to slow down a Donald Trump nomination for President, Marco Rubio has asked his supporters to vote for John Kasich in Ohio's Primary on March 15.
This is the latest attempt by one of the "establishment candidates" to keep Trump's delegate count to a minimum.
Clearly,
John Kasich
has a better chance of winning Ohio than I do
"Clearly, John Kasich has a better chance of winning Ohio than I do, and I think if a voter in Ohio concludes that voting for John Kasich gives us the best chance to stop Donald Trump there, I anticipate that's what they will do," Rubio said.
A plea for a truce with Kasich in Ohio echoes a plan outlined by former presidential nominee Mitt Romney last week to stop Trump. Romney said he would support Kasich in Ohio and Rubio in Florida if it meant stopping Trump. 
However, there's already signs that the plan won't work out so well for Rubio.
As Treasurer Mandel has said from the beginning, he's pro-
Marco Rubio
, not anti-John Kasich
Some voters have cast their votes early, including Rubio's top surrogate in Ohio, State Treasurer Josh Mandel, who refused to vote for Kasich, issuing a statement:
"Treasurer Mandel voted early for Senator Rubio because he believes in him and felt it's what's most appropriate given that he's his chairman for Ohio," he said. "As Treasurer Mandel has said from the beginning, he's pro-Marco Rubio, not anti-John Kasich."
The other issue is that the agreement isn't reciprocated by Kasich who dismissed the idea to tell his supporters in Florida to vote for Rubio:
"If I've got supporters somewhere in the country, and I'm on the ballot, they kind of ought to vote for me," he said. "I mean, what kind of deal would it be if I told my people, 'Don't vote for me'?"
There's a stark difference between the Republican primary in Florida and Ohio. Rubio's prospects for overtaking Trump on Tuesday are less likely, according to recent polls, while Kasich is either tied or leading the polls in Ohio.
Florida is Rubio's last stand, and a loss in Florida may prompt the Senator to exit the race. There are 99 delegates at stake in Florida and 66 at stake in Ohio.