Rowan Atkinson Hasn't Died; 'Mr. Bean' a Victim of Death Hoax Claiming Suicide
November 24, 2013 8:12 pm Last Updated: July 18, 2015 5:17 pm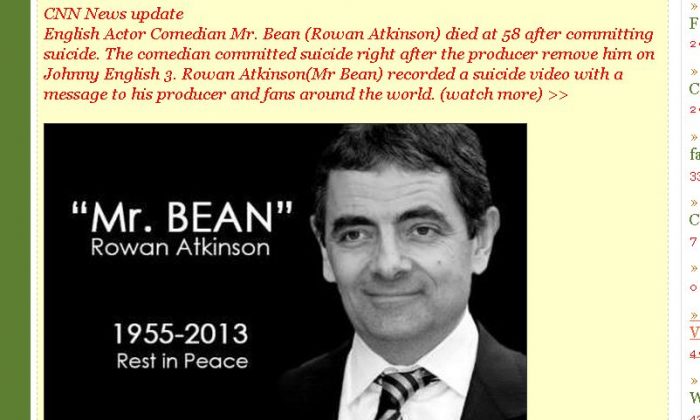 Rowan Atkinson, the "Mr. Bean" star, has not died by way of suicide, and his representative confirmed this week he is alive and well.
There have been false news reports on Facebook about Atkinson's death, which appear to be spread by way of a malicious app.
The website Online Threat Alerts said that the hoax was created "with the intention of tricking gullible social networking users into installing a malicious Facebook application. This application can be used to spread spam and other malicious posts to all of your Facebook friends."
The death hoax reads, "English Actor Comedian Mr. Bean (Rowan Atkinson) died at 58 after committing suicide. The comedian committed suicide right after the producer remove him on Johnny English 3. Rowan Atkinson(Mr Bean) recorded a suicide video with a message to his producer and fans around the world. (watch more)." It also claims to be from CNN and has the network's logo.
If a user clicks on the false report, it asks for permission to gain access to one's Facebook account and wants one to download a "Facebook Media Plug-in."
"But, there is no video and Mr. Bean (Rowan Atkinson) did not commit suicide. If you install the so-called 'Facebook Media Plug-in' by clicking on the link, you will install a malicious computer program that will infect your computer with a virus or Trojan horse," said Online Threat Alerts.
There also appears to be no "Johnny English 3" in the works.
Online Threat Alerts offers a simple way to delete or remove Facebook applications here. 
Atkinson's representatives have confirmed that the "Mr. Bean" star is alive and well, India Today reported.
In the past, malicious Facebook apps have spread rumors about the death of Jackie Chan and other stars like Celine Dion. Eddie Murphy, Oprah Winfrey, and Justin Bieber have also been targeted by  death hoaxes.