Hassan Rouhani was re-elected easily as Iran's president last week, obtaining 57 percent of 41 million votes cast against only 15.7 million for his main rival, Ebrahim Raisi.
Some optimists might see in the result a touch of a much older period when  Iran's great Persian civilization achieved so many world firsts. For example, under King Cyrus, it was the first nation to ban slavery 2500 years ago. Freedom of religion was also allowed.
Related Coverage
The election clearly demonstrated again that most Iranians prefer moderation over the fanaticism of the governing clerics and military. In a democracy, the size of the victory would also strengthen significantly the position of those who yearn for the departure from government of the 78-year-old supreme leader, Ayatollah Ali Khamenei.
It is a tribute to the democratic instincts of the Iranian people that they rejected Raisi, especially given the strong likelihood that he was supported behind the scenes by Khameini.  Many urban Iranians see Raisi as a second Holocaust-denying former president Mahmoud Ahmadinejad. Raisi in the summer of 1988 was also heavily involved in the executions of 30,000 men and women-mostly activists of the opposition People's Mojahedin Organization of Iran (PMOI/MEK).
Iran's government today includes both an unelected supreme leader, who holds the position for life and oversees all, and a president and members of the legislature, chosen in elections which are treated as significant. The elected are overseen by clerical institutions, such as the Guardian Council, which must approve all candidates for elected office.  The Revolutionary Guards and other institutions accountable only to the supreme leader, also hold enormous potential for national and international harm.
Ongoing violence in the Middle East and elsewhere highlight the reality that the world's primary state sponsor of terrorism continues to be Iran. Its regime has committed more harm to innocents than any terrorist group, including ISIS.  Khamenei has diverted much of Iran's wealth towards acquiring nuclear weapons. The "Islamic Revolutionary Guards Corps (IRGG)" is behind many terrorist activities not only in the Middle East but in Europe, Africa and elsewhere.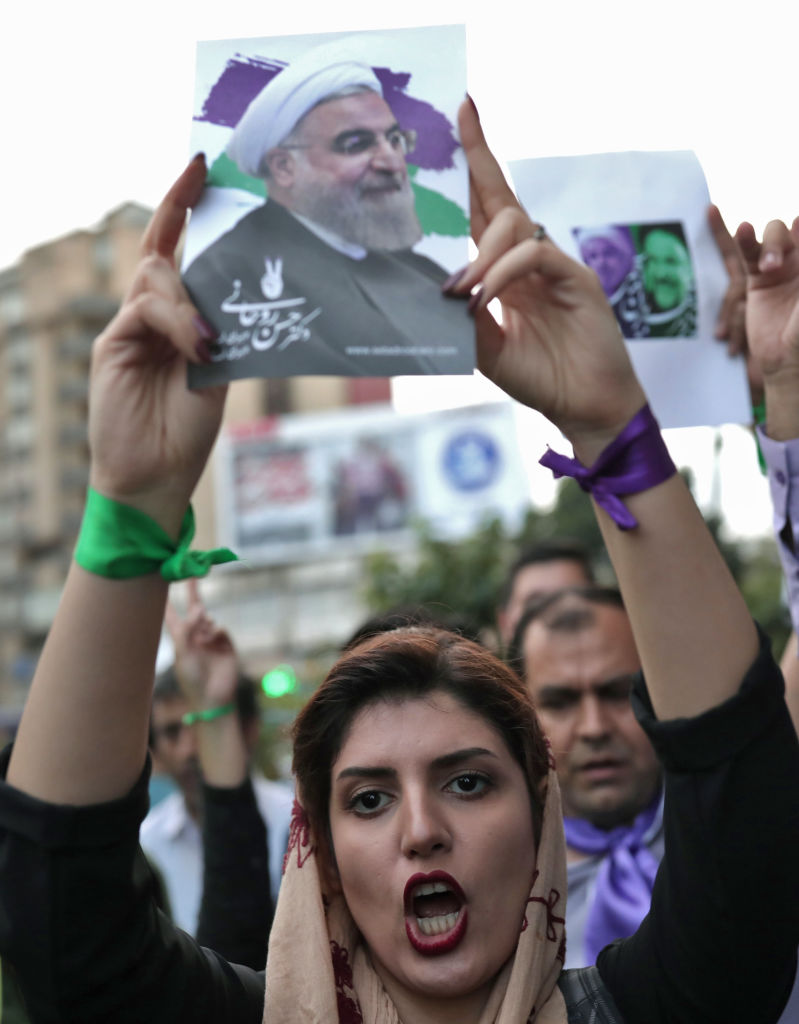 The IRGC is charged with the protection of Tehran's regime. Suppression of widespread Iranian dissent is only part of its mandate; it has a long history of meddling in neighbouring countries through terrorist organizations, such as Hezbollah. IRGC's operations in support of the Syrian dictator Bashar Al Assad, including tens of thousands of soldiers and the use of chemical weapons on civilians, has cost the Iranian people in treasure alone an estimated $100 billion.
Following the 1979 revolution, an Islamic republic, which was supposed to be a democracy with clerical oversight evolved into a structure in which unaccountable clerics came to hold most power. The result was almost four decades of brutal dictatorship, pretending at election times to be a democracy.
To topple the Shah, Ayatollah Khomeini returned to Tehran in 1979 after 14 years of exile in France. Iranians chose his replacement in a referendum with a fateful leading question: should the old system be replaced with an Islamic republic? The result was overwhelmingly in the affirmative.
The Islamists then built a new constitution on Khomeini's sermons, particularly on his concept of Vilayat-e Faqih, which encouraged direct clerical rule of the country. As part of creating an enabling environment, he initiated the takeover of the American Embassy in Tehran. When the constitution went to a referendum, it contained democratic institutions, but they would be overseen by an unelected supreme leader (Khomeini) and other unelected clerical bodies.
The consequences have been catastrophic. For example, members of Iran's Baha'I religious minority are subjected to constant persecution and their entire leadership council is now in jail; women remain second class citizens and are forced to wear headscarves; almost 1,000 Iranians were hanged in 2015 alone and dozens are reportedly on death row for crimes allegedly committed when they were children; Canadian university professor Homa Hoodfar was released last September only after more than 100 days in Tehran's Evin prison.
At this past weekend's summit in Saudi Arabia—where there has never been an election—between President Donald Trump and leaders of predominantly Muslim countries, Iran was not even invited. The American president considers Tehran to be the source of most Middle East problems. The Republican-controlled Congress is unlikely to loosen the unilateral sanctions that keep away foreign banks and businesses.
On the other hand, Iran supports militarily the government of American ally prime minister Haider al-Abadi in Iraq. Reducing Iranian influence there and in Syria could negatively affect the retaking of the cities of Mosul and Raqqa from ISIS.
The world will be watching.
David Kilgour, a lawyer by profession, served in Canada's House of Commons for almost 27 years. In Jean Chretien's Cabinet, he was secretary of state (Africa and Latin America) and secretary of state (Asia-Pacific). He is the author of several books and co-author with David Matas of "Bloody Harvest: The Killing of Falun Gong for Their Organs."
Views expressed in this article are the opinions of the author and do not necessarily reflect the views of The Epoch Times.