RDAYTONA BEACH, Fla.—So, after 24 hours of screaming motors and screaming fans, exhaust and campfire smoke, Yellow, red, and green flags, and a 67-car field of some of the best driving talent on the planet all trying to survive and then win …
And most important, after two sports car series failed, then merged, then trumpeted glad tidings of "A new Golden Age in sports car racing" … What's left, besides ashes and chunks of rubber and shards of carbon fiber and the occasional tear-off?
Was the Tudor United SportsCar Championship 52nd Rolex 24 at Daytona worth it? Better or worse than other Rolexes? Was the start of this "new era" as magnificent as the series had promised? As bad as some fans had feared? How did it all add up?
On a scale of one to ten … all of the above.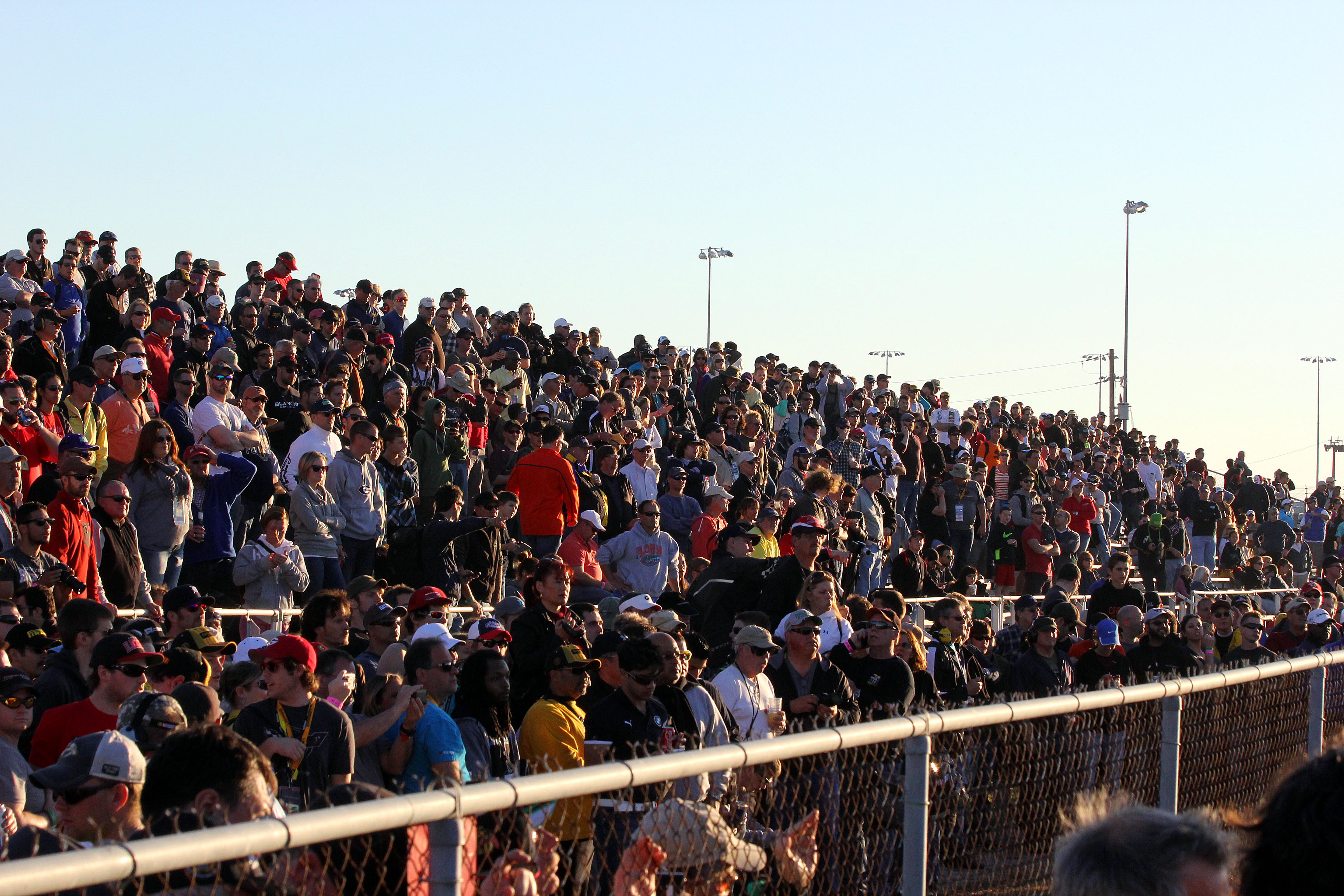 The Race Proper
The first place to start when discussing a race is probably with the race, so …
It was a 24-hour endurance race. Not exceptionally great or terrible … in fact as endurance races go, most of it was pretty good. Several well-matched cars and crews battled for the overall lead, and despite attrition eliminating some strong entries, there were plenty of other strong entries which ran about flawlessly for the whole race.
There were no phony free-lap giveaways to mar the outcome, nor any overly aggressive driving maneuvers. If the #10 Wayne Taylor Racing Dallara-Chevy hadn't had one off-track excursion which necessitated a pit stop to clear the grill, it might have won. As it was, Action Express's #5 Coyote-Chevrolet took the honors, and its sister car, the #9, finished third.
No one could honestly say that these cars did not deserve those positions—the drivers and crews did everything right, so the tiniest errors or most minor differences in pace had huge consequences. Just as it should be.
The best-finishing P2 was the two-time ALMS champion Muscle Milk Pickett Racing team, three laps behind, but that was a good team struggling to get a grip on a brand new car, motor, and tires.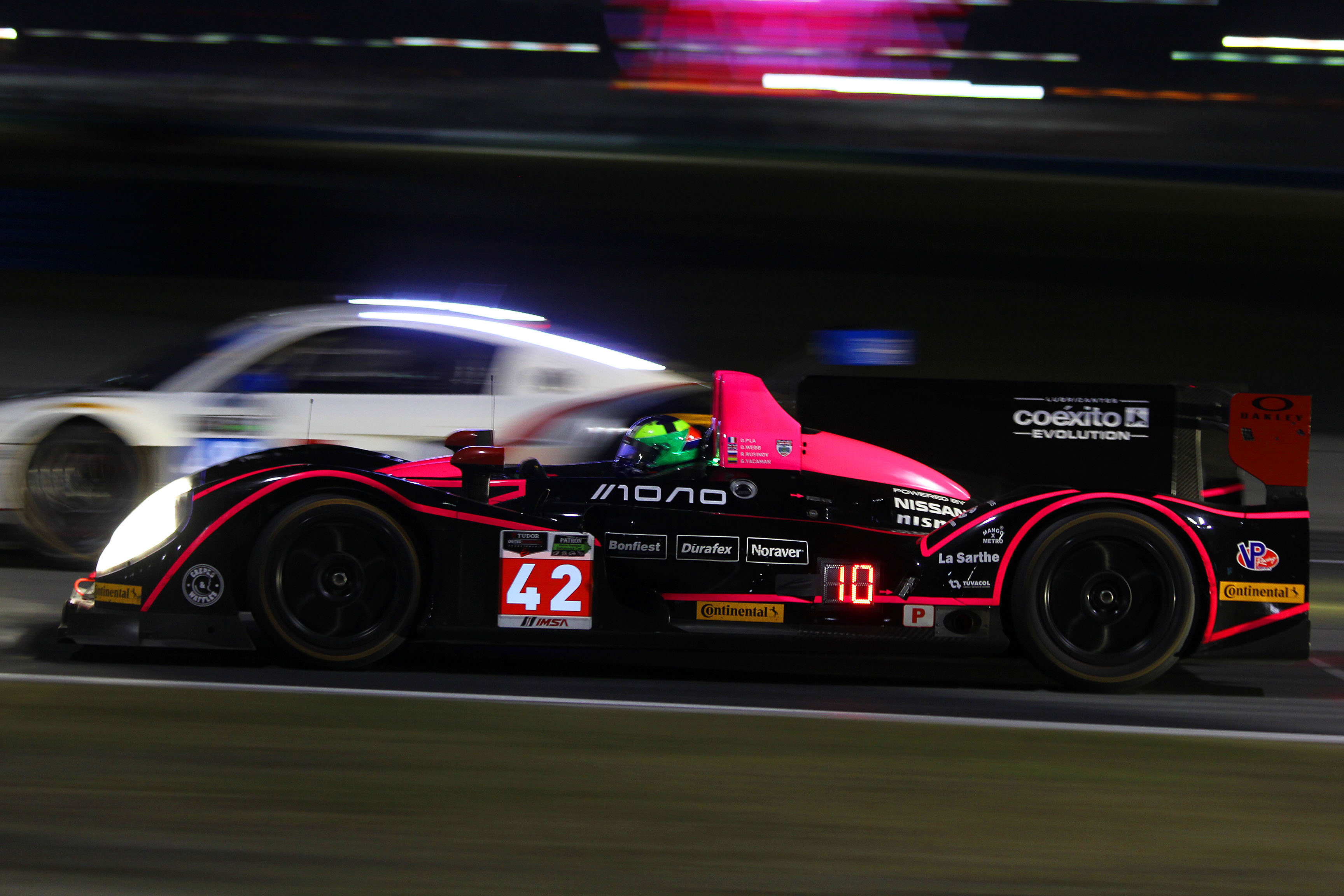 More representative of true P2 potential was the #42 Oak Racing Morgan-Nissan, which ran as high as third and finished eighth after losing time to a failed alternator. This car was charging hard toward the end—had it run trouble free, who knows?
Important to note is Oak's fastest lap: a 1:39.828, only 0.649 off the best lap set by international endurance racing and IndyCar star Sebastian Bourdais in the race winning #5 Action Express car.
This writer has made some comments about Balance of Performance issues; now he will have to eat all those words, because IMSA competition VP Scot Elkins got it right. My apologies and my congratulations, sir.
GT Le Mans and GT Daytona (and PC)
These two classes are packed full of talent, with full factory support for many GTLM entries and strong factory support for some GTDs, and a driver line-up better than found in the top classes in some races.
The only way to watch a race like the Rolex would be to have several production crews and several broadcasts—there is no way the TV director could have followed all the great racing in just one of these two classes, let alone all four.
Trackside, it seemed like there were battles going on constantly throughout each of these classes. It got hard to remember gaps and running order, and with GTDs being fast on the banking, the GTLMs had to make it up in the infield. Fans got to see drivers working, and they certainly got to see a lot of it.
(Quick aside: the only way to follow the action was to stand trackside and occasionally check the free IMSA Timing and Scoring ap. This is Not a plug; I don't work for the series or in any way benefit from people using this ap. What I found was that it was almost flawless—in 24 hours I only had to wait for about a minute, cumulatively, for it to load or refresh.
I wish it had better color-coding for the four classes (it uses red and blue for Pro and Pro-Am, with circles and squares for prototypes and GTs—not as clear as it should be) but otherwise it gave all the needed data to figure out who was running where, who was pushing to make up lost time, who was actually fighting for class lead … After the first round of pit stops it can be impossible to tell who is where; the ap helps.
Of course at Daytona at night you can usually see the scoring tower, but that doesn't give gaps.)
PC is a much maligned class and always has been; at the Rolex they seemed almost invisible. TUSC kept the class because a lot of drivers had invested in it, and it fits the Pro and Pro-Am structure of the series, but the series might not really be better off with four classes. For the time being, they are harmless and sound pretty good.
So, the racing was all right? Well, 71/72nds of it was a good, serious endurance race.
That last 20 minutes, though …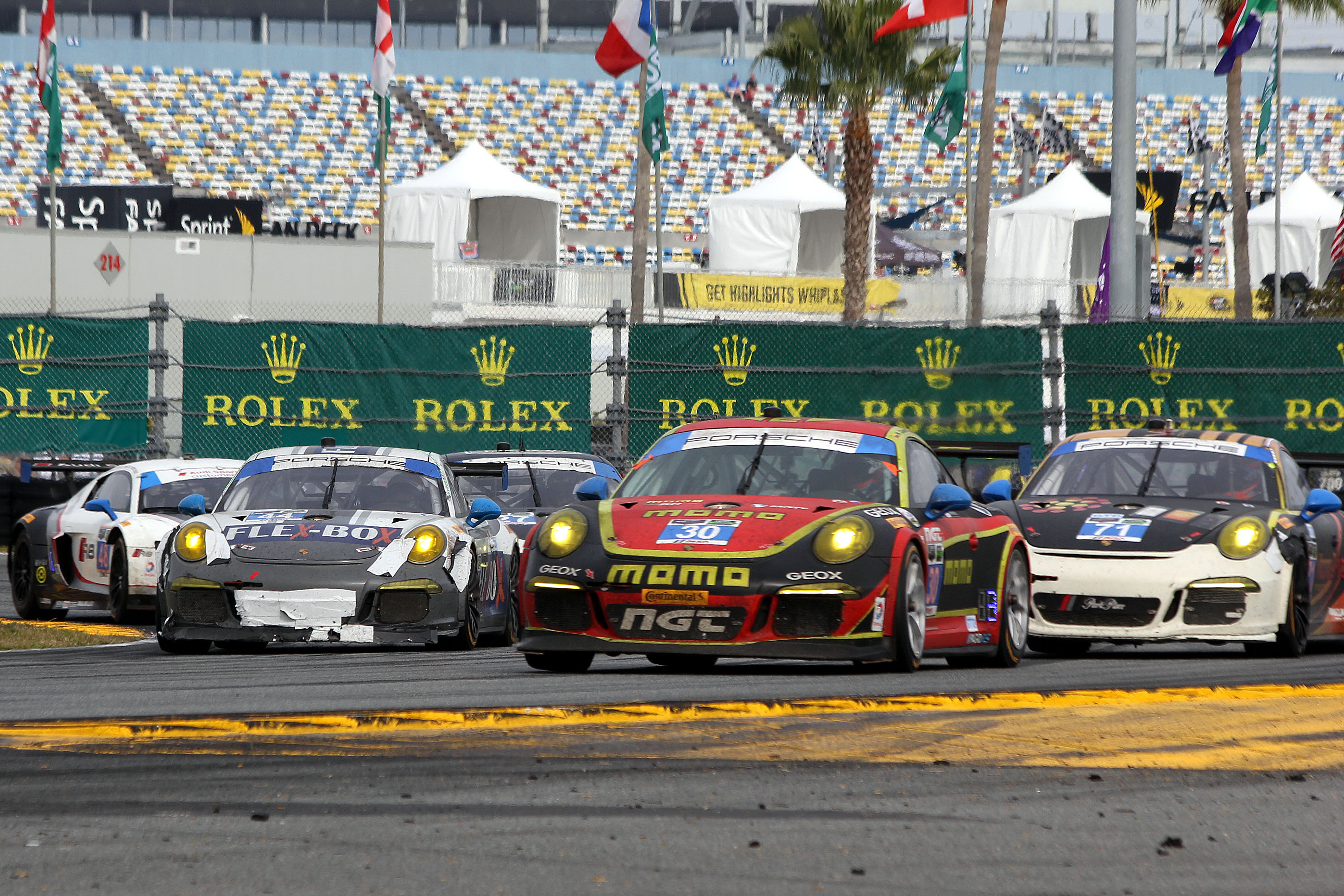 Spitball Hit Foul With Corked Bat With Too Much Pine Tar
Certainly beat the stuffing out of That metaphor, eh?
Sadly, the last 20 minutes of the race was worse than that writing.
For one thing, TUSC kept that ridiculous Free-Lap Giveaway rule, which makes no sense at all in any competitive context.
Under TUSC rules, every time there is a yellow flag, cars which are a lap or more down get a free lap. A Free Lap. That is not a typo—a Free Lap.
Imagine if, in any other sport, teams were giving points for being behind? Your batters can't hit and your pitchers can only hit their batters? Free runs! You are a touchdown behind? Seven free points? It sounds too absurd to even be funny.
And it is not funny when it actually happens in a professional sport, repeatedly, in the course of every event.
Sports are supposed to be the ultimate meritocracy—you get what you earn, you score when you work for it, or you lose because you didn't deserve to win and the other team did. "Level playing field" is a sports term.
Which would almost make one question whether racing, as practiced by TUSC, is a sport. (Spoiler alert: pro wrestling is choreographed.)
TUSC officials want there to be a lot of cars on the lead lap at the end of the race whether they deserve to be there or not—sort of like the organizers of a marathon trucking the slower runners to the finish line so there can be a big sprint finish.
Well, TUSC officials, hear this: People are offended by fakery. People tune in to sports to see fair, equal contests where the best win and the rest do not. Unfairness abounds in the rest of life; people don't want it in sports.
The Porsche North America 911 RSRs were very fast at the Roar Before the 24 test, but had driveshaft problems. The engineers went home and made better parts, and when race day rolled around, the Porsches were the only cars which didn't break.
The Corvettes overheated and the Aston had power-steering issues and the BMWs were just slow, and one broke; the Vipers had numerous issues and some contact. The Porsches ran like trains, and the drivers made zero mistakes—the cars dominated the GTLM class in the final half of the race.
Then, out of nowhere, the remaining slow BMW was challenging for the lead? How could this be? Lots of cautions late in the race, and the attendant free laps. A Slow car was suddenly challenging the fastest car, because the slow car was given a big boost by the rules.
But wait, you ask, isn't racing all about the fast car winning? Not in TUSC, where it is all about a big spectacle at the finish.
Which leads us to …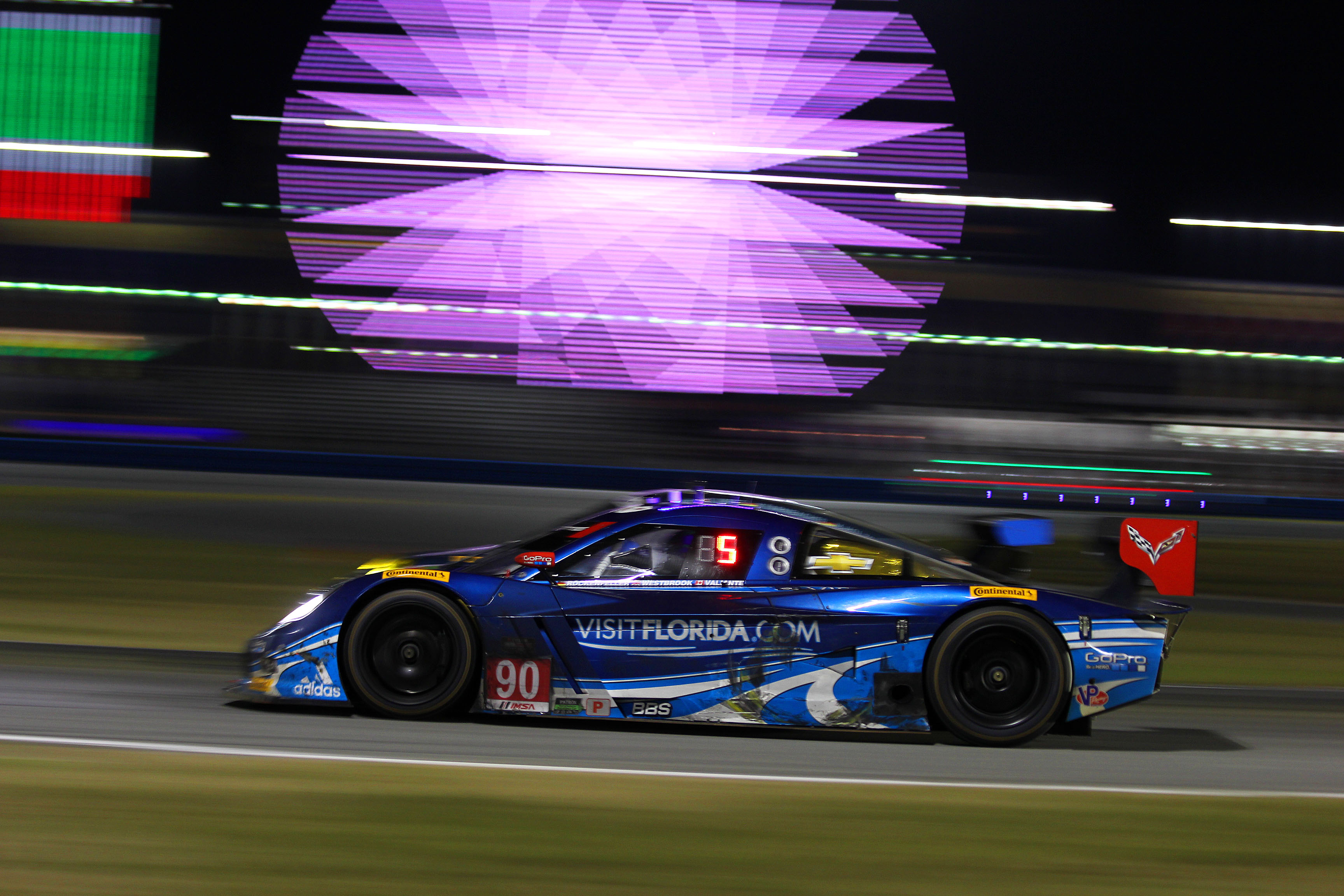 Starting Over for the Big Finale
No one would watch the NFL if halfway through the fourth quarter the score was reset to 0–0. No one would watch tennis if after Rafael Nadal got two sets and five games on his opponent, his opponent was given two sets and five games too.
In TUSC, Race Control want a Big Finish. Somehow the TUSC officials think that even after 23 2/3 hours of racing, fans won't enjoy the event unless a couple of cars are crossing the finish line close together.
Not only are the slow runners trucked to the finish line, all the runners are lined up and made to sprint the last fifty yards. For real.
The Rolex Sports Car Series was infamous for the "late-race yellow" which would bunch up the field; that way if some team was really better than all the rest and had a half-lap lead, fans wouldn't have to get bored watching the fastest car cruise across the finish line alone—as though fans only sat through the entire race to see the final ten seconds.
Some drivers even commented about the practice (though never on the Rolex website.)
Sure, sometimes it happens—it's the end of a tough race, everyone is pushing hard to try to get a little better finishing position, trying to beat one more car, and sometimes a driver pushes too far.
At the Rolex this year, the #22 AJR Porsche went too hard into the east Horseshoe with 21 minutes left in the race. The car skidded across the grass and smacked the tire wall, and drove away. A yellow flag waved before the car had a chance to drive on.
There was no debris on track—the impact happened several yards off track. There was no oil or water from the radiator. There was no need for a full-course caution—a local yellow to give the car enough time to get back on track to drive to the pits would have been plenty.
Instead, the race was suspended for twelve minutes, creating an eight-minute shoot-out for the win.
What TUSC officials need to realize is that sports car racing is not NASCAR (or Monster Truck Racing,) just like real college or Olympic wrestling is not pro "wrestling." Fans of each type of event want and expect different things.
Nothing wrong with NASCAR—as someone who has watched and attended NASCAR races, I can say that it is simply a different form of motorsports. Some fans might like Green-White-Checker finishes, some might not, but it is NASCAR, and the series seems to be pretty successful.
Pro wrestling is infinitely more popular than real wrestling, too … that doesn't mean wrestling fans can't tell the difference.
Sports car fans are not there for the spectacle. Crashes are Not cool (in NASCAR the cars are tanks; in sports car racing, they are rocket ships which disintegrate in collisions. Usually drivers are fine (see the horrific crash between Memo Gidley and Matteo Malucelli at this year's Rolex—both drivers survived, though Gidley needed surgery on his left arm and leg)) and "rubbin' is Not "racin'." The sports are as different as baseball and football—a good hard hit means very different things in those two contexts, yet both are legitimate sports.
If sports car fans want spectacle, they can watch NASCAR, or Monster Trucks—or speedboat racing or tractor pulling, favorites of this writer. But when those fans attend a Sports Car race, they want to see good, clean, fair, sports car racing.
All this means that fans of real sports car racing are deeply offended when the track officials throw an unnecessary or an unnecessarily long yellow late in the race to basically reset the field and erase all the advantage the teams have labored so hard to accrue. If a car finishes a lap ahead of the next car, that is great, if that is what that car actually earned through performance.
Just the same, if two cars fight hard right up to the finish line, and the margin of victory is miniscule, that's great, if both cars earned it.
Some football games are complete blowouts, and some go into overtime. Some baseball games are pitchers' duels, and sometimes one team totally trounces the other by a dozen runs. And both sports are still tremendously popular. Hey, maybe a fake outcome doesn't guarantee success?
Basically, if TUSC officials retain the practice of bunching up the field at the end of each race to create an "exciting" finish, they will see fewer and fewer "excited" fans at each race, because there are a Lot of other racing series out there, which don't try to manipulate the outcome to make it "exciting."
Media Coverage
The "merger" of the American Le Mans Series and the Grand American Rolex Sports Car Series (wholly owned by NASCAR) which created the Tudor United Sports Car Series was really a buy-out. NASCAR financed the acquisition of the IMSA name and all its property, including Road Atlanta and the lease to Sebring. ALMS had the fans, but NASCAR had the money.
A lot of those fans feared their beloved ALMS would be turned into a sports-car version of NASCAR, with lots of contact between cars, and lots of gimmicks like the "Lucky Dog" free lap and "GWC Finish."
Others pointed out that with NASCAR's budget and connections, sports car racing could finally be promoted properly and shown on real TV, not on specialty cable channels which 90 percent of the nation didn't receive—or not live on TV at all..
That has sort of worked out. The 52nd Rolex got much stronger promotion than any ALMS race ever did, and good preparatory TV specials—important in getting the uninitiated interested. Also, TUSC inked a deal with FOX TV and its Fox Sports networks, so it could—but might not—introduce a whole lot of people to great live racing.
The first two hours of this year's Rolex were shown on broadcast TV, something which hasn't happened in several years. The final seven hours were on Fox Sports 1, a network which a lot of households receive, and one that is growing in stature. Score for TUSC.
On the other hand, there seemed to be four minutes of commercials for every six minutes of racing. Sure, ads pay the bills, but … if the fans can't follow the race because you show it in such small chunks, No one pays the bills because the ratings plummet. The TV broadcast is an ad for the series; turning it into a profit center is short-sighted. Once the series is popular, ads will sell for a lot more, but if the race is obscured by ads, no one will watch and the ad space will be worthless.
This matters a lot in sports car racing. The sport is not based on brief, exciting moments of action; it is based on the slow development of strategy and action. Think soccer, not NFL.
There are four classes of cars competing in a TUSC race; this means there are four separate competitions happening in each event. Showing random shots of cars passing and jump-cutting to some other car—or worse, showing two cars that Might pass, and then cutting away if they don't immediately—makes no sense to someone who actually watches the sport.
The TV director has to stop thinking in terms of Spectacle and start thinking in terms of Continuity. Think tension leading to catharsis, not constant explosions.
To a sports car fan, watching one driver trying to pass another driver is as exciting as the pass itself. Fans want to see where one driver is faster than the other; fans want to see where one driver changes his line to defend, and whether the other driver takes advantage of that next time around and tries a move, or fakes a move and then goes around the other side.
Also, because there are four classes, it takes some time to see where all the different class leaders are, and to figure out the class order, and to look for battles in each class. Following the leader doesn't work; the TV director needs to find out which cars are moving up and follow those cars, so fans can see how the class leader got there. Just knowing who the class leader is, tells a fan nothing. Might as well wait until the race is over and just read the results.
Add in non-stop commercial breaks, and what a fan sees is an incomprehensible array of images of cars, with no context, and with no time to understand what is going on and how it relates to the race as a whole. Sports car racing simply cannot be presented this way. It has no meaning and will never attract fans. If lifelong fans of the sport are hard-pressed to figure out what they are seeing, new fans won't last half a race.
Think soccer, please, people at TUSC headquarters. Think long-form reporting, not jump-cuts and USA-Today style empty headlines and soundbytes. Sports car races unfold over time, like soccer matches. Just as soccer cannot be sold on goal-scoring, sports-car racing cannot be sold on spectacle, or discrete "exciting moments," because without the context of the whole race, those individual moments aren't exciting.
Overnight
Here TUSC earns a solid "Meh."
Every fan of sports car racing knows a few specific announcing crews. The old Speed crew which did Rolex races, the guys at Speed and now (mostly) at NBCSN for F1, and the absolute kings of the realm, the Radio Le Mans crew, have all earned their credentials honestly, by loving the sport and being involved in the sport for decades.
Only fans can truly talk about a sport with other fans. A person who doesn't know what he is talking about cannot possibly interest someone who does.
TUSC (or really NASCAR) chose its in-house MRN (Motor Racing Network) team—a team which more than ably calls all the NASCAR events. These guys know NASCAR inside and out, and listening to them can make a dull NASCAR race (not saying they all are) seem interesting.
However, these guys do not know Anything about sports car racing. It has nothing to do with pronouncing people names properly—I doubt 95 percent of the broadcasters out there pronounce everyone's names the way those people pronounce their own names—and it is not about never making a factual error (Bob Varsha, who is hugely respected among road-race fans, repeatedly said, "Welcome back to the Le Mans 24" during the FS1 broadcast Sunday morning, and veteran driver Scott Pruett famously (and repeatedly) called the Mulsanne Straight the "Mooseland Straight" when doing guest announcing at Le Mans a few years ago.)
What the MRN crew couldn't do, was communicate to the fans anything important about what was going on with the race, because the MRN crew didn't know the players or the teams or the sport. They could talk about NASCAR races, but they couldn't talk about sports car races, because they had probably never watched one before.
This works both ways. One the one hand, only the most fervent fans would be listening to an online broadcast all night and into the wee hours of the morning. On the other hand, those are the fans most likely to be hugely disappointed by the broadcast crew.
TUSC needs to learn from this. There are a lot of people out there who know sports car racing, and even hiring just a couple to help out the MRN crew might be enough. If not, hire Radio Le Mans. Going cheap is Not going to help here. Get a couple former drivers and just one guy who knows how to organize a sports car broadcast, and let the MRN guys add what they can and learn what they can.
TV Wasteland; What's an Internet?
Quick points: Fox Sports 1 gets pretty good market penetration; Fox Sports 2 does not. Fox Sports Go, the online version, is almost nonexistent. This writer can (supposedly) access the Fox Sports Go site at home, but could not access it from the Daytona International Speedway media center.
Right now sports car racing simply doesn't draw like most sports—or even as well as some infomercials, sadly. But a lot of that is due to the way the sport has been presented through the last decade-and-a-half, when ALMS and Rolex ruled—and wrecked—the roost.
ALMS larded its broadcasts with so many commercials and infomercials that watching the broadcasts was a chore—it was impossible to follow the racing. Fans simply didn't bother; they would spend fortunes to go to races in person, but the TV broadcast was unwatchable.
Rolex put on a good TV product—having only two classes really helped that, but also had NASCAR backing so the series didn't need to pander to every company which wanted to be a "broadcast partner" and get ten minutes of airtime to explain its products in the middle of the race.
Rolex, however, offended fans with its ugly, slow, primitive cars, its "rubbing is racing" rules, and the race manipulation which manufactured "close" finishes. So not many people watched and almost no one ever attended a Rolex race.
TUSC needs to radically change the perception of sports car racing on TV. It can start to do that by making sure the races are widely available, live, on channels people can actually get through their cable providers (a lot of regions don't offer FS2 at all.) Further, there needs to be an Internet option. For those fans who can't watch the race on TV, seeing a replay a day later doesn't cut it.
It's the 21st century, folks. Lots of households have gone beyond cable. Bandwidth costs a pittance. Putting a solid HD stream on the Internet is literally child's play—lots of kids do it from their smartphones and tablets all the time.
Yes, there was a stream for the 52nd Rolex. There needs to be one for every race. 
Saving money up front only makes sense when you don't think there will be a "long run." Going cheap to start might ruin the product so that it never pays off. Invest what is needed now to make sure there is a "later."
Don't milk the TV broadcast for every penny, thus crippling it and ensuring that ad values stay low, forcing more ads, which lower ad value, etc. Don't fear that putting the stream on the Internet will leach eyeballs from the TV broadcast—it won't unless the TV broadcast is really bad, in which case you lose anyway.
Don't go cheap on the radio announcers, either. MRN might be under contract, but that doesn't mean they are free—they will end up costing listeners, which costs money. Moreover, they could sour fans on the whole TUSC experience.
Overall
The Race? Pretty good, except for a few small but very important flaws. The presentation? The experience? Pretty good except … you get it.
TUSC needs to listen hard to its intended audience. As any ALMS official could tell you based on polls done by that series, sports car racing fans (by the numbers) tend to earn well and tend to have more schooling—which means a lot of them are able to clearly express what they like and don't like, and can afford to do what they want, and not do what they don't..
There are exceptions to the income and schooling norm—this writer being one of them—but walking trackside at races and talking with fans, it becomes clear very quickly that the fans tend to be a knowledgeable and opinionated bunch. Sports car fans watch sports car racing from all over the world, from the Mideast to Australia to China to Azerbaijan, and of course all of Europe, UK, and the United States.
TUSC isn't going to fool these fans with "spectacle," or "race-based entertainment programming." Many have been fans since the days when the only way to follow the sport was to wait three months for the magazines; many are the children of those fans, literally raised on the sport. All of them can go online and watch races from just about everywhere except Antarctica. They know second-best, or faked, when they see it. And they recognize the real thing, and appreciate it.
On the other hand, with so many "extreme" sports out there today, TUSC simply cannot take a sport which doesn't lend itself to sensationalizing and expect it to compete. The people who like explosions and wrecks already know where to see them. The people who like death-defying feats are already watching them.
Most important, TUSC cannot remake sports car racing in the model of NASCAR.
NASCAR has a huge and dedicated fan base. It is exceedingly profitable compared to any other form of motor racing in North America. It benefited from Jim France's promotional skills and the rise of cable TV, and also from the self-destruction of IndyCar—a perfect storm of opportunity and talent which NASCAR rode to national prominence.
That perfect storm likely will never happen again. One reason is glaringly obvious—NASCAR fans are already getting all the NASCAR they can handle. Those fans simply don't have the time or interest to follow another form of motor racing, particularly one which does not and cannot offer the kind of action NASCAR fans crave and receive via their chosen motorsport.
A marketing man who figured, "All these kids listen to rap music, so if I make Gregorian Chants into rap, I will sell millions and get rich" would be broke and starving pretty quickly. And anyone trying to market sports car racing as an "extreme sport" or a version of NASCAR, or as anything but sports car racing, will end up the same.
Again, look at soccer. Soccer took a Long time gaining a foothold in America, but nowadays a pretty fair numbers of viewers tune in to watch English Premier League matches on an obscure cable network. And now that there is a community in the U.S. which actually watches the sport, it is likely to get bigger and bigger.
Sports car racing needs to be considered like soccer: No quick big bucks, no immediate RoI. Present the sport in a traditional way, take the time and spend the money to really show what the sport is about, and down the road a piece it will be usual, not odd, to hear people talking about a sports car race around the lunch tables at work.
Otherwise—try to make it into something it is not, alienate the existing fan base, fail horribly at attracting new fans with a fake product, and waste every penny spent on the endeavor.
For your own incomes' sakes, TUSC stakeholders, and for the fans everywhere who dearly and deeply love this sport, Don't mess it up. Please.
The runner is standing on second base, waiting for Sebring to get him home. The ball was hit hard enough but inept base-running prevented a score. The TUSC team can't keep making errors; drop the ball often enough and the series, along with all the fans, will lose the game.