Rodman N. Korea Return: Rodman Will Vacation with Kim Jong Un
April 14, 2013 8:15 pm Last Updated: April 14, 2013 8:21 pm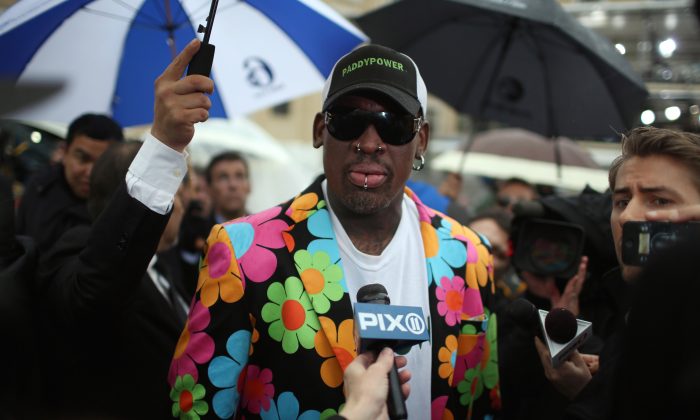 Rodman N. Korea Return: After the former basketball star's visit to North Korea, he said he plans on going on vacation with dictator Kim Jong Un.
On August 1, Rodman plans on going back to North Korea to go on a vacation with dictator Kim Jong Un.
A spokesman for Rodman said Jong Un extended the offer for the two to go on vacation together during the original visit.
Rodman told the entertainment website Gossip Extra at a charity gala in Miami Beach that he wasn't sure what he and Jong Un are going to do.
"We have no plans really, as far as what we're going to do over there, but we'll just hang and have some fun!"
Rodman said he hopes to meet with U.S. President Barack Obama before he goes back over.
The fundraiser, the Blacks' Annual Gala, shepherds money raised to the Consequences Charity and Foundation, a non-profit that helps at-risk youth.
Roy Black, a criminal defense attorney and one of the organizers, introduced Rodman as "the U. S. ambassador to North Korea."
"The good thing about Dennis being here is that it makes us pretty sure this city will not be bombed by North Korea tonight," joked Black.
Rodman's original visit in February, to film a documentary called "Basketball Diplomacy" about a game between the Harlem Globetrotters and the North Korean team, sparked controversy.
North Korea is under a totalitarian regime and has recently ramped up threats to go to war with the United States.
Rodman said in interviews after he came back from North Korea that he had had a good time with Kim Jong Un, calling him "a normal guy."
"I shook his hand and called him Kim—I didn't call him Prince or Supreme Leader or anything. It is crazy what has happened to him," he told the Sun tabloid.