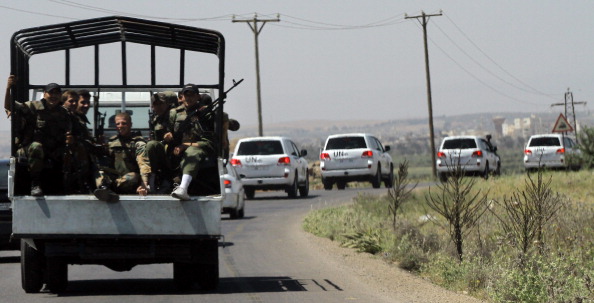 A roadside bomb hit a Syrian military vehicle accompanying the United Nations cease-fire convoy on Wednesday near the southern city of Daraa, drawing the condemnation from U.N. Secretary-General Ban Ki-moon.
Several Syrian soldiers were wounded in the blast, which took place on a road from Damascus to Daraa. The U.N. observer convoy had just passed near the bomb when it went off.
A spokesperson for Ban stated there is no evidence the bomb was intended for the convoy.
"However, this incident demonstrates the difficult and challenging conditions under which our United Nations observers are operating," the spokesperson added. 
The mission is observing an extremely shaky cease-fire between Syrian forces and opposition fighters under a six-point plan drafted by the U.N. and the Arab League to end more than a year of violence that has killed over 9,000 civilians, according to some estimates.
U.N. Major-General Robert Mood, head of the observer mission, said the latest roadside bombing underscores the situation which ordinary Syrians have to deal with.
"This was a graphic example of what the Syrian people are suffering on a daily basis and underlines the imperative for all forms of violence to stop," he said in a press release.
Furthermore, the bombing is one of many that have recently taken place along with continued violence in cities throughout Syria despite the U.N.-sponsored cease-fire.
The incidents, Ban's spokesperson said, "call into question the commitment of the parties to the cessation of violence and may have a direct impact on the future of the [observer] mission."
Bashar al-Jafari, Syrian representative to the U.N., said via state-run television that the regime is following the six-point plan, but accused "armed terrorist groups" of not cooperating with it.
"We are talking about facts that cannot be denied regarding the involvement of foreign fighters in the events in Syria which is a very serious issue," al-Jafari was quoted as saying. He alleges that the Saudi, Qatari, and Turkish governments are supporting opposition fighters who are undermining the cease-fire.
The Turkey-based Syrian National Council, however, said the bombing was carried out by the Syrian regime.
"We believe the regime is using these tactics to try to push the observers out amid popular demands to increase their numbers," the Council's representative, Samir Nashar, told AFP.