On Dec. 9 the presidents of Russia and Ukraine convened in Paris for a summit to discuss a resolution of the war in the Donbas region in eastern Ukraine that started 5 years ago and has already claimed over 13,000 lives. The peace talks were facilitated by French President Emmanuel Macron and German Chancellor Angela Merkel.
Experts' opinions about the results of the summit vary but most agree that some progress has been achieved. It was the first peace talks held in the Normandy Format since 2016. There were two ceasefire accords also called Minsk agreements negotiated in 2014 and 2015 but they either failed or their provisions were not implemented.
Macron said at a joint press conference with other Normandy Four leaders after the completion of the nine-hour summit, "The fact that we are side by side in Paris today is an important result … and a credible relaunch of (talks) which wasn't achieved beforehand given the lack of advances for several years. It is an achievement."
Merkel said at the same press conference, "we have a lot of work to do, but my feeling from this meeting here today is that there is goodwill to resolve difficult questions."
"Through the work and measures that President Zelenskyy introduced after his election, the conditions are met under which we can give this document new movement and elasticity, we can bring it back to life," Merkel said when talking about Minsk agreements.
Russian President Vladimir Putin said at the joint press conference, "The process of achieving ceasefire needs to be synchronized with the implementation of political reforms in Ukraine, envisaged in the Minsk agreements. In the first place, this means introducing changes to the country's constitution, which give Donbass (Donetsk and Luhansk regions) a permanent special status."
"In my view, and that is how we see it, our work was very useful," Putin also said about the summit.
Ukrainian President Volodymyr Zelenskyy said at the news conference that "he had given no ground on Ukraine's sovereignty or territorial integrity. He said he and Putin had disagreed on several issues," according to EurActiv.
When asked by a reporter, "who won?" Zelenskyy said, "I don't know who won. It seems to me it will be right to be a diplomat as we just started to talk. Let's say it was a draw so far."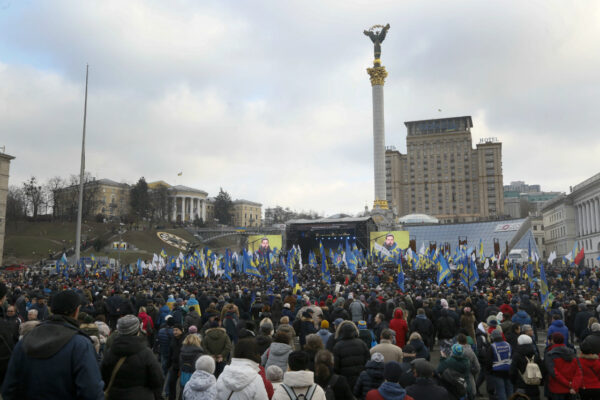 The day before the summit thousands of Ukrainians gathered in Kyiv to hold a "No to Capitulation!" rally to demand from the Ukrainian president not to compromise the country's independence and sovereignty for peace at the summit. The protesters camped outside the presidential administration in Kyiv, watching the summit news conference on a big screen.
After the summit, the rally participants put on hold the protest which can be understood to mean that a compromise of the national interest has not taken place.
Results of Peace Summit
The summit leaders have taken some positive steps toward conflict resolution.
Russia and Ukraine will exchange war-related prisoners held in Donbas by the end of the year, based on the principle of "all for all." However Ukrainian prisoners of conscience held in prisons in the Russian Federation or in occupied Crimea will not be exchanged, according to Ukraine Crisis Media Center.
The summit parties agreed on three additional disengagement areas, where troops and equipment will be disengaged by the end of March 2020.
The Special Monitoring Mission to Ukraine of the Organization for Security and Co-operation in Europe (OSCE) will extend its monitoring hours to 24/7. Until now its monitoring ends before dark which causes inaccuracy in its reports as "militants often fire upon the Ukrainian troop positions at night," says Ukraine Crisis Media Center.
An important achievement of the summit is a commitment to the full ceasefire implementation before the end of 2019. As Ukraine Crisis Media Center. reported that even on the day of the Normandy summit "three Ukrainian troops were killed in action."
An agreement has not been achieved regarding when Ukraine will re-gain its control over the border. Although Zelenskyy stated that Donbas should be de-occupied before holding the elections Russia did not agree to it.
As a result "the Steinmeier formula" was adopted which stipulates that "the elections to be held in the separatist-held territories under Ukrainian legislation and the supervision of the Organization for Security and Co-operation in Europe (OSCE)." However, Russia also participates in the OSCE.
If the elections are held in the occupied territories of Donetsk and Luhansk before Ukraine regains control of its border it will not be possible to ensure a free democratic election with free campaigning and effective election monitoring. Ukraine states that without regaining its border control, it will not be able to stop the inflow of "Russian subversive groups, mercenaries, and weapons. Free elections are not possible under such conditions," says Ukraine Crisis Media Center.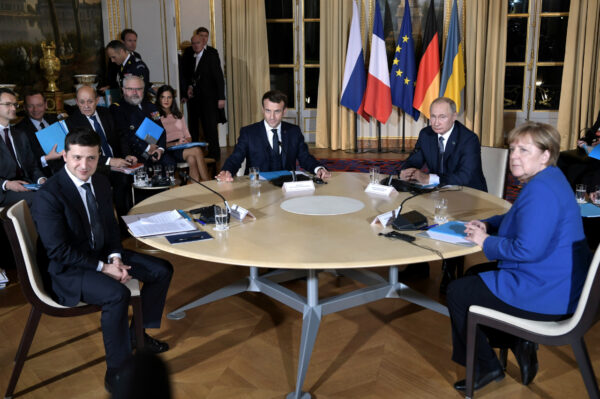 Perspectives on the Peace Process
John Herbst, Director of Eurasia Center at Atlantic Council and a former Ambassador to Ukraine expressed his concern that Russia may be not interested in the implementation of the ceasefire.
"There has not been one day without multiple shootings and Moscow has never treated this issue as a priority. Instead, Russia has regarded constant shooting [across the ceasefire lines] as a way to maintain pressure on Ukraine,"  Herbst said in an article on the Atlantic Council website.
Alexander Vershbow, Distinguished Fellow at the Atlantic Council and a former Deputy Secretary-General of NATO and former United States Ambassador to Russia also expressed uncertainty about whether Russia will implement the measures adopted at the summit and the Minsk agreements. Putin's insistence on the changes to the Ukrainian constitution to permanently grant "special status" to the occupied territories not only can weaken the Ukrainian state, but will also make follow-on negotiations difficult, Vershbow said.
Vershbow recognizes Zelenskyy for his modest achievements like, "prisoner exchanges, long-term ceasefire, additional disengagement zones, de-mining" and for not crossing any red lines setup before the summit by him and Ukrainian Foreign Minister Vadym Prystaiko. These red lines are: "no changes to the Ukrainian constitution, no federalization of the Ukraine state, no elections before the withdrawal of foreign troops and return of the Ukrainian border to Kyiv's control," said Vershbow.
Another expert Professor Taras Kuzio from the National University of Kyiv, Mohyla Academy, told the Atlantic Council that Zelenskyy's position during the Normandy Format meeting was tougher than expected.  However "Zelenskyy's commitment to incorporate the Steinmeier Formula into Ukrainian law will spark bitter opposition from many in Ukraine," Kuzio said, as incorporating "special status" of the occupied territories in Ukraine's constitution can be perceived as "creating a Russian Trojan Horse."
Reuters contributed to this report.