Research in Motion (RIM) unveiled two BlackBerry 10 smartphones and announced a change of its name to BlackBerry on Jan. 30 at its long-awaited launch of the BB10.
The smartphone maker hopes the BB10 will turn the company's fortunes around and believes the new line of products will pave the way for RIM to lead the move from mobile communication to advanced mobile computing.
"We have definitely been on a journey of transformation—a journey to not only transform our business and our brand, but one which I truly believe will transform mobile communication into true mobile computing," said RIM president and CEO Thorsten Heins on Jan. 30 at the launch in New York.
Addressing simultaneous launch events held in Toronto, London, Dubai, Johannesburg, Paris, Jakarta, and Delhi, Heins also announced that RIM will rebrand itself under the new company name BlackBerry.
Heins noted that the BB10 was built with customers in mind who are "hyper-connected," "true multi-taskers," and want a single device that can help them balance and keep pace with both their personal and professional lives.
"It's people who want to flow seamlessly from app to app and feature to feature without having to go in and out using a home button all the time."
Heins unveiled the touchscreen BlackBerry Z10 and the BlackBerry Q10, which has the brand's iconic full physical keyboard.
The Z10 will be available Feb. 5 in Canada, where it will retail for around $149.999 on a three-year contract, although pricing will vary by carrier.
In the U.S. the Z10 will launch in March, while the first global carriers will launch the Q10 in April.
'Great collaboration tool'
Heins highlighted the BlackBerry Hub, BlackBerry Flow, and BlackBerry Peek at the launch, innovations that provide the BB10 with a single place for managing all activities and conversations, including email, text messages, and social media, while making it easy to slide between applications without having to use home or back buttons as found on competitor devices.
The event also noted the ability of the BB10 to separate personal content from work applications and data and to provide powerful encryption and security so that users only need to have a single device for both work and play.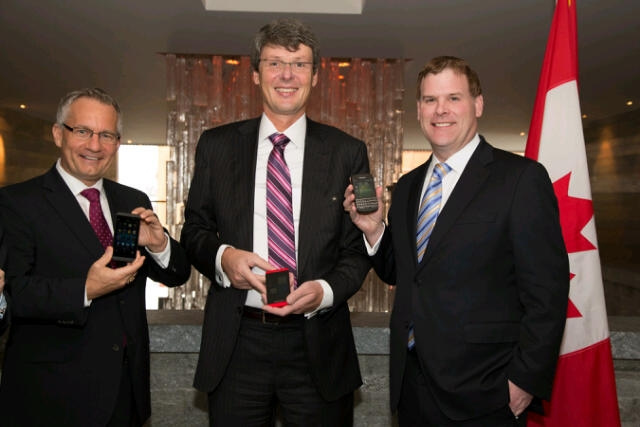 In addition, the launch introduced the new feature of the BlackBerry Messenger system to share screen with another BB10 contact, which Heins called a great consumer tool for personal sharing, such as showing vacation photos to friends back home, as well as a tool for business.
"It's also a great collaboration tool for small enterprises that have no big infrastructure. They can really easily share information while being real-time engaged in a voice call or a video call," Heins said.
He emphasized the QNX-based operating system and the software architecture at the core of the BB10 as being the result of "amazing" work by the hardware and software teams at RIM and QNX Software Systems.
The QNX-based OS replaces the old BlackBerry OS and distinguishes the BB10 from phones running Apple's iOS and Google Inc.'s Android.
QNX, which RIM purchased in 2010, was named an International CES Innovations 2013 Design and Engineering Awards honoree in the Software & Mobile Apps category.
Some 70,000 apps are now available for the BB10 and the company expects to see many more thousands of apps added, with major application providers committed to the platform that include Disney, Cisco, Foursquare, Skype, and Rovio.
Share Price Drop Seen as Profit-Taking
It remains to be seen whether the BB10 will be competitive enough against its Apple and Android rival phones, as well as the latest Microsoft phones. According to market research firm IDC, BlackBerry and Windows Phone will battle for the No. 3 spot in the worldwide mobile phone market in 2013.
BlackBerry had a challenging year in 2012 with sagging stock prices, mass layoffs, and product delays of its make-or-break BB10 smartphone.
Share prices started the day positively on the TSX and reached a high of $16.69 during the day on Jan. 30 but closed at $13.86, down 11.78 percent, or $1.85, from the previous day.
Profit-taking was largely blamed, but some also linked the price drop to disappointment that the new devices won't hit the U.S. market until March, according to The Globe & Mail.
The federal government showed its support for the iconic Canadian company at the World Economic Forum annual meeting in Davos, Switzerland, this week, where foreign affairs minister John Baird and international trade minister Ed Fast met with Heins to mark the BB10 launch and to discuss the company's global footprint and competitive advantages in mobile technology.
The Epoch Times publishes in 35 countries and in 21 languages. Subscribe to our e-newsletter.