Quitting the CCP in Malaysia
December 25, 2006 12:00 am Last Updated: December 25, 2006 12:00 am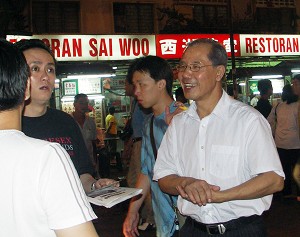 On December 22, Mr. Jia Jia, the former General Secretary of Shanxi Provincial Association of Scientists and Technology Experts, in China, arrived in Malaysia and became a the volunteer in a local Quit the Chinese Communist Party service center.
This is Jia's first overseas trip after he received protection from the Taiwan government in November. Jia left his tour group to seek political asylum after he arrived in Taiwan on Oct 22. Due to pressure from the Communist regime, he had to leave Taiwan and temporarily stayed in Hong Kong and Thailand before finally getting a visa to enter Taiwan.
Jia said, it is only because of the fact that people are deeply frightened of the communist regime, that the regime has been able to rule China for 57 years. He said that the Quit the communist party campaign is the way to eliminate this kind of terror in Chinese people's hearts. Jia called upon all Chinese people to not be afraid of the communists, and to not believe what the communist say or follow the communist orders. It is the Chinese people's responsibility to stand up to face the communist party, to end its tyranny because the collapse of the regime is already imminent.
Jia has come to Malaysia because his visa in Taiwan is going to expire and he has to leave and re-enter in order to extend his stay in Taiwan. He said that during his stay in Malaysia, he would continue to do volunteer work for the Quit the CCP service center.