Increasing Numbers Quitting Chinese Communist Party
February 26, 2009 11:53 pm Last Updated: March 1, 2009 8:09 pm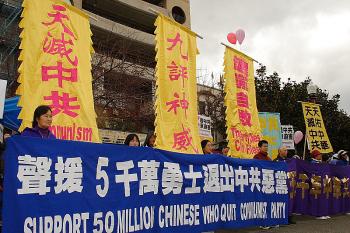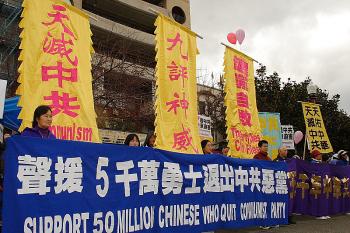 Chinese people around the world are quietly contributing to the biggest push for freedom in China since the Communist Party seized power 60 years ago. Some are tortured and killed for their attempts to spread the news, but the brave keep stepping forward. Though other media are choosing not to cover this story, withdrawals from the Party are accumulating from both within China and abroad.
Since the November 2004 release of the editorial series Nine Commentaries on the Communist Party by The Epoch Times, 50 million Chinese have renounced their membership of the Chinese Communist Party (CCP) and its affiliated organizations. The withdrawals run deep into the heart of the Party as diplomats, general secretaries, police officials, and other high-ranking officials publicly sever their ties to the blood-red flag they once vowed to defend with their lives.
Officials Lead the Way
A statement posted by a Chinese Communist Party official on an official Quit the CCP Web site provided by The Epoch Times reads:
"Being immersed in the official circles of the CCP for so many years, I have long recognized its dirty true colors. Living among these official circles, nobody can stay pure. Everyone becomes corrupt in this environment as they fish for personal gains.
"I am unable to compose profound documents like Nine Commentaries on the Communist Party. I do not know who wrote this work, but I admire him for his extraordinary talent. I've had several secretaries write materials for me, yet even the best of them fall far behind him. This work thoroughly exposed the CCP. I dare say: if all Chinese people read this work, the CCP will soon collapse!"
Former police official of Tianjin State Security Bureau and the '610' Office Hao Fengjun defected to Australia in 2005 and read the Nine Commentaries.
"I decided to step forward and reveal the truth to all the good people in the world, all those who love peace, and all democratic countries, that China does indeed have a Gestapo-like agency called the 610 Office," he said at a rally in Sydney not long after he defected.
"Once I had to go to a place detaining Falun Gong practitioners. When we got there, I saw a lady practitioner with two large bruises and two 20 cm-long [8 inches] wounds on her back. A policeman was beating her using a half-meter-long iron bar. When I saw this, I knew that I could not carry on with this job. At that moment, I felt my heart break."
Tibetans Quitting
"We Tibetans have two thousand years of written history," wrote a group in 2008.
"Today we stand before Snow Mountain with dignity and declare: We quit the CCP and its affiliated organizations including the Young Pioneers and the Youth League. We want to live with dignity, freedom, and purity! Perhaps the CCP will find new excuses to slaughter and arrest us. The bloody slaughter will make us more clearheaded, more rational and united and more people will support us because of it."
Tortured to Death for Writing on Banknote
Cao Aihua from Akesu City, Xinjiang province, was tortured to death within one week of being incarcerated in a labor camp for writing a slogan of quitting the Chinese Communist Party (CCP) on a Chinese bank note.
Cao was arrested in August 2006 by the communist regime because she wrote information related to the Nine Commentaries and the wave of withdrawals from the Party on bank notes. She was sent to Urumqi Women's Labor and Re-Education Camp, and died there several days later.
Currently, more than 25,000 to 30,000 Chinese are renouncing the CCP daily. Quit the CCP Service Centers are springing up in countries and cities all over the world to enable access for the growing numbers of Chinese who wish to formally dissociate themselves from the regime.