Quinn Pushes for No-Swipe MetroCard
July 24, 2013 5:58 am Last Updated: July 24, 2013 10:23 am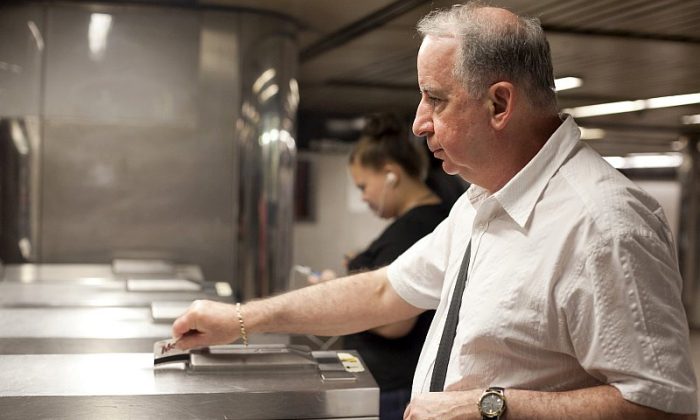 NEW YORK— You are rushing to catch that subway train, just pulling into the platform. You struggle to swipe your MetroCard, only to see the train doors close just before you manage to get through the turnstile—dooming you to a lengthy wait. It has probably happened at least once to everyone living in New York City.
City Council Speaker Christine Quinn wants to replace the twenty-year-old MetroCard with a no-swipe system that would save commuters time and money.
"Its [the MetroCard's] lifetime coming to an end," she said at a press conference held outside Grand Central Terminal on Sunday, July 21. But some don't see it as a priority.
Dean, of Brooklyn, who rides the subway every day, said the MetroCard never fails him. But he also complained, "Why do they charge a dollar for the card?"
Steven and Eva, tourists from Belgium on a two-week visit, had some problems with swiping. Both agreed that a no-swipe system would be more convenient.
The MetroCard was introduced in 1993 and eventually replaced the decades-old token system.
There was a plan to implement a no-swipe system already last year, but the effort fizzled out due to "faulty planning, turnover of leadership and misguided prioritization," Quinn said.
"The MTA has said the system can't last beyond 2019," she said. "We in New York City have fallen behind … in part because we're still so dedicated to using the MetroCard."
The technology of the no-swipe system allows commuters to pass their wallets or keycards over sensors to get to trains. Quinn said, "This will be similar to how many New Yorkers walk in and out of their buildings every day."
Fifteen cents of every dollar paid by commuters is spent on keeping the fare machines running, according to Metropolitan Transport Authority (MTA) estimates. They say overhauling the system could save up to 20 percent on those costs. Quinn added, the new system would give commuters the ability to create an online account linked to the card, securing their balance.
"If you lose your pass, you can just go online, fix it, and you're still part of the transit system," Quinn said.
Quinn, who is running for mayor, said she would make the no-swipe system a priority. She added that she thinks there should be more mayoral control over the MTA.
"I believe that the mayor should be able to appoint the majority of the members of the MTA board … This will help make sure that the no-swipe system happens, that it doesn't again fall behind."