Qualified but Lacking Cash, Burnett Is Ready to Face Stringer
September 23, 2013 8:59 pm Last Updated: October 17, 2013 12:22 pm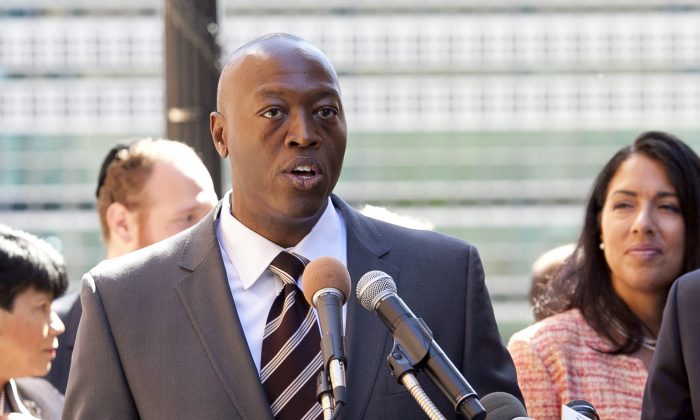 NEW YORK—Less than a week before the Sept. 10 primary, Republican comptroller candidate John Burnett was given a rare opportunity: a 30-minute one-on-one forum interview with Juan Manuel Benitez (of NY1 Notiticias) in front of a rapt audience and a room full of press.
The press had come to see Eliot Spitzer and Scott Stringer trade barbs at the Council of Urban Professionals forum, but wound up first listening to Burnett share his personal story of rising through the ranks of Wall Street without a college degree (he would get his degree 16 years later while working for Merrill Lynch), and his ideas for changing the pension system if elected.
With 23 years on Wall Street, Burnett, who entered the race in June, is highly qualified for the job of running the city's pension fund, but has seen little face-time with the voters, the press, and more importantly, fundraisers.
Mid-summer was the worst time to start fundraising he joked at the Sept. 4 forum, but he foreshadowed his fortunes could change soon.
"Just to give you an update, the next filing will be quite robust," Burnett said. "I can't drop names right now, but you will see a lot of prominent names, a lot of former CEOs and executives from corporations."
On Sept. 10, Stringer beat Spitzer in a hard fought Democratic primary 52 percent to 48 percent. For Burnett, the Spitzer loss proved disastrous for his fundraising.
The Sept. 20 filing with the Campaign Finance Board showed Burnett, who has only filed once, has $23,650 in his war chest. His donations, from 44 contributors, totaled $11,926.
Following a rally of the Jewish Community Relations Council of New York near the United Nations on Monday, Burnett said fundraising had been a challenge since the primary election.
"There were some soft commitments if it was [Eliot] Spitzer," Burnett said. When asked why the commitments dropped, Burnett said the potential contributors did not view Stringer as a threat to their interests in the same light as Spitzer.
"Not to say they look at me as a threat, but they see things as, 'he can't really harm us because he will not really do anything at all,'" Burnett said.
In addition to hindering Burnett's fundraising, Spitzer's presence in the primary gave Stringer a much-needed boost in name recognition. Instead of entering the general election on a level playing field, Burnett comes in almost unknown. Stringer, meanwhile, spent the better part of the summer in a nationally publicized campaign against the former governor, who resigned after a sex scandal in 2008.
The attention brought support from politicians and groups from around the city. Many of them were outraged at Spitzer's run and would do anything to see it fail in his bid to reenter politics. They stood by Stringer at rallies and most importantly filled his coffers to fight the self-financed Spitzer.
In the final month of the campaign Stringer spent $5.1 million, nearly all of it on television ad buys, according to CFB records. Spitzer spent $10.1 million.
"Spitzer ended up helping Scott more than anything because no one knew Scott in the other four boroughs," Burnett said. "Now they know him. They are not excited about him, but they know him."
If there is any consolation to Burnett, the primary campaign nearly drained Stringer's war chest. As of the Sept. 20 filing Stringer has $83,306 on hand, according to CFB records.
While he did not give a specific number of events, Burnett said he is making the rounds speaking where he can and attending parades to get his name recognition up. Stringer has attended 16 events since Sept. 11.
Plan of Action
Burnett, who holds an MBA from Cornell University, has worked on Wall Street for 23 years at high-profile firms such as Morgan Stanley, Citigroup, and McGraw Hill overseeing financial advisors and portfolio managers.
If elected, Burnett (like Stringer) said he would merge the pension funds, which would cut the administrative costs considerably. He said he would increase the performance without increasing the risk, and ensure the funds would be sustainable for not only the roughly 600,000 workers currently seeing benefits, but future retirees as well.
Mayor Bloomberg and current Comptroller John Liu tried unsuccessfully to merge the pension funds. Burnett said now the time is right with the unions looking for new contracts and retro-pay.
"Now is the time to put it on the table and make it a bundle," Burnett said. Ultimately the next mayor, not the comptroller, would have to negotiate that with the unions.
Currently the front-running candidate for mayor is a Democrat, Bill de Blasio. When asked if he would be able to work with a Democratic mayor, Burnett touted his corporate career, saying he didn't have the opportunity to pick who he worked with.
"I come from a corporate background. You have to see past the individuals. It is about being objective oriented," Burnett said. "The ultimate goal is to make sure we do the right thing for all key stakeholders—tax payers and unions in this case."
The general election is on Nov. 5 and Burnett's name will appear on the ballot under the Republican, and Conservative Party line.