A spokesperson for Russian President Vladimir Putin issued a statement in regard to the release of the long-awaited report from Special Counsel Robert Mueller about whether Russia colluded with President Donald Trump during the 2016 election.
"It is America that is looking forward to the report's release but we aren't. This is not an issue for us, it is not a thing that interests us or causes us concern," Dmitry Peskov, the longtime spokesperson for Putin, told the Russian state-run TASS news agency.
"All the reports on the matter that have been released so far contain nothing but cursory statements," he claimed before saying that "we have more interesting and important things to do."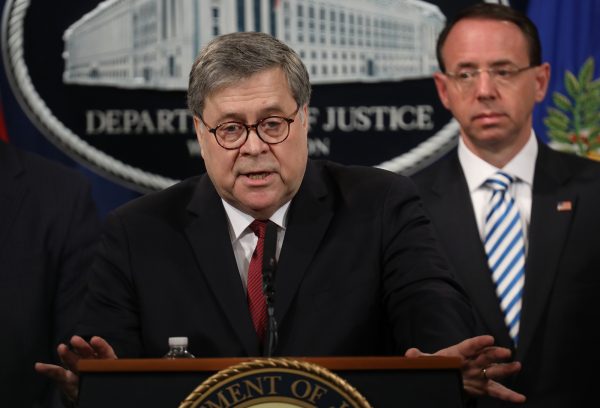 Peskov made the remarks before Attorney General William Barr released the report to Congress.
The Kremlin has frequently denied that it attempted to influence the 2016 election. Earlier in April, Putin mocked the Mueller report as "complete nonsense," without elaborating, reported The Moscow Times.
"We said from the start that Mr. Mueller's notorious investigation would find no evidence," Putin said on April 9. "Therefore, it was clear to us in advance that it would end up as 'The mountain gave birth to a mouse,' as they say."

However, in an April 18 conference, Barr told reporters that the Russian government attempted "to illegally interfere with the 2016 presidential election."
But, he said, Mueller's team found no evidence that Trump colluded with Russia despite rampant speculation to the contrary.
'Bottom Line'
The attorney general reiterated that there was no collusion.
"After reviewing those contacts, the special counsel did not find any conspiracy to violate U.S. law involving Russia-linked persons and any persons associated with the Trump campaign," said Barr in the morning conference. "So that is the bottom line."
Regarding the finding that Trump's team didn't collaborate with Russia, "That is something that all Americans can and should be grateful to have confirmed," Barr noted.
Furthermore, the Trump administration didn't invoke executive privilege to block the release of Mueller's report, Barr explained.
"President Trump faced an unprecedented situation. As he entered into office and sought to perform his responsibilities as president, federal agents and prosecutors were scrutinizing his conduct before and after taking office and the conduct of some of his associates," added Barr. "At the same time, there was relentless speculation in the news media about the president's personal culpability."
— Donald J. Trump (@realDonaldTrump) April 18, 2019
Trump on April 18 responded to Barr's historic press conference, tweeting, "No Collusion—No Obstruction!"
About an hour later, he tweeted a photo in reference to HBO's "Game of Thrones."
No Collusion – No Obstruction! pic.twitter.com/diggF8V3hl

— Donald J. Trump (@realDonaldTrump) April 18, 2019
"Game over," it said.
The meme is also "for the haters and the radical left Democrats," his tweet read.
Regarding the redactions of the Mueller report, they will fall into several categories, including material that is relating to ongoing investigations, material that relates to methods or sources, grand jury material, and items that concerns unindicted persons of interests, said Barr.