Vladimir Putin was snubbed at the G-20 meeting in Australia by virtually every leader over his repeated violations of Ukraine's territorial integrity. This would have caused a less-pugnacious Russian president to reflect on his long-demonstrated contempt for international covenants intended to build a more peaceful and prosperous world.
When confronted by Canada's Prime Minister Stephen Harper about Ukraine, Putin repeated his serial falsehood by denying the occupation. He left the conference prematurely, seemingly disdainful of other participants despite claiming otherwise in a subsequent Moscow press conference.
Before the G-20 meeting, Putin had sent Russian aircraft close to Canada, the United States, U.K., Denmark, and the Baltic states. Four Russian warships crossed international waters near Australia. Russian troops without insignia on their uniforms again crossed into eastern Ukraine with 32 tanks and 16 howitzer artillery systems on Nov. 7, in violation of the Minsk truce agreed to by Putin in September. Crimea now holds tens of thousands of Russian soldiers.
German Chancellor Angela Merkel, the European leader with the best relationship with Putin, said after the G-20 event that Russia was "violating the territorial integrity and sovereignty of Ukraine." Having long respected Russia's concerns about Ukraine moving closer to NATO, she argued it was "simply not acceptable to forbid a country" to sign a trade agreement with the EU. The German news magazine Der Spiegel added, "(She) believes that what Putin says and what Putin does have long since diverged."
George Soros stresses in the current issue of the New York Review of Books: "Anti-Europe parties captured nearly 30 percent of the seats in the latest elections for the European Parliament… Now Russia is presenting an alternative that poses a fundamental challenge to the values and principles on which the (EU) was originally founded. It is based on the use of force that manifests itself in repression at home and aggression abroad."
While its president is challenging Europe and the West with military force, within Russia itself, as Julia Ioffe notes in the New Republic, the ruble lost more than 30 percent of its value against the American dollar between January and November 2014. Food prices have soared.
One reason for the fall is the near zero-growth rate in the Russian economy over the past year. Oil prices fell, partly from OPEC seeking to undersell competitors in a glutted market. Russia's national budget is currently pegged to an international oil price of $97 a barrel. Oil closed at $77.49 on Nov. 13. With oil making up a fifth of their economic output, Russians will see a 6–7 percent drop in GDP this year. Russia previously used access to its vast oil and gas resources to win allies. Now much-needed access to foreign capital for its petroleum industry is being severely restricted by Western financial sanctions.
Canadian investment strategist Nick Rost van Tonningen adds that Russia's central bank has already raised its key interest rate four times this year, most recently on Oct. 31, from 8.0 percent to 9.5 percent— "a jump of this magnitude is … in hockey terms, a matter of 'pulling the goalie,' and at worst evidence of outright panic."
Many Russians still appear to blame the West for their economic problems, but it's unclear for how much longer chronic domestic misgovernance can be overlooked across Russia despite the constant propaganda in state media. Anton Siluanov, the Russian finance minister, for example, has confirmed that $7.2 billion was confiscated from Russians' pensions to finance the seizure of Crimea.
In an incisive analysis of Putin in the March 17, 2014, issue of Psychology Today, Dr. Ian Robertson of Trinity College, Dublin, concludes: "So how should the West respond? … the very worst response would be appeasement because this will simply fuel [Putin's] contempt and strengthen the justification for his position. Strong consequences have to follow from his contempt for international law and treaties. This will cost the West dearly, economically speaking, but the longer-term costs of appeasement will make the costs of strong, early action appear trivial in retrospect."
When Putin was handed Russia's presidency by an ailing Boris Yeltsin in 2000, his country had few adversaries in the West, but he now treats all of us as would-be "subjugators" of Russia. The responsible international community must stand up to his threats and bombast with a unified determination and without being drawn into any spiral of mounting tensions. A strategy building on smarter, tougher, and broader sanctions is necessary; so too is much more help for the economy of Ukraine.
This article was first published on Yahoo! Canada.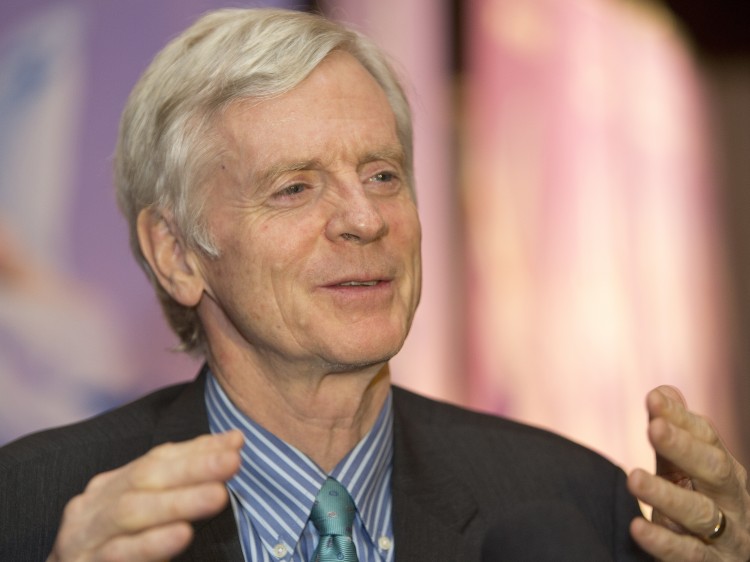 David Kilgour, a lawyer by profession, served in Canada's House of Commons for almost 27 years. In Jean Chretien's Cabinet, he was secretary of state (Africa and Latin America) and secretary of state (Asia-Pacific). He is the author of several books and co-author with David Matas of "Bloody Harvest: The Killing of Falun Gong for Their Organs."
Views expressed in this article are the opinions of the author and do not necessarily reflect the views of The Epoch Times.