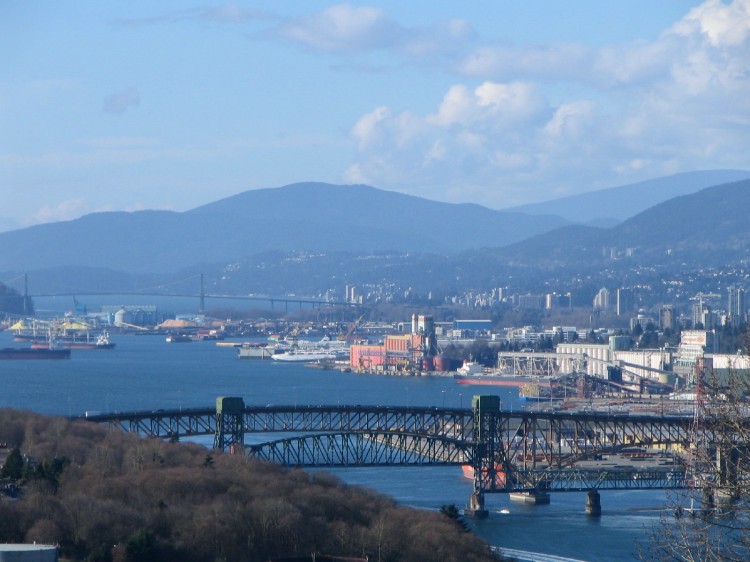 U.S. energy company Kinder Morgan's announcement last week that it plans to expand its Trans Mountain pipeline has brought howls of protest from opponents in British Columbia.
The Texas-based multinational said commitments from new and existing customers, mostly Asian, have made it possible to go ahead with increasing the pipeline's capacity to 850,000 barrels per day—a much larger expansion than it had previously indicated.
The Trans Mountain pipeline currently carries 300,000 barrels a day from the Alberta oil sands to Kinder Morgan's Westridge Marine Terminal in the Vancouver suburb of Burnaby.
The $5-billion expansion would mean twinning the existing pipeline, adding new pump stations along the route, increasing the number of storage tanks at existing facilities, and expanding the Westridge terminal.
It would also mean around 360 crude oil tankers per year traversing Burrard Inlet and busy Vancouver Harbour, up from the current 80 per year—something that's not going down too well with city councils in Metro Vancouver.
Vancouver Mayor Gregor Robinson has said he is strongly opposed to more tankers in Vancouver's harbour because of the risk of an oil spill, which would impact both tourism and jobs.
Robinson said he and his council will fight the proposal and speak against it when it goes before the National Energy Board for review. Other Metro Vancouver mayors have also vowed to fight it, including Burnaby Mayor Derek Corrigan.
NDP associate natural resources critic Kennedy Stewart, MP for Burnaby-Douglas, says that in order to twin the pipeline, Kinder Morgan "would basically have to dig a trench the size of a four-lane highway from Edmonton to Burnaby."
"And what's really concerning for me is that the current line runs though 15 First Nations reserves. So this could be quite a conflictual project," he adds.
The Tsleil-Waututh Nation, the heart of whose community is centred around Burrard Inlet, also opposes the expansion because of the risks associated with it.
The Tsleil-Waututh directly experienced the impacts of a Kinder Morgan oil spill in 2007, which resulted in about 1,500 barrels of oil being discharged into Burrard Inlet and surrounding areas.
"Our community was deeply affected by the 2007 oil spill," Chief Justin George said in a press release last October, when the Trans Mountain transportation increase was expected to be 700,000 barrels per day.
"Our inlet has been scarred by the impacts of oil spills and we have seen firsthand the inadequacies of emergency response and cleanup efforts. Given this experience, it is just too big of a risk to allow more oil to be transported through Burrard Inlet for export."
Engaging Local Communities
Kinder Morgan said that starting this summer, it plans to "fully engage" local communities.
"We are committed to an 18 to 24 month inclusive, extensive, and thorough engagement on all aspects of the project with local communities along the proposed route and marine corridor, including First Nations and aboriginal groups, environmental organizations and all other interested parties," Ian Anderson, president of Kinder Morgan Canada, said in a statement.
"We will also consider providing financial support to local communities for environmental initiatives," Anderson added.
The Trans Mountain expansion and Enbridge's proposed $5.5-billion Northern Gateway pipeline aim to open up landlocked oil sands crude to lucrative Asian markets.
The oil sands are expected to increase output to 3.5 million barrels or more per day by 2020—double that of 10 years earlier. With the prospect of increased royalty and tax revenues, the federal and Alberta governments support the pursuit of new markets.
Wilderness Committee campaigner Ben West says the Kinder Morgan expansion would make Trans Mountain bigger than TransCanada's proposed Keystone XL pipeline or the controversial Northern Gateway project, which would bring crude from the oil sands to Kitimat, B.C., for shipping to California and Asia.
"A bigger pipeline means even bigger opposition, and as momentum builds in opposition to the Enbridge pipeline there will be even more capacity to fight the Kinder Morgan proposal," says West.
According to a survey commissioned by Stewart, there is little public support for the expansion. The Mustel poll shows 31 percent of British Columbians support twinning the Trans Mountain pipeline while 35 percent support keeping the existing single oil pipeline. Eleven percent favour removing all Trans Mountain oil pipeline infrastructure.
Stewart believes support is low because British Columbians are wary of bearing the burden of increased local environmental risks while gaining little in return economically.
Kinder Morgan's Anderson, however, says the strong commercial support for the expansion "reinforces the appeal of our project and our approach."
"This strong commercial support shows the market's enthusiasm for expanding market access for Canadian crude by expanding an existing system."
The company's three markets for the oil are Metro Vancouver, Washington State, and offshore exports.
Kinder Morgan said it will file a regulatory review application with the National Energy Board by 2014. If approved, construction would commence in 2016 with the pipeline operating by 2017.