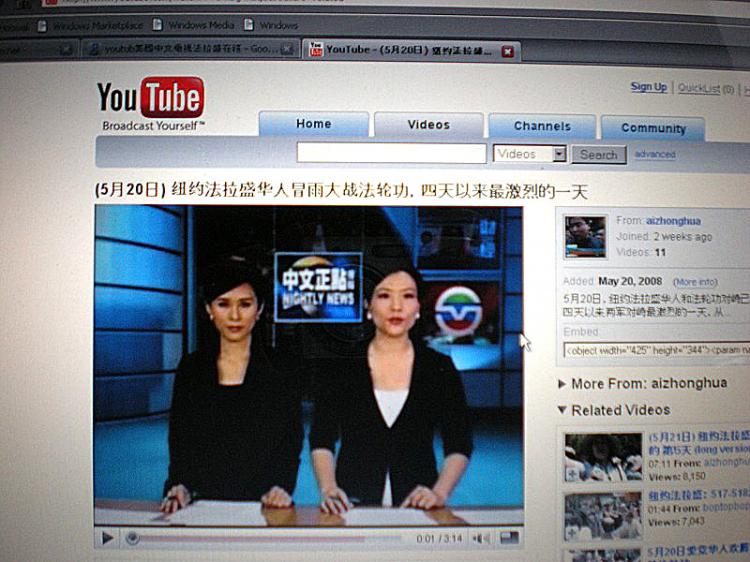 NEW YORK—Liu Yan, 58, was in a forced labor camp in Beijing when the Sichuan earthquake struck China last May. Though she didn't feel the quake, aftershocks of a different kind reverberated throughout the detention center. In the "brainwashing classes" she was forced to attend, the guards were harsher and more ferocious.
"They started to tell me, 'You Falun Gong people were celebrating the earthquake in Flushing.'"
Days earlier, in Flushing, New York, a group of Falun Gong practitioners held a rally to mark 37 million Chinese people who had renounced the Chinese Communist Party (CCP). The rally was held on May 17—five days after the earthquake.
It was a tough call deciding on whether to go ahead with the parade, said Yi Rong, parade organizer and director of the New York Service Center for Quitting the CCP. "Many of us had family members in Sichuan. We observed three minutes of silence before the rally for the victims—it was hard for us being so far away."
Suddenly the atmosphere changed, said Yi Rong. More than 500 Chinese had gathered, waving red CCP flags and shouting curses at the Falun Gong practitioners. "They yelled to me 'traitor,' 'you're not human,' and 'go to hell,'" Yi Rong said.
'Shooting Studio' for Propaganda
The Chinese press, which often adopts a Communist Party-line when reporting sensitive subjects, also showed up, she said. "They had reporters from World Journal, China Press, Sing Tao, and SinoVision. I had never seen pro-CCP media in all the Falun Gong-related rallies I have been to over the past five years. Not once."
The footage played back to the mainland on China Central Television (CCTV) and was also broadcast on the Internet.
CCTV, which is the official mouthpiece of the CCP and reports directly to the Central Propaganda Department, took footage of the rally and the sea of flag-waving pro-communist supporters. The commentary said Falun Gong practitioners were disrupting earthquake donations and "acting as a tool to interfere with our country's domestic politics, brazenly betraying the people of the motherland," among other rhetoric.
The New York-based SinoVision also played the programs to American households. SinoVision is well known for promoting a pro-CCP viewpoint, and its non-news reporting is almost exclusively sourced to CCTV, which provides content freely to overseas Chinese media as a way of furthering the CCP's "soft power."
"Their reports have a very strong political inclination that runs parallel to the Chinese authorities," says Dr. Tang Boqiao, chairman of China Peace and Democracy Federation. "I urge extreme caution regarding the objectivity of reports from a media organization with the same background as the China Press and SinoVision. They merely echo the views of the People's Daily [the CCP's mouthpiece in print]."
Effects in China Intensify
Zhang Fangfang, a Falun Gong practitioner who was in Anhui Province, China, at the time of the attacks in Flushing said the state media seized the opportunity to spread anti-Falun Gong propaganda.
"The newspapers and TV were full of it," she said. "And the authorities started arresting Falun Gong practitioners and putting them into brainwashing centers. Among the people I know, there were five or six arrested—some had their homes broken into in the middle of the night. Before then, it was very quiet."
Regime authorities in China said Falun Gong practitioners in Flushing were "beating the drums and celebrating the earthquake," and the same message was hammered into Liu Yan in Beijing Women's Labor camp.
Liu started to see more Falun Gong practitioners being brought into the camp around that time, too.
"Starting at that point, they intensified the persecution," she said. "I knew they were trying to incite hatred so people around us would hate us and attack Falun Dafa."
She was locked in a room with four guards and a camera monitoring her.
Typical Tactics, Says Expert
Clive Ansley, a Canadian lawyer who taught law in China for six years during the 1980s, said the Communist Party has never had any concern for human life.
"I've watched the Communist Party," Ansley said. "I know how many people they have killed over the years. I know their totally callous attitude toward human life, and their absolutely ruthless persecution of anyone who criticizes them."
Ansley was living in China in 1999 when then-Party head Jiang Zemin ordered the persecution against Falun Gong and began a propaganda campaign vilifying the practice.
"They're not looking at [the Sichuan earthquake] as any great tragedy," he said. "And if it can be used in one way or another, if they can come up with something creative to capitalize on it, or to use against a particular target that they have in a particular moment in history, then they'll do it."
He was not surprised that Chinese consul-general in New York, Peng Keyu, was found to have played a behind-the-scenes role in the Flushing attacks and subsequent anti-Falun Gong propaganda reports, as shown through an undercover investigative phone call.
"I have even agitated them!" Peng said, thinking he was speaking to a fan soon after the events began. "I said, 'Write some reports! I say things like this. Today I told the people from the CCTV, 'You guys should take some footage of these phenomena,'" he boasted, unaware that the discussion was being recorded.
He also held a press conference to condemn Falun Gong. "It is on the newspaper today. I read the news today. The China Press made a very detailed report."
John Liu Connection
Falun Gong practitioners sought help from their local council member, John Liu, a current contender for the comptroller position in NYC.
"Instead of meeting with the victims—practitioners of Falun Gong, who are U.S. citizens—John Liu chose to meet with the villains who assaulted Falun Gong practitioners," said Erping Zhang, spokesperson for the Falun Dafa Information Center.
"It's quite disturbing," he said.
Zhang said John Liu met with Falun Gong practitioners weeks later, after pressure from media reports. At the meeting, John Liu was shown a video recording of the pro-communist group attacking Falun Gong practitioners.
"I specifically asked him to condemn the violence and he refused," Zhang said.
Zenon Dolnyckyj, a Falun Gong practitioner who was a victim of attack in Flushing said Liu refused to acknowledge any violence in the video. "Liu told me, 'I don't see that happening here in this video,'" said Dolnyckyj. "It was a joke, a sham, I was shocked."
"His intention to meet with us was to create a show of doing his job, while in concrete action and substance, he was showing very clearly where his allegiances were. Not in the safety of the citizens of the American people in his constituency, but with the interest of the CCP—who have spent countless amounts of resources attacking and vilifying Falun Gong in China, and through their embassies and consulates around the world. That was crystal clear."
Bait and Switch Suspected
Yi Rong says that the CCP wanted to divert the Chinese people's attention from the deaths following the Sichuan earthquake, and in particular, the reports that thousands of school children had died, trapped in shoddily constructed buildings when the quake struck.
She said the number of people renouncing the CCP online increased dramatically as word spread of the "tofu dreg" buildings, the product of systemic malfeasance.
Since the Flushing incident began in May last year, until September 2009, 117 Falun Gong practitioners are verified to have died as a result of persecution in China, according to incomplete statistics by the Falun Dafa Information Center. Fifty five practitioners were arrested and were reported killed in custody soon after the Flushing incident.