Prominent Beekeepers Blame Pesticides for Bee Decline
April 2, 2013 6:05 am Last Updated: April 3, 2013 11:51 pm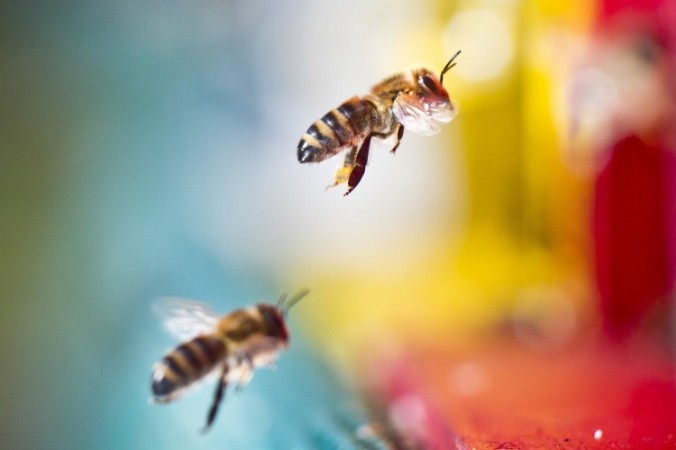 When it comes to a healthy, thriving food supply, bees are essential. Busy bees pollinate more than a quarter of all plants consumed in the United States, and at least 130 different American crops. 
But bee colonies are disappearing fast, and many blame commercial agriculture's most popular pesticides. A coalition of environmental groups and prominent beekeepers are suing federal regulators to stop the spread of bee-toxic chemicals.
Filed March 21, and led by the Center for Food Safety, the lawsuit calls for a moratorium on two of the most widely used, yet highly controversial insecticides in U.S. agriculture—clothianidin and thiamethoxam. Both chemicals belong to a relatively new class of pesticides called neonicotinoids. 
Because neonicotinoids are highly toxic to bees and other pollinators, the U.S. Environmental Protection Agency (EPA) issued conditional registrations for these chemicals when they first entered the market in 2003—restricting use to a highly advanced seed treatment method that is environmentally sound, according to regulators.
However, scientists both inside and outside the EPA worry that the method might not be so foolproof, and some countries have decided to stop using neonicotinoids altogether. Over the past three years, more than 30 scientific papers have linked neonicotinoid use with bee death.
In January 2013, scientists at the European Food Safety Authority (EFSA) reported that neonicotinoids have "acute and chronic effects on bee colony survival and development." However, a vote to ban these chemicals throughout the EU on March 19 didn't get the majority necessary to pass. Much like U.S. regulators, some EU member nations argue that there is still not enough evidence to suggest a real problem.
One of the groups behind the U.S. lawsuit—environmental nonprofit Beyond Pesticides—has been urging regulators for years to reconsider their stance on neonicotinoids. According to Beyond Pesticides staff scientist Nichelle Harriott, EPA's decision to approve clothianidin and thiamethoxam was flawed from the beginning.
"Bee losses in the U.S. are pretty high," said Harriott in a phone interview. "The fact that we have millions of acres of corn treated with bee-toxic chemicals—regardless of what buffering system you put into the environment, what type of label amendment you have, or what you tell the farmer—bees are going to be exposed to clothianidin and thiamethoxam."
Regulators and pesticide manufacturers say there is no connection between the quickly diminishing bee population and neonicotinoids, but recent history draws a curious timeline. As clothianidin and thiamethoxam have become more widespread, bees have been dropping like flies—a third of commercial beehives (totaling over 1 million colonies) have disappeared in the past year. 
According to Harriott, the EPA consistently underestimates risk with most chemicals that come on to the market. Her case in point is Imprelis, a lawn chemical EPA approved in 2010 that was later shown to have killed millions of dollars' worth of Norway spruce and white pine trees. DuPont voluntarily ended Imprelis sales in August 2011. The EPA issued a stop sale order a week later.
"EPA tends to mitigate risk instead of evaluating what the risk/benefit ratio is. For example, does the risk—in this particular case, harm to bees—outweigh the benefit of farmer convenience?" asked Harriott. "Bee keepers feel that this is getting into, if it hasn't already, an unsustainable practice."
The Rise of Neonicotinoids
First developed by Shell Oil in the 1980s to replace the highly toxic organophosphorus insecticides, neonicotinoids promised an environmentally friendlier solution that was both safer for humans, and more potent against pests.
Synthetic derivatives of nicotine, neonicotinoids are designed to destroy the nervous systems of crop pests, but the chemicals have been shown to be just as lethal to beneficial wildlife, such as honeybees and songbirds. 
However, according to statements from clothianidin manufacturer Bayer Crop Science, the seed coating method used with neonicotinoids "presents no risk to the environment, since seed treatment is one of the most precisely targeted forms of plant protection," and "there has been no demonstrated effect on bee colony health associated with the appropriate use of clothianidin in the environment."
Not only does seed treatment promise precision, it's also easy to use. This convenience is what makes neonicotinoids such a favorite among farmers, and why it has spread so quickly. Instead of conventional field spraying, neonicotinoids are applied to seeds before planting. As the plant grows, the chemical spreads throughout the cells, warding off pests throughout the entire life cycle of the crop.
EPA plans to review their registration for clothianidin and thiamethoxam in 2018 with a long-term study to better understand how these chemicals impact bee colonies, but critics say that bee colonies, beekeepers, and our food supply, cannot afford to wait much longer.
"I think that at this point the writing is on the wall," said Harriott. "These things need to get out of our environment."
The Epoch Times publishes in 35 countries and in 21 languages. Subscribe to our e-newsletter.