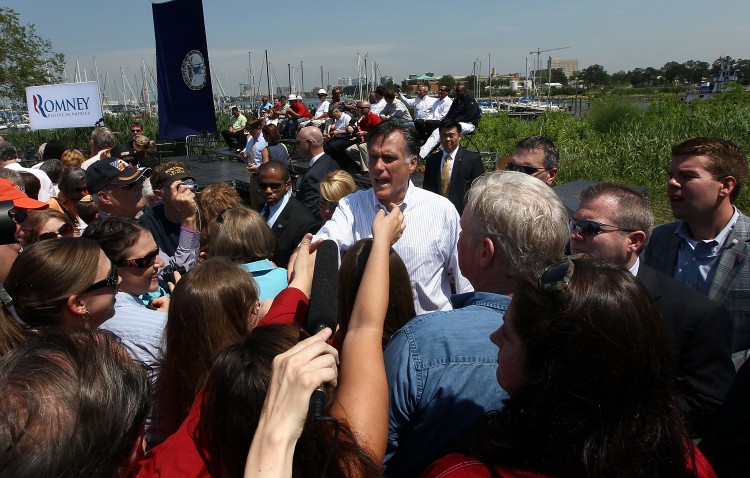 The 2012 general election campaign moves to full throttle this week, with the Obama camp to hold campaign launches and Mitt Romney another step closer to official recognition as the Republican presidential nominee.
The Obama campaign announced last week that official campaign launches will take place in Virginia and Ohio, on Saturday, May 5.
"We think this is the right time for us," campaign manager Jim Messina told reporters, on a conference call. "We've been planning on this a while, and we feel like it's the right time to engage."
It seems all downhill for former Gov. Mitt Romney, meanwhile, after House Speaker Newt Gingrich officially suspended his campaign May 2.
Campaigning in Portsmouth, Va., on Thursday, Romney was flanked by Virginia Republican Gov. Bob McDonnell and Minnesota Congresswoman Michele Bachmann, who also declared her endorsement of the former Massachusetts governor. 
"I am honored to be able to be here … to lend my voice and my endorsement to Mitt Romney as our president, and take the country back," she told supporters at Romney's campaign event.
"For all of America, this is a very simple proposition this November—President Barack Obama, President Mitt Romney. You decide. Very easy," she told a crowd of supporters.
Ohio and Virginia are shaping up to be key swing states in the coming elections.
Since the 1960s, no one has won the presidency without winning Ohio. Then-candidate Obama captured the Buckeye State in 2008 and is keen to win the state's 18 electoral votes in November. 
However, recent polling by Quinnipiac University on three key states—Ohio, Florida, and Pennsylvania—suggests that will be a challenge. The president was leading Romney by 5 points in Ohio in March, according to earlier polls, but has dropped back to a 2-point lead—44 percent to 42 percent. 
He dropped back in Florida, too, but maintained a solid lead in Pennsylvania.
"Romney's ability to cut into the president's leads in Ohio and Florida reflects two changes in the political environment," said Peter A. Brown, assistant director of the Quinnipiac University Polling Institute, in a statement. "First, since he is now the de facto nominee, Romney is no longer being attacked by his fellow Republicans, who are closing ranks behind him. Second, voter optimism about the economy has leveled off, reflecting economic statistics over the past month and the public reaction to them."
Virginia is also shaping up as a key state. Traditionally a bastion of the Republican Party, Obama launched his campaign there 4 years ago and won the state by 7 points. 
It was the first time since 1964 that a Democrat had won Virginia, but locally the state swung back, voting in Republican Gov. McDonnell and throwing out three Democrats in the Congressional elections of 2010.
Frances Lee, professor of government and politics at the University of Maryland, says Virginia is not a state the Democrats normally rely on, but a win there will be important symbolically for the Obama campaign. 
"It would help to cement Obama's case as a president who is able to go beyond the narrow coalitions that President Clinton was able to pull together … a broader majority," she said.
She credits changing demographics in Virginia as the reason behind the contest in this year's election.
"The growth of northern Virginia is important, so the Washington metropolitan area—the north Virginia suburbs—is different from the rest of the state, which has a more traditional southern character; more conservative," she added.
Obama will conduct a presidential visit to a school in Arlington, Va., tomorrow, meeting with kids, parents, and teachers. This is before his campaign launch Saturday, which will include First Lady Michelle Obama, who holds a nearly 70 percent approval rating, according to a recent ABC News/Washington Post poll.
Romney Hits Stride
The importance of Virginia is not lost on the Romney campaign. "This may well be the state [that] decides who the next president is," Mitt Romney told supporters at the Portsmouth event.
Romney seemed to have hit his stride in campaigning, peppering his talk with humorous anecdotes while attacking Obama's policies. 
Obama would blame world events for the state of the U.S. economy at his campaign event Saturday, Romney said, while he himself would address debt levels, the unemployment rate, and the price of energy, should he be elected president.
Appealing to Virginia's high veteran population, Romney said Obama's cutbacks in the military were a reversal of a decade's-old security policy, but a Romney president would expand the military, especially the Navy and Air Force.
Romney, who has indicated he will take a tough line on China, criticized the Obama administration's handling of blind Chinese activist Chen Guangcheng, who this week sought asylum in the American Embassy in Beijing, only to leave again after pressure was placed on his family.
"Our embassy failed to put in place the kind of verifiable measures that would assure the safety of Mr. Chen and his family," Romney said, "If the reports are true, this is a dark day for freedom and it's a day of shame for the Obama administration."