West Palm Beach, Florida, is in the projected path of Hurricane Dorian—which could become either a Category 3 or Category 4 hurricane when it makes landfall—and that means President Donald Trump's Mar-a-Lago resort may be impacted.
According to a report from The Tampa Bay Times, Dorian is projected to make landfall on Labor Day, Sept. 2, with Melbourne, Florida, being the likely ground zero. Melbourne is about 115 miles north of Palm Beach, where Trump's ocean-front property is located.
But Mar-a-Lago is located within the cone of probability posted by the U.S. National Hurricane Center.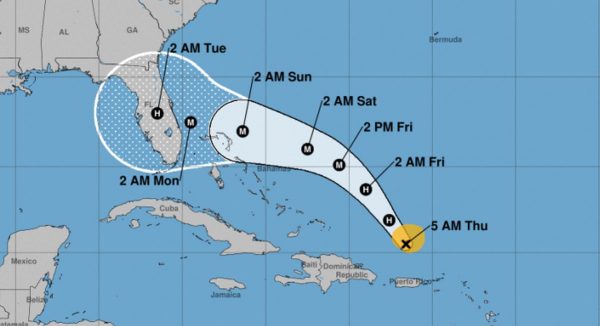 The Times noted that previous models suggested the storm could pass through the resort and hotel. As of Thursday morning, the path of the hurricane has shifted to the north.
The U.S. Secret Service, Trump Organization, and White House didn't offer any comments to the local paper.
Meanwhile, President Trump tweeted about Dorian, noting that it missed Puerto Rico.
"Puerto Rico is in great shape with Hurricane Dorian taking a largely different route than anticipated. Thank you to FEMA, first responders, and all, for working so hard & being so well prepared. A great result! The bad news, Florida get ready! Storm is building and will be BIG!" the president wrote.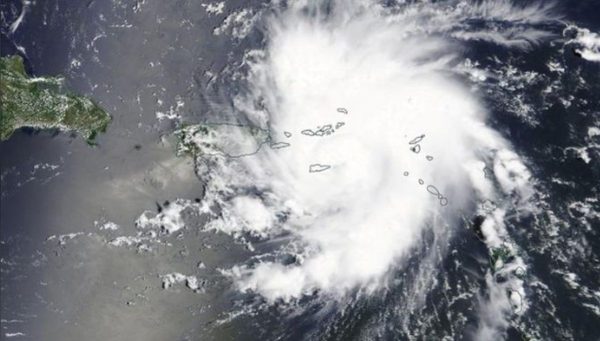 He added: "Hurricane Dorian looks like it will be hitting Florida late Sunday night. Be prepared and please follow State and Federal instructions, it will be a very big Hurricane, perhaps one of the biggest!"
During Hurricane Irma in 2017, Mar-a-Lago was evacuated and damaged. The mansion, built in 1927, wasn't hit by the strongest part of the hurricane, reported the Palm Beach Daily News at the time.
Damage included roof leaks, flooding in parking lots, downed trees, and other minor issues, while the building avoided any major structural damage.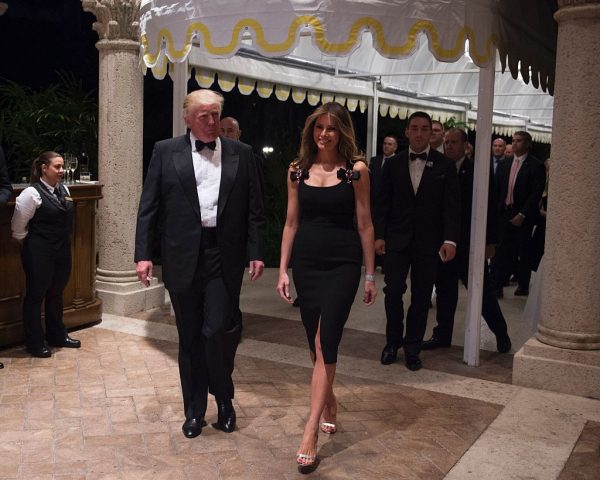 'Big Deal'
The National Hurricane Center said the Category 1 storm is expected to strengthen into a potentially catastrophic Category 4 with winds of 130 mph and slam into the United States on Monday somewhere between the Florida Keys and southern Georgia, The Associated Press reported.
"If it makes landfall as a Category 3 or 4 hurricane, that's a big deal," said University of Miami hurricane researcher Brian McNoldy. "A lot of people are going to be affected. A lot of insurance claims."
Ahead of landfall, Florida Gov. Ron DeSantis declared a state of emergency.
"It's important for Floridians on the East Coast to monitor this storm closely," DeSantis said in a statement. "Every Florida resident should have seven days of supplies, including food, water, and medicine, and should have a plan in case of disaster."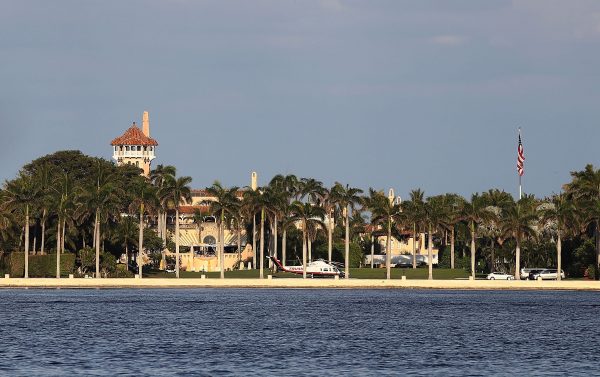 "The time to act is now," the governor said. "Do not wait until it's too late."
A Category 4 storm would have 130 mph winds and higher gusts, which may cause "catastrophic damage," according to the NHC's website.
"Well-built framed homes can sustain severe damage with loss of most of the roof structure and/or some exterior walls. Most trees will be snapped or uprooted and power poles downed. Fallen trees and power poles will isolate residential areas. Power outages will last weeks to possibly months. Most of the area will be uninhabitable for weeks or months," the website says.
The Associated Press contributed to this report.