Power Outages Plague Provinces After Storms
January 25, 2008 12:00 am Last Updated: January 25, 2008 12:00 am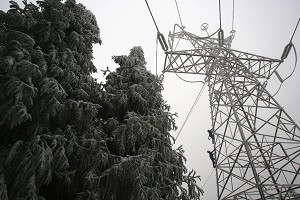 According to the China National Power System authorities on January 22, a coal shortage has caused brownouts in 13 provincial power grids. Additionally, the recent nationwide snow storm that caused untold numbers of traffic accidents has affected coal deliveries.
Since the beginning of last winter, electrical power demand has increased rapidly, with peak loads occurring in summer and winter. Factors such as insufficient coal production, small mine closures, delivery constraints, etc. have caused the shortage in coal supplies for power generation.
The current national daily coal supply is 1.99 million tons (1 ton = 2,240 lbs,) with an average daily shortage of approximately 330,000 tons. As of the afternoon of January 21, power grids in Central China and East China broke down. Twenty-two 500 thousand-volt transmission lines ceased transmission. At present, the power supply shortage has reached almost 70 gigawatts.
On January 21, the China National Grid reported this urgent situation to the National Development and Reform Commission requesting support and the mobilization of power management by controlling demand through planned disruption of service.
According to predications from the China National Grid, because of the impact of the snow storm in Central China, the earliest that relief would occur in the region was January 24 or 25.
According to expert estimation, China's coal reserves will fall to 14 million tons, getting close to the 6 days reserve warning level.