Poverty Is the Main Reason 2.3 Million Youths in China are No Longer in School
February 3, 2006 12:00 am Last Updated: February 3, 2006 12:00 am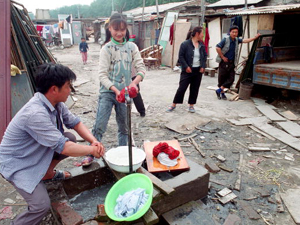 Wang Xuming, spokesperson for China's Ministry of Education, said that according to 2004 statistics, about 2.3 million youths in China have stopped attending school. Wang indicated that the main cause of this phenomenon was poverty.
On January 26, 2006 China's official news agency, Xinhua News , quoted Wang from the Ministry's first news release of the year. The report stated that there are 180 million elementary and middle school students in China, of which about 2.3 million no longer attend classes.
Mr. Wang Xuming said, according to the 2004 statistics, the nationwide average student dropout rate was 0.59 percent for elementary school and 2.49 percent for middle school students. In the poorer areas of Western China, the dropout rate could be higher than two percent for elementary students and higher than seven percent for middle school students. Mr. Wang said the students quit school because of poverty and insufficient government funding for education.
According to official statistics, in 2004 the average annual net income was 9,422 Yuan (approximately US$1,168) for urban residents and 2,936 Yuan (approximately US$364) for rural residents. On average, expenses, including tuition and living costs, for a college student are about 7,000 Yuan (approximately US$868) per year, which adds up to 28,000 Yuan for four years. As a result, using the entire income of an urban resident, it would take close to 3 years to pay for an education while for a farmer it would take roughly 9 years and 6 months to repay the cost of obtaining a four-year degree.
The cost of obtaining an education has increased dramatically in recent years and became the highest cost for residents, even exceeding retirement, medical, and housing costs. In the past ten years, college tuition in China has increased from several hundred Yuan per year, to 5,000 to 8,000 Yuan per year—a 20-fold increase. The average GDP only increased fourfold during the same period.
New York City University political science professor Xia Ming said, "In today's Chinese political and economic transformation, a large lower-class is forming, they do not have much education, and do not know the laws. The crisis of current China comes from such a disadvantaged group. Their economic standard of living is not improving, and they do not see any hope for the future. Such a disadvantaged group could cause increased crime rates and pose a threat to the nation's security."
In November of last year, China's Ministry of Education promised to intensify the auditing of the "National Poverty Area Free Education Project" and "Elementary and Middle School Housing Remodeling Project", and to audit all education-related businesses, in order to eliminate unauthorized tuition fee increases.