The Centers for Disease Control and Prevention states: "Each year more than 41,000 individuals die by suicide, leaving behind thousands of friends and family members to navigate the tragedy of their loss.  Suicide is the 10th leading cause of death among adults in the United States and the 2nd leading cause of death among young people aged 10-24; these rates are rising.
"Suicidal thoughts or behaviors are both damaging and dangerous and are therefore considered a psychiatric emergency. Someone experiencing these thoughts should seek immediate assistance from a health or mental health care provider. Having suicidal thoughts does not mean someone is weak or flawed."
Police Suicides: Dangers Behind the Badge
The International Association of Chiefs of Police (IACP) cites in their document titled "Preventing Law Enforcement Suicide that each year more law enforcement officers die by suicide than are killed in the line of duty.
The Office of Community Oriented Policing Services (COPS), the component of the U.S. Department of Justice dedicated to advancing community policing, encourages everyone to take action to prevent law enforcement suicides.
In an edition of their Community Policing Dispatch newsletter, COPS states the following:
"Care for officers' mental and emotional health should be on par with that for their safety and physical health. In order for prevention efforts to be successful, agencies must also address cultural and environmental barriers to prevention at all levels, e.g., the still-pervasive stigma that discourages at-risk officers from seeking help for fear of negative peer reactions or career ramifications; lack of comprehensive suicide prevention policies; and insufficient training for officers or health care providers.
"There are many people who have a role to play in preventing suicide among law enforcement officers. The attitudes and behaviors of chiefs, supervisors, peers, health care providers, family, friends, faith leaders, and others can all influence officers' health."
NYPD Suicide Tragedies
The NYPD has already experienced three tragic officer deaths by suicide in 2018.
The most recent is the suicide of a 24-year-old rookie officer, Rachel Bocatija, who took her life inside her Brooklyn home on Feb. 27.
Other officers who lost their lives by suicide this year are Sgt. Joseph Pizzarro, 35, who fatally shot himself on Jan. 13 in a room at the Hilton Garden Inn on Staten Island.  On Jan. 28, Detective Nicholas Budney took his life at an Orange County restaurant overlooking the Hudson River.
Regarding Officer Bocatija, a neighbor at the scene of the NYPD response to her suicide stated that her younger sister—who also planned to join the NYPD—found her body in a looked room of their Brooklyn home.
NYPD Commissioner: Seeking Help is Great Strength
NYPD Commissioner James O'Neill expressing his empathy, compassion, and concern, addressed all members of the NYPD regarding suicide awareness and the resources available to them.
"This week, we are again mourning the loss of one of our family members. A young police officer from the 84th Precinct, on the job for just over two years, took her own life at home in Brooklyn. Already this year, we have lost three members to suicide. One is too many.
"As an NYPD cop, the thing I am most proud of is that we truly are a family. And because we spend so much of our lives in our patrol cars, station houses, and offices, we often see more of the people we work with than our own relatives.
"Each of us is dedicated to the important business of fighting crime and keeping New Yorkers safe. This is a tough job. And your personal life can be even tougher. We all have lives outside the job. And we all have our own stories.
"We agree, in an ideal world, seeking out help is never a sign of weakness—it's a sign of great strength. If you are having a problem of any kind, please contact the services offered inside and outside the department—because you never have to shoulder your burden alone. Trained members will listen and connect you with even more help, around the clock. And if you know of someone else who may need to talk, please make the first move … Thank you for what you do every day for our department and the people of New York City. And always, stay safe."
National Suicide Prevention Lifeline
Aside from resources for assistance within agencies such as the NYPD, the National Suicide Prevention Lifeline (NSPL) at 1800-273-8255, provides 24/7, free and confidential support for people in distress, prevention and crisis resources, best practices, and building awareness.
As detailed on the NSPL website, these are some warning signs that may help to determine if one is at risk for suicide. These warning signs, "especially if the behavior is new, has increased, or seems related to a painful event, loss, or change" demands that someone seek help:
Talking about wanting to die or to kill themselves
Looking for a way to kill themselves, like searching online or buying a gun
Talking about feeling hopeless or having no reason to live
Talking about feeling trapped or in unbearable pain
Talking about being a burden to others
Increasing the use of alcohol or drugs
Acting anxious or agitated; behaving recklessly
Sleeping too little or too much
Withdrawing or isolating themselves
Showing rage or talking about seeking revenge
Extreme mood swings
Prevent a Tragedy: See Something, Say Something
Each life is sacred and deserving of respect, support, and encouragement.
The maxim "if you see something say something" is applicable not only to crime prevention, but to protecting the lives of all who serve, and all who are experiencing emotional trauma.
We must continually have our eyes wide open to warning signs of suicide, and the moral courage to respond to prevent tragedies.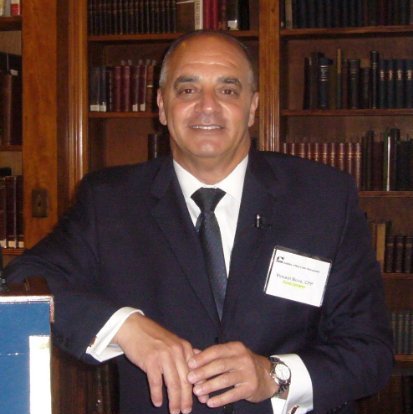 Vincent J. Bove, CPP, is a national speaker and author on issues critical to America. Bove is a recipient of the FBI Director's Community Leadership Award for combating crime and violence and is a former confidant of the New York Yankees. His newest book is "Listen to Their Cries." For more information, see www.vincentbove.com
Views expressed in this article are the opinions of the author and do not necessarily reflect the views of The Epoch Times.