Four young men from an affluent rural town in Pennsylvania went missing last week, sparking an extensive investigation. Authorities suspect foul play was involved.
Authorities from multiple levels of government—including the FBI, U.S. Marshal, and police forces from several counties—have contributed their resources and expertise, with search efforts now zeroing in on a 90-acre property in Solebury Township, about 40 miles north of Philadelphia.
Bucks County District Attorney, Matthew Weintraub, addressed the disappearances in a news conference on Monday, July 10, saying that he strongly believes foul play was involved, and that "the leads are incredibly hot."
"We're making great progress, but there is so much more work to do," said Weintraub. "We're not going to rest until we get through every inch of that property."
Police activity along Lower York Road in Solebury as police search for 4 missing young men. Several police cars and a backhoe are here. pic.twitter.com/8v3UPHT6K7

— Laura McCrystal (@LMcCrystal) July 10, 2017
The first man to go missing was Jimi Tara Patrick, 19, who was last seen on Wednesday, July 5. He has not contacted family or friends or shown up for work, police told NBC10.
On Friday, July 7, the three other men, Mark Sturgis, 22, Tom Meo, 21, and Dean Finocchiaro, 18, also went missing. Police said the four appear to have known each other.
Sturgis and Meo both worked at a construction company owned by Sturgis's father, and were friends. Sturgis was last seen leaving his father's house on Friday night to visit Sturgis's father, Mark Potash, told NBC10 he tried calling the two friends on Saturday when they didn't show up for work, but both their phones went straight to voicemail. That was when he called the police.
Finocchiaro, a mutual friend of Sturgis and Meo, was last seen entering a vehicle Friday night.
On Monday, law enforcement descended upon a 90-acre farming property in Solebury Township, Buck County with metal detectors, a backhoe, and "a lot of other investigative resources" to search for evidence of the missing men.
Also on Monday, Cosmo DiNardo, 22, whose parents own the farm, was taken into custody on an unrelated firearms charge from February that according to court records had been dismissed but was refiled Monday. The court records reveal that DiNardo suffered from mental illness, and that he was charged for possession of a 20 gauge shotgun, which is illegal for people with a history of mental illness in Pennsylvania.
At a news conference on Tuesday, July 11, Weintraub clarified that DiNardo has not been charged with any wrongdoing in the missing persons case, although he is an important 'person of interest' in the investigation. DiNardo is being held on 10 percent of $1 million bail, as he is considered to be a flight risk.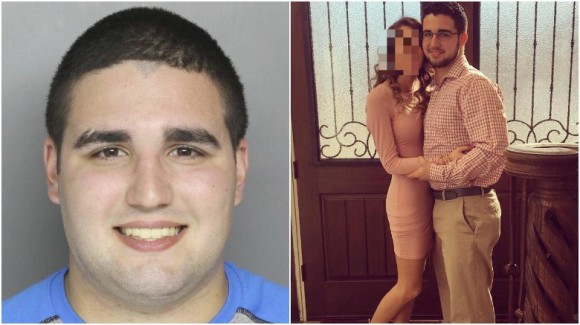 Weintraub said that the families of the four missing men were receiving updates directly from law enforcement, and were "keeping a vigil at the scene of the investigation."
Sturgis's mother and father have been in touch and are both struggling, according to the Philadelphia Inquirer. Potash has also been in contact with the Meo family and said everyone was trying to hold it together.
"It is very difficult," he said. "I really don't know how I'm going to make it through the rest of the day. I'm going minute by minute right now."
Patrick, the first of the four to go missing, had just finished his first year at Loyola University in Maryland, the Bucks County Courier Times reported. 
A friend of Finocchiaro told the newspaper he works a retail job, and said he would never disappear without telling people where he was.
"He's a good guy, a good friend," he said. "I don't think he would do something to cause this."
Finocchiaro has two pending criminal cases in Bucks County Court. He's facing charges of possession of drug paraphernalia, simple assault, conspiracy, and harassment from arrests that were made earlier this year.
Bucks County DA holds up photos of the four missing young men, asks public for tips on their whereabouts pic.twitter.com/mX0X9yZ5Jf

— Laura McCrystal (@LMcCrystal) July 10, 2017
Asked whether he thought the four young men were still alive, Weintraub replied: "I can't say. We hope and pray that they are, but we need to go where the investigation leads us."
Anyone with information about the men's whereabouts was asked to call a tip line at 215-297-8201 or submit a tip online.