The Polish Parliament adopted rules on Friday that will expedite the naming of a new Supreme Court chief under a sweeping and contentious judicial overhaul, sparking street protests.
Warsaw Police Department spokesperson Sylwester Marczak told TVP that a "very dangerous incident" took place shortly after 7 pm in front of the Parliament in Warsaw.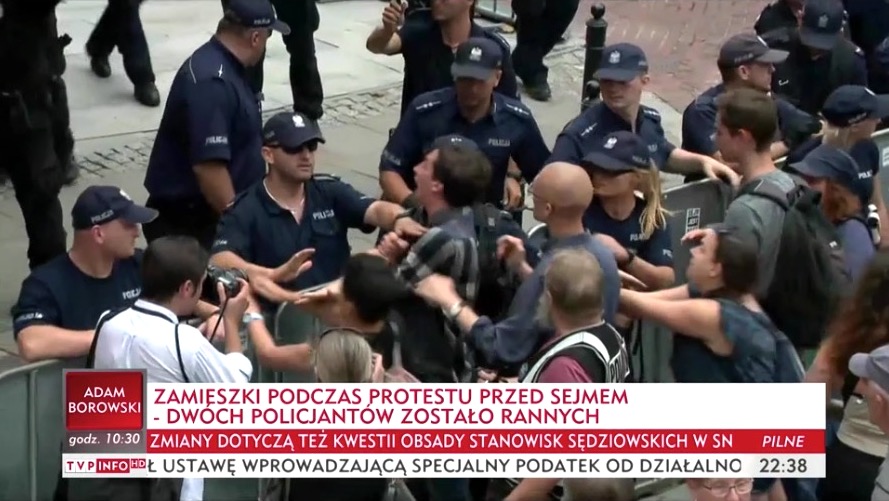 "A crowd was pushing against the police, and two officers were injured. One of them sustained an injury to his shoulder, another suffered a cut to the face," said Marczak.
Then, in reference to several protesters who reportedly engaged in a scuffle with deputies, Marczak told of several arrests.
"Police officers had to and must always react decisively to outbreaks of aggression, particularly when that aggression is directed against the police. Those who behaved most aggressively were arrested."
Footage of the detention of one of the protesters, Dawid Winiarski, was shared on social media following the incident.
Brutalne zatrzymanie Dawida Winiarskiego. pic.twitter.com/etPLLQLti0

— Obywatele RP (@ObywateleRP) 20 lipca 2018
Local media reported demonstrations were also held in other major Polish cities, including Poznan and Wroclaw.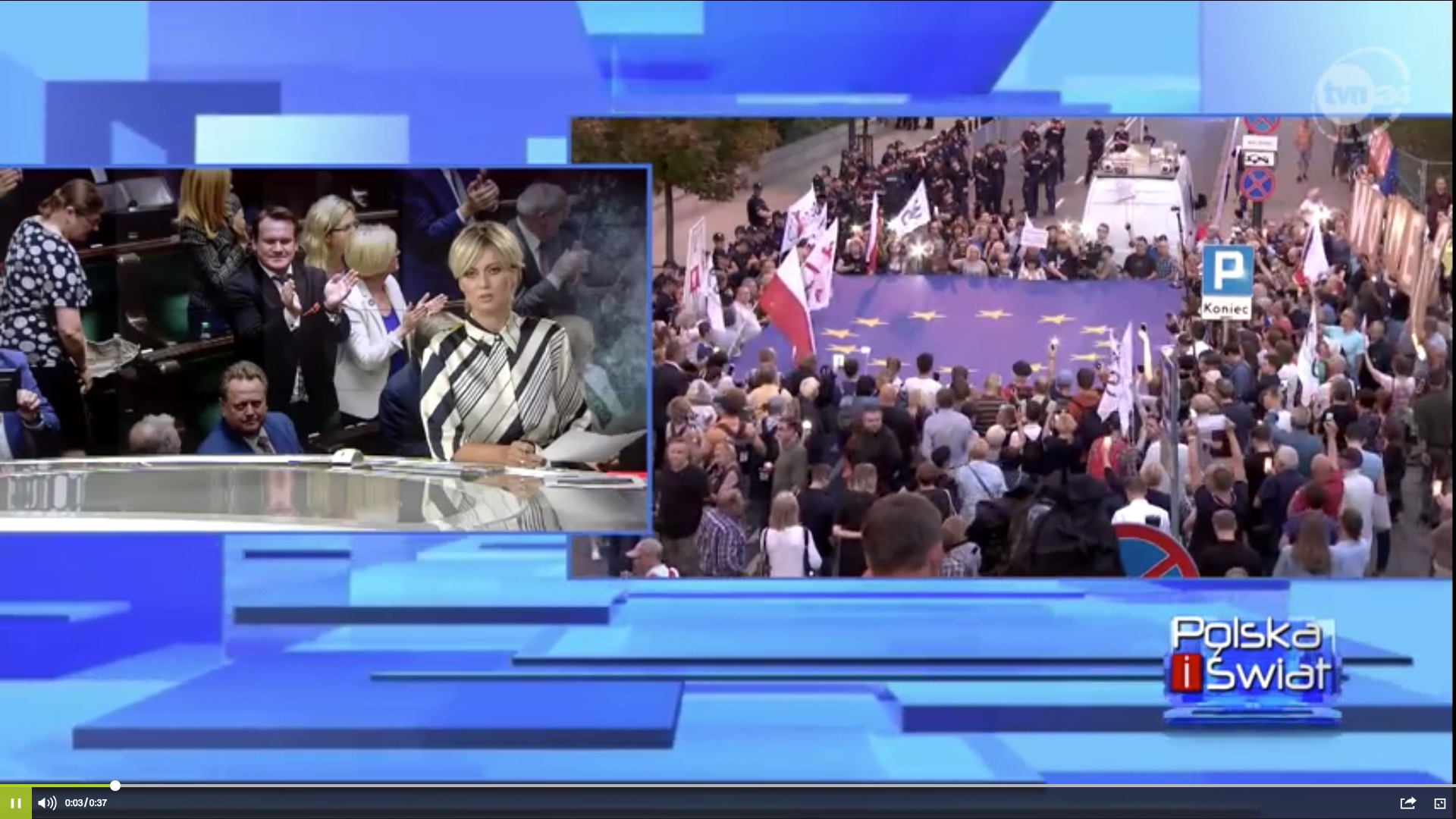 But Friday's demonstration was a far cry from related rallies last year outside the Supreme Court and the presidential palace.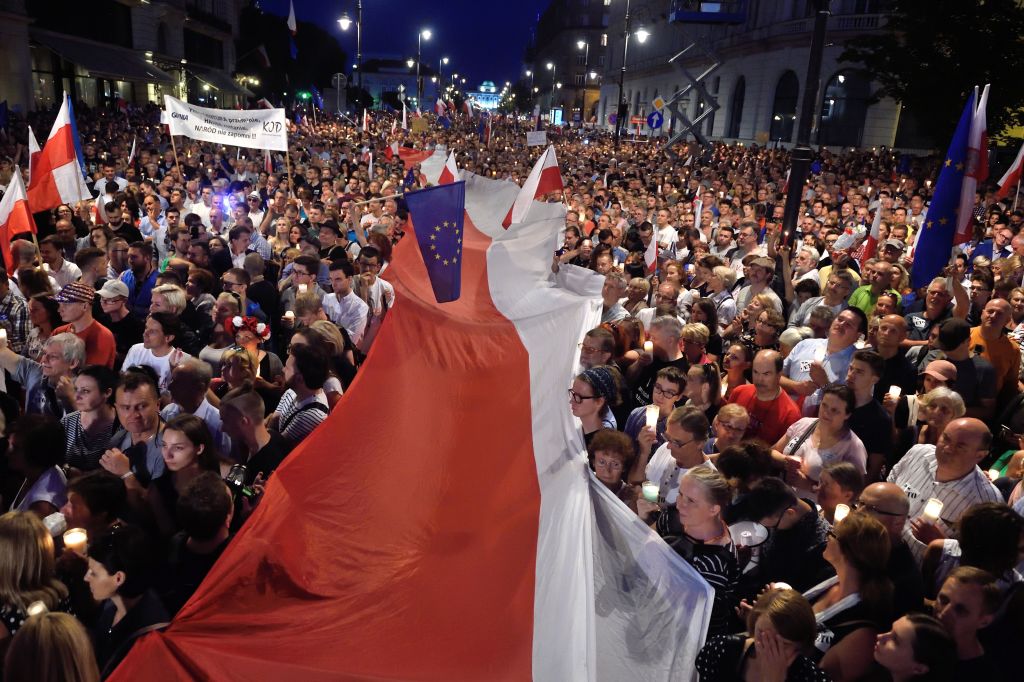 According to Onet, an estimated 50,000 protesters assembled in front of the court on July 21, 2017, in opposition to a bill introduced a day earlier by the ruling Law and Justice (PiS) party that would force sitting Supreme Court judges to retire.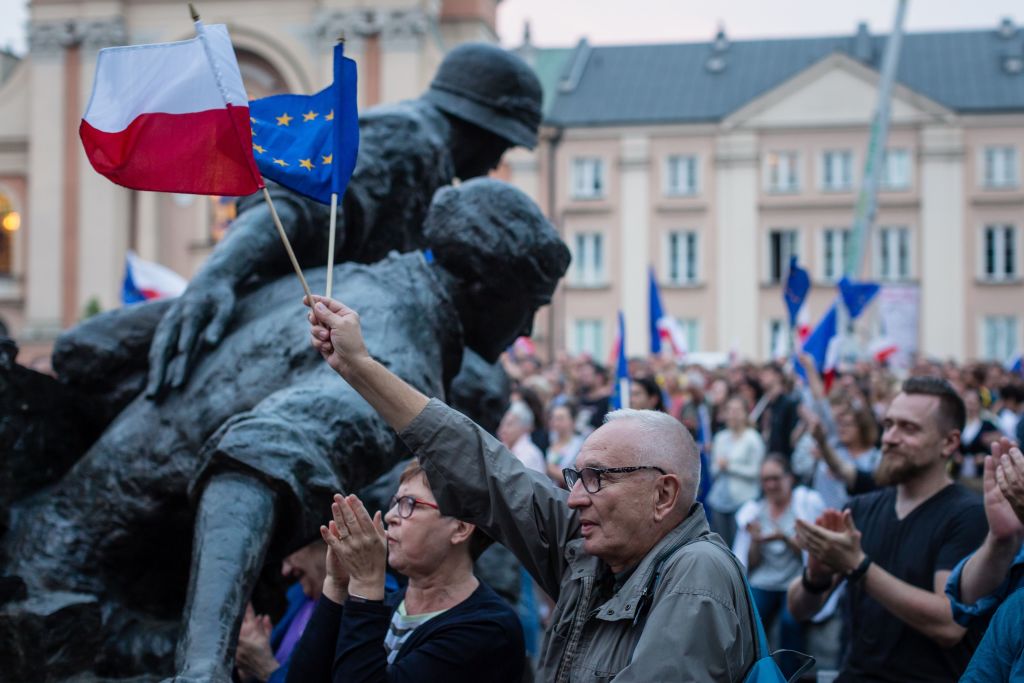 Earlier this month, 22 Supreme Court judges were forced into early retirement, but chief Judge Malgorzata Gersdorf has refused to go, insisting her constitutional term expires in 2020. She has become a symbol of resistance to a judicial revamp that critics said undercuts democracy.
Gersdorf said she will continue to lead the Supreme Court until she is physically prevented from entering the premises.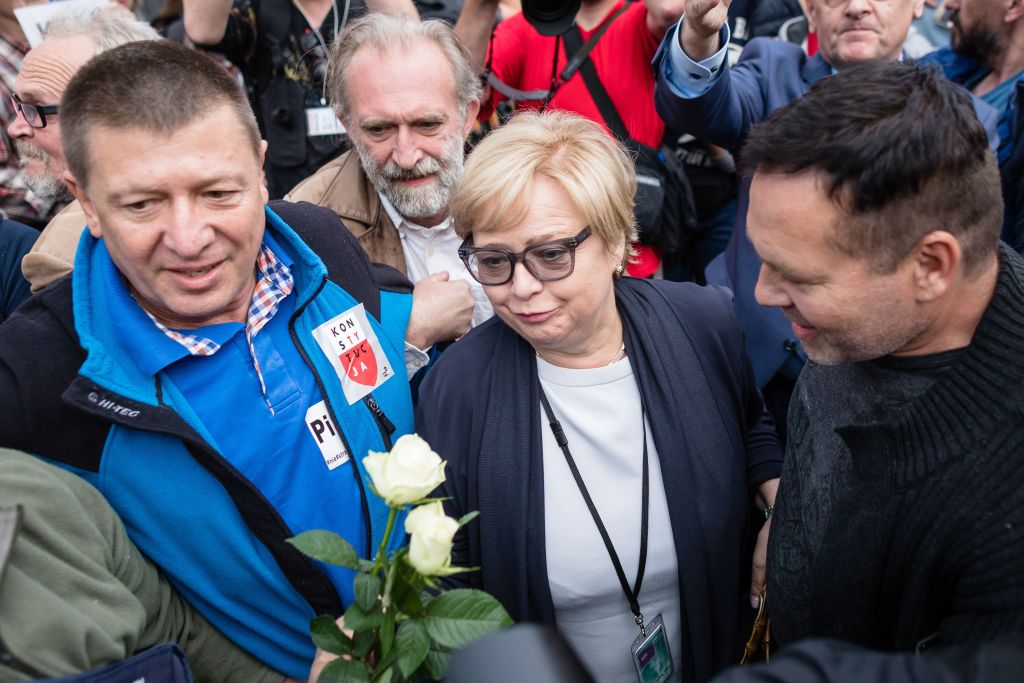 She was asked by reporters last Wednesday what it would take for her to submit.
"When I'm [physically] prevented from entering the court," Gersdorf replied, according to TVN24.
"Do you fear that you might really be blocked from entering the court?" a TVN24 reporter asked.
"I'm sure of it. … Two years ago, [PiS leader] Kaczynski said that he would not physically throw me out of court, but he would take this away," she said, holding up her security pass.
Dominated by PiS, Poland's lawmaking body has adopted waves of legislation in a manner that opponents allege disregards the system of checks and balances that is a hallmark of rule of law.
Since coming to power in 2015, PiS has said deep reforms are needed to cleanse Poland of the remaining vestiges of communism, and fears a hostile judiciary could thwart their plans.
"If we don't reform the judiciary, all the other reforms will make little sense, because sooner or later these would be overturned or negated by the kind of courts that we have now," PiS leader Jaroslaw Kaczynski said in an interview with Sieci, a Polish weekly, on July 9.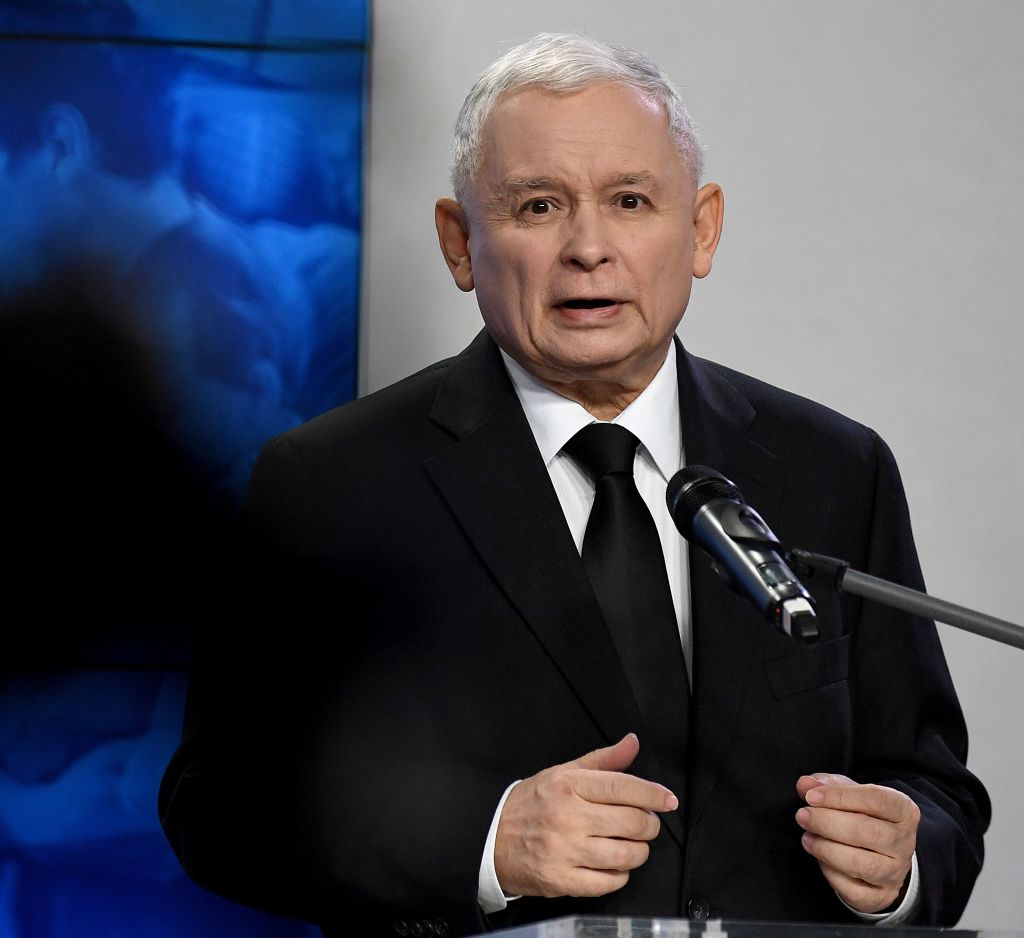 Kaczynski has said on many occasions that he believes the judiciary harbors communist-era attitudes and practices and so must be purged.
While admitting that some reforms may be necessary, Kaczynski's opponents argue that shedding the residue of communism is just an excuse to secure the subservience of independent-minded judges and push through laws that may be inconsistent with the constitution.
Under PiS rule, dozens of judges have been fired at the Constitutional Tribunal, the National Judiciary Council, which decides judicial appointments, and now the Supreme Court.
New appointments have been made using procedures that give Parliament—where PiS holds a majority—more say over the courts and the government more control over judges.
In hasty proceedings on Friday, the Lower Chamber of Parliament approved amendments enabling a swift appointment of a new Supreme Court head. The Upper Chamber is likely to endorse the new rules as soon as next week and President Andrzej Duda, a PiS ally, is expected to sign them into law soon afterward.
Prime Minister Mateusz Morawiecki said on Thursday it was necessary to replace Gersdorf quickly to avoid damaging legal chaos and that Poland would not heed demands by the EU's executive commission to reverse its laws on courts.
A Supreme Court representative, in a July 16 press statement, criticized the bill ahead of its tabling for Friday's parliamentary debate. 
"Before getting into a detailed analysis of the specifics of the draft bill, it unfortunately must be concluded that they are an example of a highly instrumental use of the law to achieve political ends," Supreme Court Justice Jozef Iwulski wrote. "This way of adopting new laws stands in obvious opposition to the rule of law."
Legal experts warn that the questionable manner of adopting new laws risks undermining the legal order and could invalidate court rulings.
Constitution expert Marek Chmaj told Reuters that as a result, some court cases might have to be repeated.
"This will be a big problem. Someone can challenge regular cases of people considered by the courts, including the Supreme Court. They can be rerun in the future," he said.
The EU has launched several legal cases, as well as an unprecedented rule of law probe against Warsaw that risks losing billions of euros in funding from the bloc.
The head of the European Union's judicial advisory body visited Poland on July 6 in support of the forcibly retired chief justice of Poland's Supreme Court, saying an overhaul of the judiciary by Warsaw's government was endangering democracy.
Kees Sterk, chief of the European Network of Councils for the Judiciary (ENCJ), which advises the EU's executive on upholding rule of law in the bloc, met Gersdorf in her Warsaw office.
"We're here to express our concerns about the situation, about the independence of judges, independence of the Supreme Court," Sterk told reporters. "At stake is, in the end, the liberty of citizens of Poland."
"An independent judiciary is essential for all the member states of the European Union, so also in Poland, and we are very worried about the independence of the judiciary in the Polish Republic," Sterk said.
"We also support the judges who are brave enough to defend their independence and we as a network, we see it as a duty of every judge to defend their independence," he said.
Since taking office, PiS has taken a hard-line stance on attempts by Brussels to compel Poland to accept migrants according to a quota system. The ruling party has also gotten tough on tax fraud and has disbursed a monthly benefit of 500 zlotys ($120) per child to families—moves popular with the public.
PiS enjoys broad support, with a recent poll by Kantar Public giving them a comfortable lead of 34 percent, and their closest challenger, Civic Platform, polling at 23 percent.
Reuters contributed to this report.