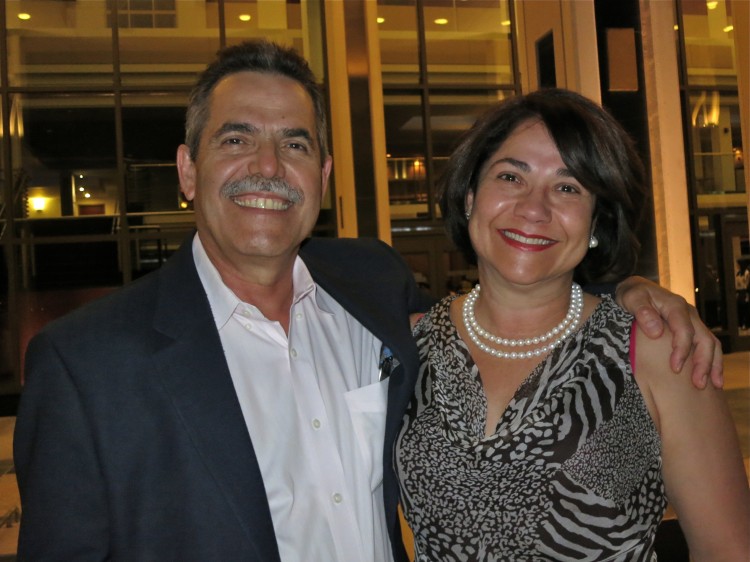 ST. PETERSBURG, Fla.—Jorge Leal, a physician in private practice, and his wife, Maria Leal, were happy to have attended the evening Shen Yun performance at the Mahaffey Theater on May 5.
"I thought it was wonderful. This is my first time ever seeing a show like this, and I thought it was superb. The dancers are just unbelievable. The choreography was just stupendous. I'm very happy to have come," Dr. Leal said.
For Maria Leal, all of the performance impressed her: "I love it. But the last one [dance] was very shocking, [conveying] that in China they don't allow their Chinese people to see so many beautiful parts of their own culture."
"I feel very upset because they [the Chinese authorities] don't have a right to deny that right to their own people to enjoy their own culture," she said. She was referring to the dance Before Disaster, the Divine Is Rescuing, with the theme that good is rewarded and wrongdoing is punished.
Dr. Leal expressed support for New York-based Shen Yun Performing Arts' mission of reviving China's 5,000 years of traditional culture. "Oh yes, absolutely," he said.
"Five thousand years that you cannot erase," Mrs. Leal added.
Uplifting
Adriana Rush, an import specialist, also attended the Shen Yun performance in St. Petersburg on May 5.
"It's the first time I've attended a Chinese performance, and I'm really impressed by the powerful and beautiful performance."
"I loved that the artists are allowed to express themselves in a country [the United States] where there's freedom for showing [their] beautiful culture. It's very uplifting for all of us in the audience to see the show."
"The message is wonderful. I think it is uplifting. The message that I see is that [the artists] do have faith and hope and that we can have a better world, and so that's what I think is very nice.
"I think that we should all think more about our environment, our being better people, getting along. …." She said she felt people should not be punished because of their beliefs, their art, or their interests.
Reporting by Sally Sun and NTD Television.
Shen Yun Performing Arts, based in New York, tours the world on a mission to revive traditional Chinese culture.
For more information, visit ShenYunPerformingArts.org.
The Epoch Times publishes in 35 countries and in 19 languages. Subscribe to our e-newsletter.