Photo Report: Farmers Wounded in Southern China Shooting
December 14, 2005 12:00 am Last Updated: December 14, 2005 12:00 am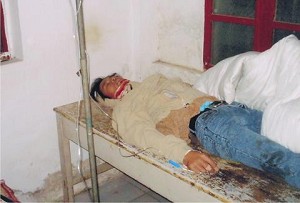 Villagers in Shanwei, a small town in Southern China told an Epoch Times reporter that the authorities prohibited them from releasing any information to the outside world.
However, villagers have still used various ways to send information so as to gain the attention of the international community.
The Epoch Times is now publishing another group of photos obtained from Shanwei to expose the sad scenes. Family members of the villagers killed told The Epoch Times that their phones are being monitored and that they do not dare to receive any interview.
| | |
| --- | --- |
| A villager wounded in the shooting in Shanwei, China. (The Epoch Times) | A villager wounded in the shooting in Shanwei, China. (The Epoch Times) |
| A villager wounded in the shooting in Shanwei, China. (The Epoch Times) | A villager wounded in the shooting in Shanwei, China. (The Epoch Times) |
| A villager wounded in the shooting in Shanwei, China. (The Epoch Times) | Shanwei (The Epoch Times) |