Petitioners Descend on Beijing to Demonstrate During Political Meetings
March 7, 2013 4:21 pm Last Updated: April 6, 2013 9:51 am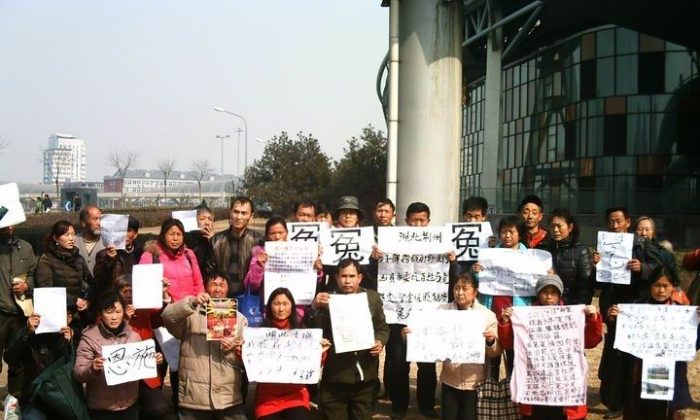 Petitioners from all over China traveled to Beijing on March 5 to protest against the Chinese Communist Party, as officials convened for two major political meetings which will conclude with Party leader Xi Jinping becoming the head of the government.
Hundreds of petitioners gathered around Tiananmen Square, near the meeting venue at the Great Hall of the People, carrying banners, distributing fliers, and shouting slogans like "Down with the Chinese Communist Party!" A few hundred petitioners also held demonstrations near Beijing South Railway Station. 
Petitioners are generally disenfranchised people that have suffered some form of injustice in their hometowns, and have failed to achieve redress through the normal channels; they then petition authorities in the capital—though rarely do their complaints actually get resolved. 
Mr. Zhang Jianping, head of the advocacy group Human Rights Campaign in China (HRCC), said that more than 10,000 petitioners managed to reach the capital, even though many were under house arrest or otherwise prevented from going there before the start of the political meetings. 
Several hundred petitioners gathered outside Taoranting Park in Fengtai District at 10 a.m. March 5. Some chanted, "Down with corruption! Down with corrupt officials," while others knelt on the ground in protest, and calling on Xi Jinping to "fight the tigers," referring to high-ranking corrupt cadres in the Party. 
One of the petitioners, Liu Xiuzhao, spoke with The Epoch Times: "There were six or seven hundred of us today. We had planned to head to the two meetings venue, and we marched on the street for about 40 minutes. It was quite a spectacular scene, and some people were even on their knees, dragging their legs. Finally we were blocked by security when about five or six police cars and more than 20 officers appeared. They confiscated our banners, fliers, and cell phones."
Four petitioners carrying fliers and banners were arrested at the Gold Water River Bridge in the Forbidden City, where more than 20 police officers rushed to the scene within seconds of them unfurling a banner. 
One of them, Zhang Guangrui, has been petitioning authorities for 11 years, after his family assets worth millions were confiscated by a local court. His companion, Li Shulan, who was handing out fliers about the injustices people have suffered, has been detained for 10 days.
Zhang told The Epoch Times that when he arrived at the police station, about a hundred people were already waiting to be processed; all of them had been protesting at Tiananmen Square. He said one old man kept shouting "Down with the Party!" even after he was arrested.
According to interviews with petitioners, people from Shanghai, Jilin, Henan, and Zhejiang provinces had their identification checked by police and officials at locations around Tiananmen Square. They were then either sent to police stations or detained in black jails, where they await being sent back home.
A woman named Jiang Wenjie from Liaoning, currently living in Beijing's Lu Village, tried to reach the main petition office to file a complaint, but ended up having her apartment building surrounded by security personnel. The standoff lasted for over 10 hours because she refused to open the door, since the men sent to intercept her did not provide identification. She had armed herself with a kitchen knife, and was reportedly yelling: "I will chop you into pieces if you dare enter my home!" 
Read the original Chinese article.