A online petition launched by a Toronto woman calling for fines for people who call 911 to complain about Amber Alerts has gathered a total of more than 78,000 signatures.
Dalia Monacelli, the petition's creator, says she had the idea after becoming annoyed by how many times the Toronto Police's Twitter account was forced to tweet reminders to not call 911 about Amber Alerts.
After seeing the umpteenth reminder made by @TPSOperations not to call 911 to complain about Amber Alerts, I got fed up and created this petition to start fining the "complainers".@AMBERAlert #AmberAlert
Please, sign! @CP24 @TorontoPolicehttps://t.co/2TLYuU3GgM

— Dalia Monacelli (@dalya_aylad) July 16, 2019
After the emergency alert system Alert Ready introduced the alerts on supported mobile devices in 2018, many Canadians have been calling 911 to complain about the blaring alarms interrupting their sleep. There is currently no way to disable Amber Alerts on a typical device, and people who are disgruntled about being woken up have resorted to spamming 911 to express their indignation.
Multiple police forces and officials have issued stern warnings about such calls. This includes Toronto Mayor John Tory, who reaffirmed a statement by the Toronto Police Operations Centre on Twitter in May.
9-1-1 is not a complaint line. Please only call 9-1-1 for emergencies. Being woken up by an Amber Alert is not an emergency. https://t.co/qHRtdpt354

— John Tory (@JohnTory) May 14, 2019
The petition, which is posted on Change.org, has gathered nearly 80,000 signatures and is more than halfway to its goal of 150,000. Monacelli addressed it to Ontario Premier Doug Ford and Attorney General Doug Downey.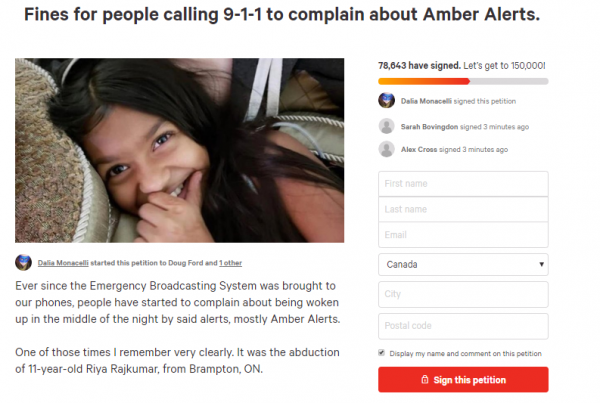 In her description of the petition, Monacelli mentioned the case of Riya Rajkumar, an 11-year-old Ontario girl who was abducted and killed by her father on Valentine's Day this year. Riya was the subject of a province-wide Amber Alert on the same day.
"The Amber alert woke me up that night but, all I remember was being worried about the girl and praying she would be found safe (as it happens in most Amber Alerts cases)," Monacelli wrote. "Unfortunately, that wasn't the case for poor, innocent Riya."
Monacelli recalled the waves of complaints that had flooded in to 911 about the late-night alert and criticizes the people behind them, writing, "these people went on living their lives which were disrupted for all of two minutes, while the little girl was no more. They were never fined for taking time away from real emergencies.
"This is ABSURD. This has to STOP."
She said that "people have to understand that when they dial 9-1-1, they are taking time and personnel away from actual emergencies", and that those actions could potentially "cost lives."
Under the written description, Change.org offers a comment section where users are allowed to give their reason for signing, and Monacelli's petition—which has been covered on multiple news sites and widely spread across social media—has garnered no shortage of support.
"If it was your child you would want the world to stop," one commenter named Stephanie Reid wrote. "I cannot believe people are so self-involved."
Another commenter simply said, "Stop these selfish jerks."
So far, there has been no official response to the petition from provincial or federal police.