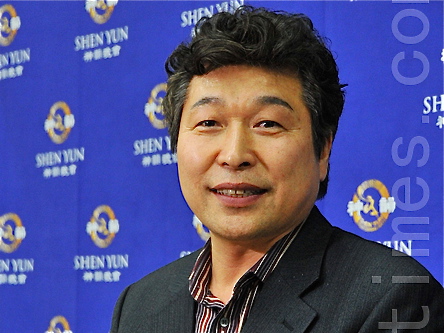 DAEGU, South Korea—Shen Yun Performing Arts New York Company presented its last performance at Daegu Suseong Artipia on the evening of Feb. 28. Patent attorney, Jung Hwan Cho, praised Shen Yun saying it represented the wonderland where gods and humans live together, which inspired him a lot. "I was inspired to rethink about the world of gods," said Mr. Cho.
Shen Yun's last performance of this current tour in Daegu, South Korea's ancient city of culture, attracted many experts and celebrities. After seeing the performance, attorney Cho said the performance was fabulous. It brought him a brand new perspective. "The performance was very good. It represented a world of gods and humans. I saw the show with a brand new perspective. Since we can only live mundanely in this secular world, we have only a vague conception about the world of gods. Shen Yun transformed the vague feeling to an artistic sublimation. The show inspired me to rethink the world of gods."
He said that he was greatly inspired after seeing Shen Yun. "We can only imagine the world of gods with out limited mundane human thoughts. However, Shen Yun did not represent the show with a secular perspective, but from another angle, a reflection of the divine. From this perspective, Shen Yun inspires people a lot."
He said the meaning of the performance is very profound, and it is a must-see. "In ordinary performances, their thoughts about these aspects are very low and weak. … But Shen Yun presented the show at a completely different level. So Shen Yun is a performance with a very profound meaning."
He advised that whoever hasn't yet seen Shen Yun, they must come and watch it, because "Shen Yun can bring spiritual comfort to our life. It is of great help." Mr. Cho said.
Shen Yun Digital Backdrops Very Impressive
Neurosurgeon Jiang Dongyi praised Shen Yun, saying that the digital backdrop was very unique and impressed him very much.
Mr. Jiang Dongyi said: "What impressed me most were the dancing programs Lotus Leaves and Snowflakes Welcome Spring, and particularly the digital backdrop; it was very impressive. We should also introduce this technology to Korea. The backdrop was designed so well that the virtual characters synchronized very naturally with the real actors on stage."
He continued, "I watched Shen Yun for the first time. Prior to the show, I learned a little about traditional Chinese culture from the program booklet. After watching the performance, I understood the traditional Chinese culture more and I felt it was quite intriguing. This experience is difficult to get from local shows. I have been to mainland China and Taiwan and seen shows there, but most of them were general acrobatics. I have never before seen a performance like Shen Yun."
Mr. Jiang Dongyi was accompanied by his wife. She said that the colors were very special and every program was wonderful. She enjoyed the display of the divinely-inspired traditional Chinese culture and felt an affinity with it through her own Korean culture. She said: "After watching the show, the most impressive part was that I realize that the place we will return to in the future is heaven. As much of our culture originated from Chinese culture, there are many similarities, and they often reflect in our daily lives."
Reporting by Sunny Chao and Li Daina & Joseph Wu.
Shen Yun Performing Arts, based in New York, tours the world on a mission to revive traditional Chinese culture. Shen Yun Performing Arts New York Company will perform in various cities in Korea until March 4 and then continue to top venues in Taiwan, Australia and New Zealand.
For more information visit ShenYunPerformingArts.org
Read the Chinese article
Read the Chinese article