A man who was panhandling near the deadly crash and fire on the Interstate 70 in Colorado, which left four dead, has been called a hero for risking his life to help with the rescue efforts.
Darin Barton told Fox 31 in an interview that at the time of the crash he was panhandling at the Denver West exit of Interstate 70. As soon as he saw the semi-trailer crash into the cars and roll over, he just dropped everything and ran toward the accident site.
"As soon as I [saw] flames, I headed under the bridge, grabbed three or four people out of a couple cars," Barton recounted.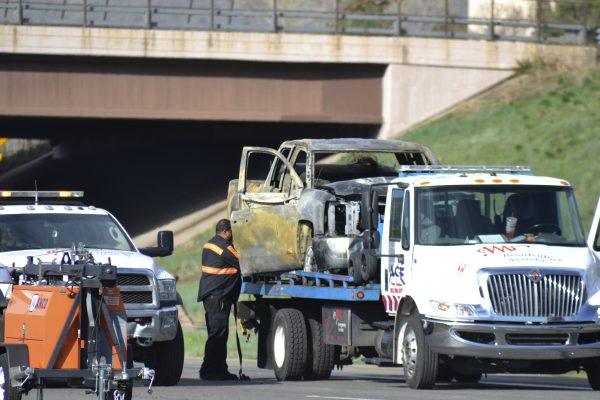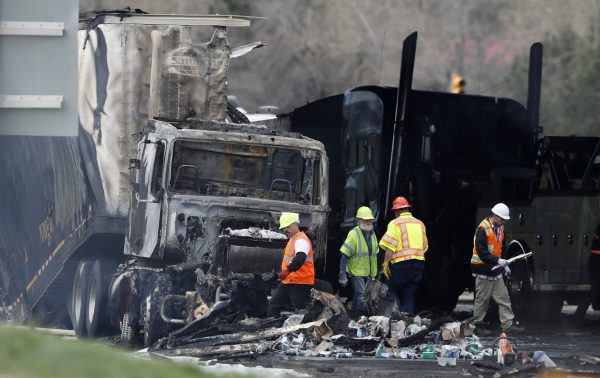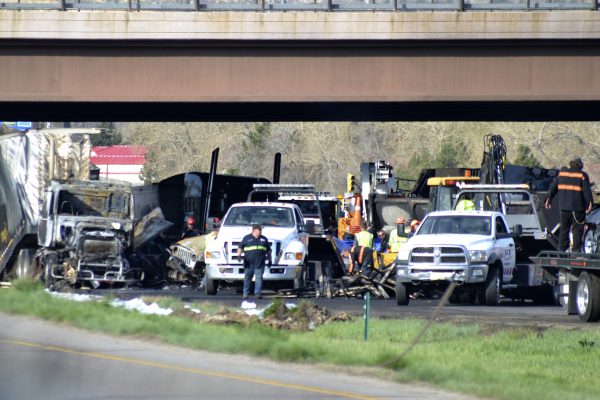 He said that there were other good Samaritans who joined in with the rescue efforts.
"I didn't do this all myself. There were other people in traffic that helped," said Barton, who had been homeless since July 2014 after he was injured in an accident involving a light rail train and a car in Denver.
He added, "I just did what I hoped anybody would've done if I was sitting down there."
The 28-vehicle crash occurred when a tractor-trailer heading east down a hill crashed into slower traffic in the afternoon hours of April 25, sparking a massive fire, according to authorities.
The spokesman with Lakewood Police Department said the semi plowed into traffic that had been backed up near Denver West Colorado Mills Parkway due to an accident further up the road.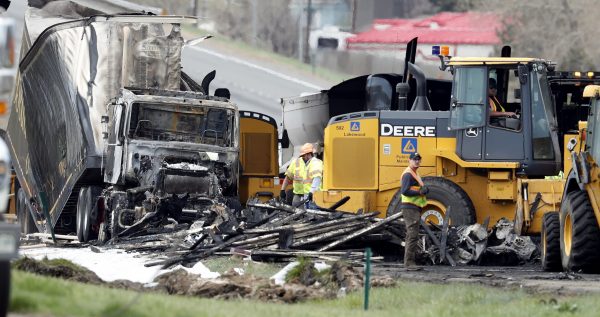 He said that after impact, a vehicle ignited and the fire spread.
A towering plume of black smoke was seen for miles as firefighters doused the burnt-out shells of several vehicles in the vicinity of the Denver West Parkway Bridge.
Authorities confirmed the number of casualties to be four on April 26, adding that they were not able to confirm the death toll the night before due to the devastation caused by the fire.
Lakewood police spokesman John Romero described it as a chain reaction of crashes and explosions from ruptured gas tanks. "It was crash, crash, crash and explosion, explosion, explosion," he said.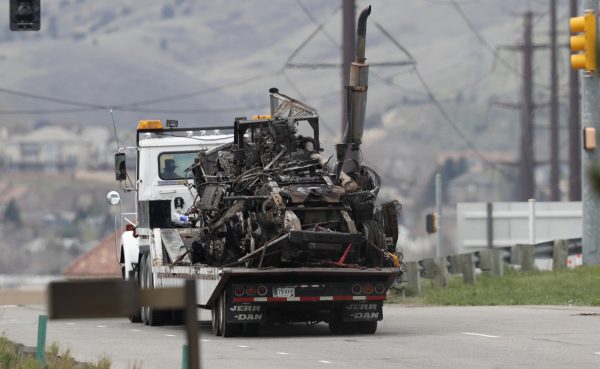 Six people were also taken to hospitals with injuries. Their conditions were unclear on Friday.
"There is just a bunch of debris from this crash that took place. The carnage was significant, just unbelievable," another department spokesman, Ty Countryman, said.
Authorities have identified the driver as 23-year-old Rogel Lazaro Aguilera-Mederos, who was arrested and faces charges of vehicular homicide. He is expected to make his first court appearance on April 27.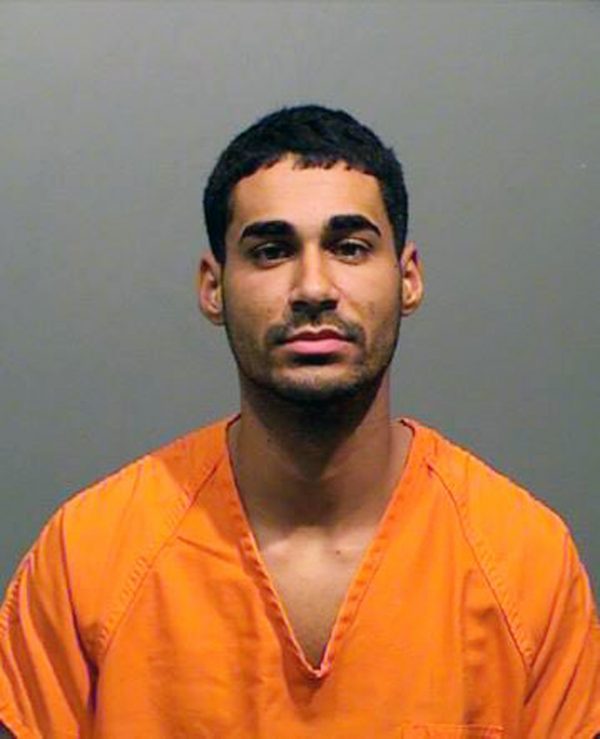 Footage from the Crash
Video footage from a news helicopter showed flames whipping off the vehicles and what appeared to be lumber spilled across the interstate.
Local YouTuber Joshua McCutchen, who goes by the name "Burger Planet," captured the moment the semi sped by him moments before crashing into stationary traffic ahead.
*Warning: some viewers might find the language used in the video offensive.
McCutchen also captured footage from the scene of the crash and interviewed an eyewitness.
Airborne traffic reporter John Morrissey posted an aerial photograph of the scene on Twitter.
"EB I70 is CLOSED at Ward Rd by this crash. School bus, tanker, and several cars involved. No word on injuries but several children are being evaluated in the 2 ambulances on scene."
EB I70 is CLOSED at Ward Rd by this crash. School bus, tanker, and several cars involved. No word on injuries but several children are being evaluated in the 2 ambulances on scene. #cotraffic @KOANewsRadio pic.twitter.com/Tf5rwVvdsB

— John Morrissey (@KOAJetcopter) April 25, 2019
This is a developing story.
The Epoch Times Reporter Tom Ozimek and The Associated Press contributed to this report.