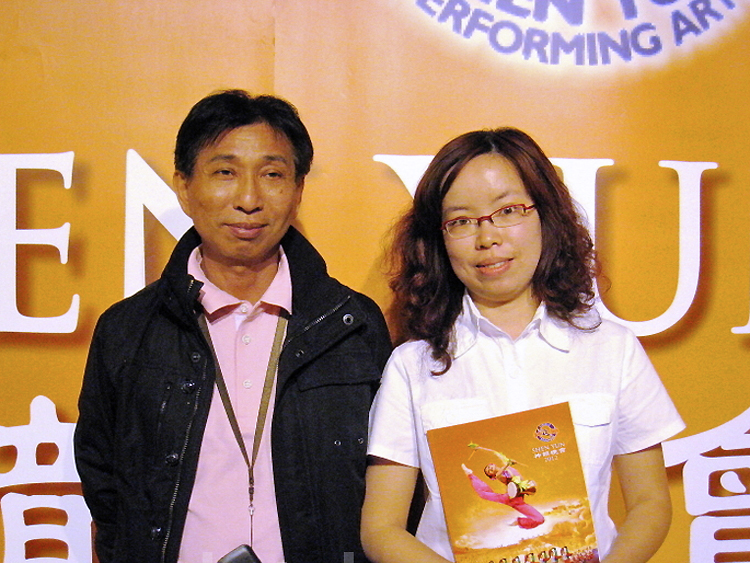 TAINAN, Taiwan—Mr. Wei Kai-Jen, Director of the Feng-Huang Orchestra, and his companion, Ms. Chen Wan-Lin, attended the performance of Shen Yun Performing Arts New York Company in Tainan's Municipal Cultural Center Auditorium on March 8. Mr. Wei was very impressed after seeing the show. He said, "The perfect combination of the dance, music and dynamic backdrop makes the show a first class international performance."
He said he was especially impressed by the Shen Yun Orchestra. "The audience sees the performance on the stage, but the real soul of this performance is the live music from under the stage. That is the grand master of the show."
"The music arrangement is marvelous!" said Mr. Wei. "Arranging music is not limited to the production of the music alone but the music must extend to coordinate with the dance and also the design of the dynamic backdrops."
Mr. Wei also praised Shen Yun for its creativeness and choreography. "It integrated each original art form naturally with music," he said
Mr. Wei gave the example of the program, How the Monkey King Came to Be. "The Monkey King's fighting moves are definitely magnificent, but the expression of his feelings and his moods were well coordinated with the music. Every small change of movement requires the music to keep up simultaneously."
"When the Monkey King jumps out from the backdrop, the artists need to appear at the same time in the fast moving rhythm. This is very difficult to design!"
"Shen Yun's performance was perfectly arranged in music, dance, and backdrop. These are the three elements that make it first class art!"
Ms. Chen is a Chinese music major and currently the chair erhu fiddler. "The music by Shen Yun's erhu soloist, Qi Xiaochun, is soft and enchanting, with a lot of emotion," she said. She felt that the Shen Yun Orchestra blended the use of Eastern and Western musical instruments harmoniously.
She was also impressed with the exquisite and delicate costumes. "The colors [and fabrics] of the costumes flow in the air brilliantly. The designers are very particular about matching colors and the clothing materials. The feast of art is definitely worth the trip."
Reporting by Li Ching-Dai & Lin Hsin-Yi
Shen Yun Performing Arts, based in New York, tours the world on a mission to revive traditional Chinese culture. Shen Yun Performing Arts New York Company will perform in seven cities in Taiwan until April 8 and then continue to top venues in Australia and New Zealand.
For more information visit ShenYunPerformingArts.org
Read the original Chinese article