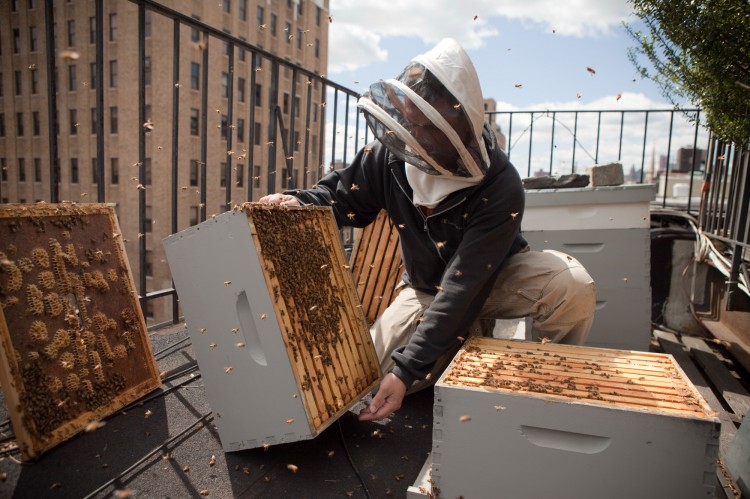 NEW YORK—A distinguished group of panelists discussed their visions for feeding New York City on May 2 as part of a daylong event called Transforming Cities: How Food Systems Shape Cities at Solo Event Space.
Adam Freed, deputy director at the Mayor's Office of Long Term Planning and Sustainability, attempted to summarize the issues facing food in New York City as, "How do we optimize the food system, whether for growth, for health, for reducing congestion, greenhouse gas emissions, or food waste."
He called food "one of the largest, most complex, and most divergent … issues" for big cities. At the same time he admitted that it is an area that the city government has the least control over.
Carolyn Steel, a British architect, lecturer and author of "Hungry City," put this reality in a historical context. She remarked that until the Industrial Revolution every city in the world made sure to be in charge of its food.
In order to tackle the many issues surrounding food, Steel suggested that it needs much more than improving food policies and scaling up food production. For Steel, it's largely about reclaiming a healthy food culture, since "in industrial nations, we have a food culture that has divorced us from the realities of food for 50 years." She observed changing perceptions and a recurring "hunger for proximity with food."
Many cities face similar issues regarding food. Hence, sharing best practices is a common and helpful process. As Freed pointed out, however, there are limits to the applicability of what has worked elsewhere since "a lot things that drive food policy are local factors." For example, San Francisco is able to recycle much of its organic waste, since the city is in control of its entire waste disposal. In contrast, New York City is in charge of only 25 percent.
On the other hand, in New York there are 1.3 billion square feet of rooftops, some of which could be used for growing food. Since early April the largest rooftop farm in the world is being developed in Brooklyn on an old Navy warehouse.
Additionally, a collaboration with rural areas is crucial since we "can't feed the city from the city," as Steel observed, while the rural areas need the city for the markets. Freed observed common goals and opportunities in this symbiotic relationship.
While bottom-up efforts in terms of community supported agriculture, food co-ops, and community gardens, are an important contribution to helping the situation, the speakers agreed that the scale of the problem means the "we need to move beyond food being something volunteers do," as Steel remarked.
The city government began tackling food issues from a sustainable perspective since the launch of PlaNYC, a long-term plan New York released by Mayor Michael Bloomberg in 2007.
Transforming Cities is a series of discussions presented by BioCities and The Zofnass Program for Sustainable Infrastructure at the Graduate School of Design of Harvard University with the goal to "provoke and inspire new ideas and directions for city infrastructure and its related physical, economic and social systems."