It's the end of 2016, and the most popular smartphones in China—a nation of 700 million smartphone users—aren't made by Apple, Samsung, or even Chinese cult brand Xiaomi.
Oppo and Vivo, two little-known companies in the West, have come to dominate the Chinese smartphone market using seemingly antiquated marketing strategies.
As of the third quarter 2016, Oppo held the biggest smartphone market share at 16.6 percent, with Vivo closely behind with 16.2 percent. Huawei and Xiaomi came in third and fourth, with 15 percent and 10.6 percent respectively, according to market research firm Counterpoint. Apple was a distant fifth with 8.4 percent market share.
The two companies came out of seemingly nowhere to sell millions of smartphones. Oppo's sales were 84 percent higher than last year, mainly on the popularity of OnePlus, a line of smartphones with edgy designs, high-end specs, and low prices. Vivo relies on simple but solid designs and rock-bottom prices, a formula that propelled its sales 114 percent higher than prior year's.
A Vulnerable Xiaomi
The phone market in China is fairly simple to enter, but difficult to dominate.
Related Coverage
At the high end of the market, Apple still reigns. Around $60 billion of Apple's total sales were generated from China alone last year, and it wasn't too long ago that Apple vied with Xiaomi—which hailed itself as China's own Apple—for top smartphone market share. While Apple still has a stranglehold on the top end of the market, its position has eroded over the last year due to Beijing's blockage of iTunes, a slowing Chinese economy, Xi Jinping's anti-graft measures, and a flood of cheaper but high-quality alternatives.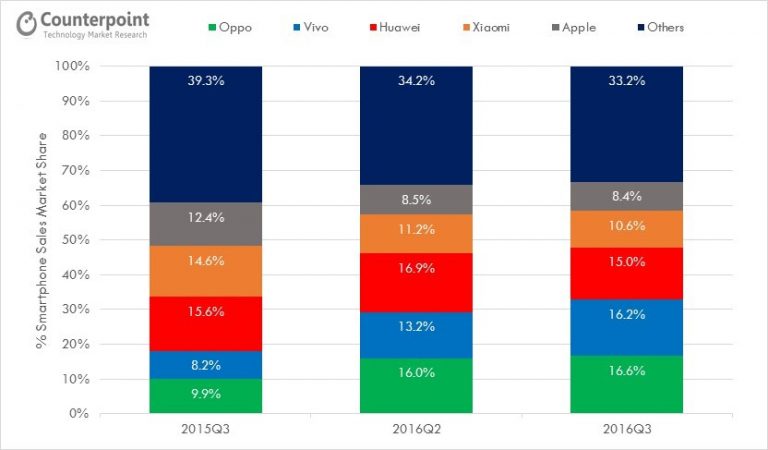 It's the middle range of the market that's more interesting, and it's where Oppo and Vivo have recently excelled. This is a market that has seen numerous winners emerge over the years such as Lenovo, Huawei, and most famously, Xiaomi. Xiaomi CEO Lei Jun styled himself as a China version of Steve Jobs, focusing on design, high-end specs, but at a lower price point than Apple. Xiaomi—popular with urban millennials—was known for its high-profile launch parties and until recently, an internet-only sales model.
But Xiaomi runs a version of Google's Android operating system. And without an app ecosystem to lock in users, companies found that customer loyalty was almost non-existent amongst commodity-like smartphones that run Android. Even a brand with cult status like Xiaomi was susceptible to newer entrants.
Going Brick-and-Mortar
Oppo and Vivo are both owned by Guangzhou-based BBK Electronics, a company started by billionaire investors and entrepreneur Duan Yongping. Both brands have similar approaches to selling phones.
They observed that Xiaomi was a favorite of urban millenials—at least those who want a cheaper or Android-based alternative to the Apple iPhone. Xiaomi until recently only sold phones directly via its website, and promoted each phone release via hip launch parties.
Oppo and Vivo saw an opening in working with retail stores, where two out of three phones are still sold in China. The companies especially targeted stores outside of large cities and in rural areas, where consumers are more price-sensitive, have less access to the internet, and place more reliance on local technical and customer support. Oppo and Vivo partnered with retail sales professionals in small vendors and offered sizable affiliate sales commissions and subsidies to sales reps.
"Oppo and Vivo are willing to share their profit with local sales," Jin Di, an analyst at market research firm IDC, told Bloomberg.
"The reward was an extremely active and loyal nationwide sales network. They're doing something different—they do local marketing."
It's an antiquated strategy, but it's a fit with Chinese consumers outside of major cities. The small vendors serve as the companies' local salesmen, technical support, and customer support. With the added incentives, they help promote the products to friends and consumers on WeChat, and steer sales away from competitors toward Oppo and Vivo phones.
Their other killer app? Oppo and Vivo phones often carry powerful, zoom-enabled front cameras for selfies.
Xiaomi, meanwhile, has moved up market in recent years. It now manufactures a variety of other products such as video cameras and "Internet of Things" home devices in an effort to position itself as China's homegrown Apple.
Through the success of Oppo and Vivo, Xiaomi also realized the value of having a retail presence. It now runs a few hundred stores in China.