Commentary
On Sept. 29, 2020, just over a year ago, then-Director of National Intelligence John Ratcliffe declassified a series of documents that instantly caused a furor in the news media.
The American public, at last, got to see CIA Director John Brennan's handwritten notes of a briefing he'd held with then-President of the United States Barack Obama back in 2016.
Here are some of the key documents from that declassification:
CIA Director John Brennan's handwritten notes: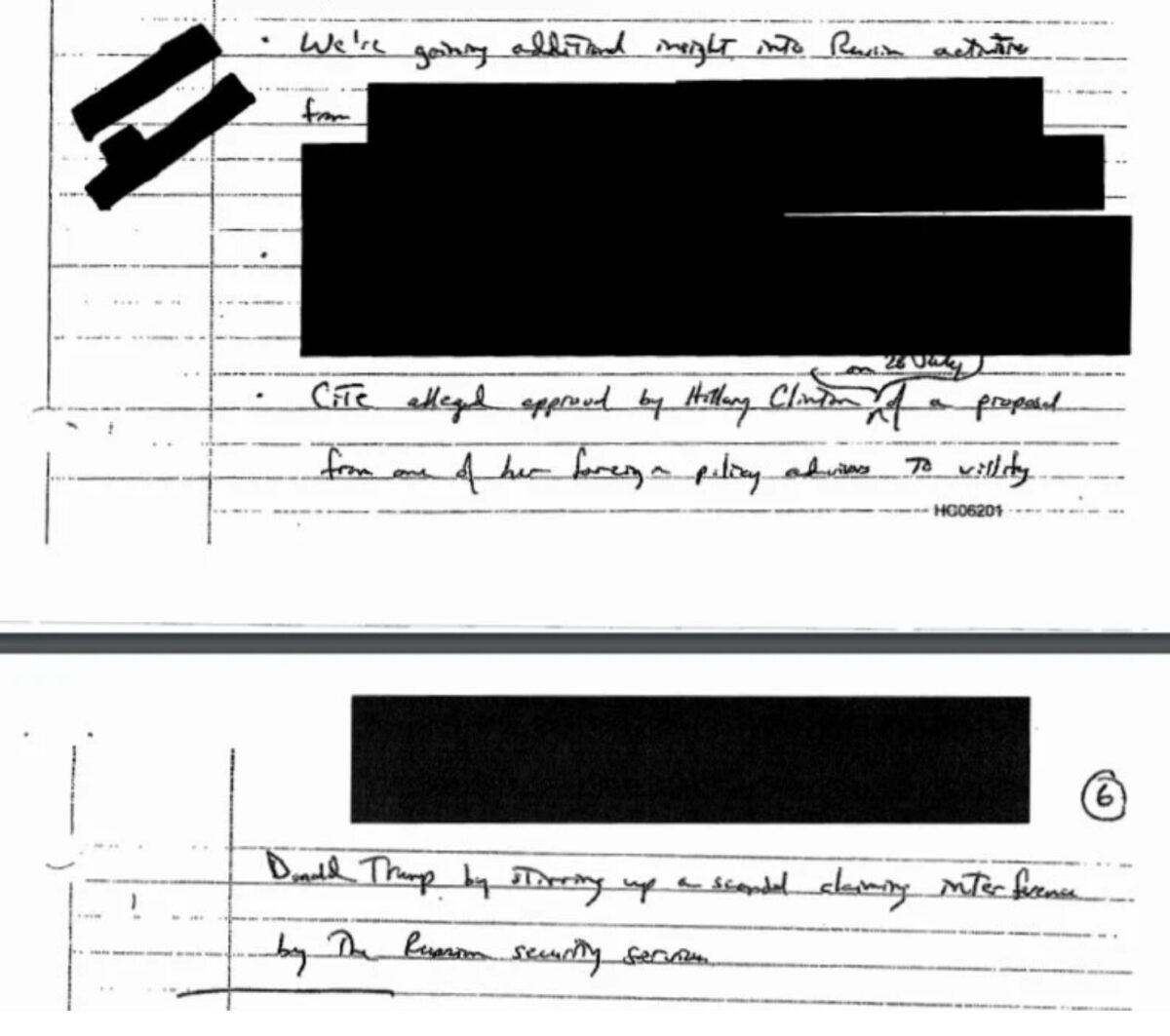 The CIA's memorandum to FBI Director James Comey and special agent Peter Strzok on Sept. 7, 2016:
DNI Ratcliffe's letter to Congress, dated Sept. 29, 2020, containing this section:
The Brennan notes revealed the CIA had intercepted a Russian intelligence analysis claiming that Hillary Clinton had approved a plan to smear the Trump campaign with a fake Russian collusion hoax that would be created by private operatives.
Despite all the attention on these new document releases at that time, very few commentators seemed to grasp the full import of what Ratcliffe has revealed.
That is, they never seemed to focus on how Brennan came by this intelligence, only what the intelligence itself said.
Let me walk you through it.
On July 26, 2016, Hillary Clinton allegedly approves a proposed operation targeting the Trump campaign with a fake Russian collusion hoax. We don't know at this time if this was the only time such an alleged plan was ever brought up.
Somehow, the key details of this alleged plan and personal approval by Clinton are obtained by Russian intelligence, according to Brennan's notes. Moscow's intelligence services prepare an analysis of the meeting.
At some point, the CIA becomes aware of this Clinton-related intelligence prepared by the Russians and intercepts it.
The intelligence then makes its way up the chain to Brennan himself, who details the facts in a series of handwritten notes, and personally briefs Obama at the White House. The exact date of this briefing has not yet been established.
Brennan not only briefed Obama about this Russian intelligence analysis;
in a televised interview he gave
last year, Brennan clearly states that members of the National Security Council (NSC) team were also briefed.
Now, the fact that key details from top-level strategy meetings held by the Clinton campaign were allegedly ending up being analyzed by Russian intelligence should have been a very big story a year ago.
But that didn't happen.
Brennan and the intelligence agencies took the analysis so seriously, he personally went to the White House to brief Obama and the NSC about it. Then in September, the intelligence agencies delivered that investigative referral to the FBI, showing that the Russian analysis was indeed being taken seriously enough at the time.
If it turns out that Russian intelligence analysis was real, some people are going to have an awful lot of explaining to do about why they not only didn't act on that warning, but also continued playing dumb while accepting Russia hoaxes from Clinton's private operatives.
I suspect Special Counsel John Durham is very interested in discovering if that Russian intelligence analysis was legitimate, and if so, how the key details from at least one highest level strategy meeting from inside the Hillary Clinton presidential campaign ended up in Putin's hands.
Views expressed in this article are opinions of the author and do not necessarily reflect the views of The Epoch Times.