On the Ball: Why Pass on Manziel???
May 12, 2014 6:16 am Last Updated: April 24, 2016 6:36 am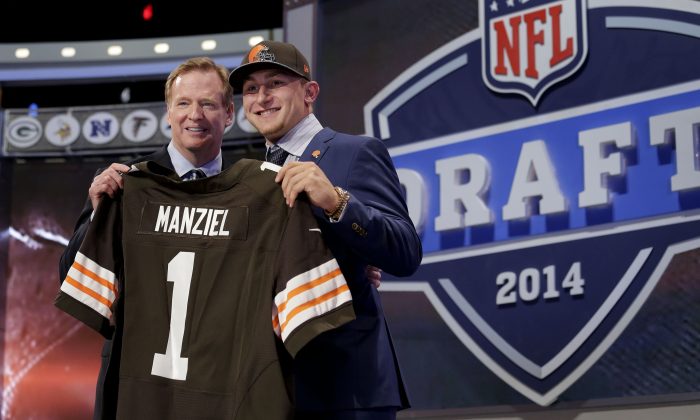 The NFL Draft is one of the biggest teases in sports. At no other time are you more excited for your team's future than when Roger Goodell and Co. gather at Radio City Music Hall for an exhausting three days of bad selections, endless scouting reports, and Mel Kiper, Jr. on caffeine—it's tons of fun.
Every pick has "upside" to them—that is until just before Week 1, at which time roughly half of them (or so it seems) are summarily cut. Then the season starts, the remaining rookies look hopelessly lost, your team misses out on the playoffs again, and you slam your remote on the floor in frustration as you wonder why you're stuck rooting for a franchise that thinks the kid who fired his agent after falling out of the first round is somehow the most qualified to lead the offense. (If you're a Seattle fan, you have no idea what I'm talking about.)
Us lucky New York Jets fans have gotten our hopes up for recent first rounders like Vernon Gholston, Kyle Wilson, and Mark Sanchez, only to watch them stand on the sidelines, take up precious cap space, and even perfect the "butt fumble."
Despite all those forgettable picks, I was still excited for a possible reversal in this year's draft. Of course, I'm also the person who annually picks KU in my March Madness pool—some things never change.
The Jets had 12 picks and I thought my personal favorite, quarterback sensation Johnny Manziel, would possibly be available for them at pick 18—as opposed to the top-10 selection the pundits had predicted.
Why did I think he'd slide? He's undersized, has off-the-field issues, and teams are scared that a mobile quarterback will eventually end up like RGIII—with injuries eroding his play. (Naturally, he still put up better numbers than Geno Smith.)
In any case, I really didn't think the Jets would take him—it would be out of character for GM John Idzik.
Idzik, ever since making waves last year by trading Darrell Revis, has had a fly-under-the-radar kind of mentality. Last year, with little cap space, Idzik was a bargain hunter in free agency. This year, with plenty of cap space, Idzik was still mostly a bargain hunter—not that I disagree with that mentality. Just look at the Washington Redskins.
Given that he took Geno Smith in the second round last year, conventional wisdom around the NFL would make it seem unlikely that he'd then turn around and then invest another high pick—his first-round selection—on a quarterback this year.
Why would he do that? It's only the most important position on the field.
To me, once someone is drafted, it's irrelevant when they were taken—it only matters what they bring to the team. And if Rex Ryan can take a Mark Sanchez-led team to the AFC title game two straight years, imagine what he could do with someone can really put points on the board—like Manziel.
Of course, we all know what happened.
Manziel slid in the draft, the Jets passed on him, and suddenly I need a new remote control.
Some things never change.