NYC Council Wants Heavier Penalties For Hit-and-Run Drivers
September 3, 2014 7:55 pm Last Updated: September 3, 2014 7:55 pm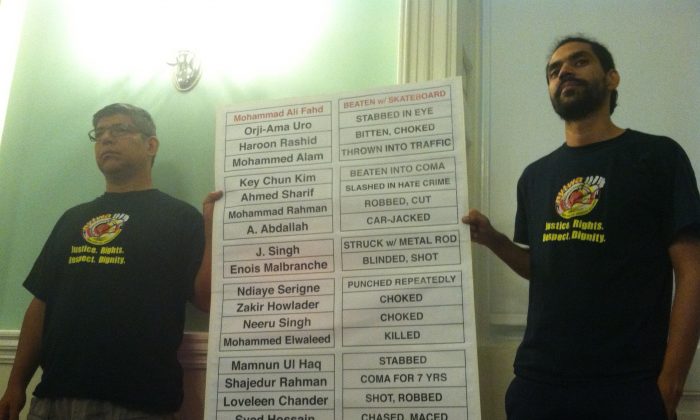 NEW YORK—The New York City Council committee on transportation held a public hearing on Wednesday to introduce two bills: one to enact more severe penalties against hit-and-run drivers and the other to require warning signs, posted in the city's taxi and livery cabs, of the penalties for assaulting drivers. 
Current state laws penalize those who drive while intoxicated more severely than those who flee the scene of a traffic accident.
The stiffer penalties would act as a further deterrent for drivers who might shirk their responsibility, said committee member Jimmy Van Bramer.
Currently, for drivers who leave the scene of an accident without reporting it, the maximum penalty is $5,000. 
The civil penalties are in addition to any criminal penalties the driver may incur.
Taxi Driver Assaults 
Another bill discussed at the hearing would require all taxi and livery cabs to post warning signs of penalties for assaulting a driver. Depending on the type and degree of assault, the accused would be faced with up to 25 years in prison.
The current draft of the bill states that the requirement applies to "every owner of a taxicab and for-hire vehicle." 
Chair of the Taxi and Limousine Commission (TLC), Meera Joshi testified at the hearing, saying that she wishes to change the language in the bill to explicitly include the requirement for vans as well, not just cabs.

Joshi agreed with committee member Carlos Menchaca's suggestion that a digital sign be placed on display screens inside the cabs as well.
Last month, two livery cab drivers were shot and killed in the Bronx. In recent years, there have been numerous other incidents of physical attacks on cab drivers, including some that were hate crimes driven by anti-Muslim feelings toward the drivers. 
Committee member David Greenfield expressed concern about the hate-crime-related assaults and said he would look into ways to better track instances of verbal and physical harassment based on the driver's ethnicity or religion. 
From the beginning of this year to Aug. 24, there have been a total of five felony charges and 38 misdemeanor charges for assaults on yellow and livery cab drivers, according to TLC chair Joshi.
Committee members were also concerned that the perpetrators would not receive due punishment upon arrest, and are considering revisions to the legislation or working with the police department and district attorneys to make sure assailants get convicted.
At the hearing, managing director of the League of Mutual Taxi Owners, Erhan Tuncel, suggested that assaults should carry mandatory jail sentences. 
Executive director of the New York City Taxi Workers Alliance, Bhairavi Desai emphasized that all vehicles within TLC should have the sign-posting requirement.