NY, NJ Representatives Call to Delay Flood Insurance Rate Hikes
September 17, 2013 3:53 pm Last Updated: September 17, 2013 7:12 pm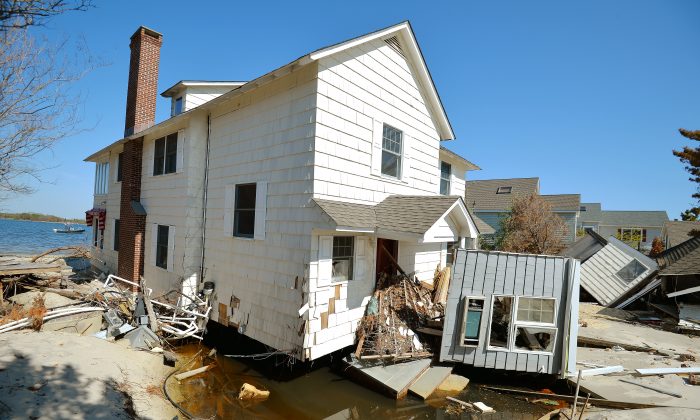 NEW YORK—Less than one year after suffering the devastation of Hurricane Sandy, worry is growing over an impending federal insurance flood rate hike. Rate increases from the National Flood Insurance Premiums (NFIP) are set to go into effect on Oct. 1.
The financial impact on homeowners is raising concerns in the housing market and among mortgage lenders that the higher rate would depress the value of homes and negatively affect the economy.
In a Sept. 9 letter to Congress, the Independent Community Bankers of America (ICBA), representing the interests of 7,000 community banks, expressed "serious concerns about the impact of impending, drastic and unsustainable flood insurance premium increases on homeowners, the housing market, mortgage lenders, and the broader economy."
The ICBA added that although the rate increase has yet to go into effect, the promise of an increase of almost 500 percent in some areas has already begun to depress home values and freeze the market in certain communities. According to the ICBA's assessment of the increase, premiums on some modest single family homes will go up to $25,000 a year or more.
Congressional representatives from the hard hit states of New York and New Jersey have banded together to tell the leadership in the House of Representatives to delay the hikes. A delegation of representatives is asking House leadership to include an amendment to the Biggert-Waters Flood Insurance Reform Act, which legislated the increases.
Members of congress who signed a Sept. 11 letter, asking for the delay for the amendment to be made, included Reps. Michael G. Grimm (R-NY), Jon Runyan (R-NJ), and Frank LoBiondo (R-NJ). Representatives Carolyn McCarthy, Chris Gibson, Peter King, Gregory W. Meeks, Elliot L. Engel, and Chris Smith also signed the letter.
"NFIP premiums will dramatically rise on some homeowners as early as Oct. 1—an increase the families in our districts cannot afford," the letter stated.