Nuclear Power in China a Question of Safety, and Trust
March 27, 2011 5:15 pm Last Updated: October 1, 2015 5:16 pm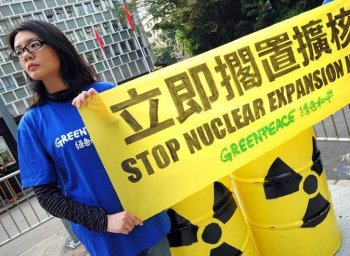 The Japanese Fukushima nuclear plant disaster has sparked fears of nuclear catastrophes in China, where people are increasingly voicing concerns over China's pursuit of nuclear power and its opaque system of oversight.
Though Beijing announced a temporary ban on approval of new nuclear power projects on March 16, it is generally believed that it will keep up its aggressive pursuit of nuclear power.
China now has six running nuclear plants and 12 under construction. An additional 28 have already been approved. The majority of these sites are located in the eastern coastal provinces.
Among the most controversial sites is the Daya Bay plant, about 30 miles north of Hong Kong. When construction began in 1987, one year after the Chernobyl disaster, more than one million Hong Kong residents, about 20 percent of the population, signed a petition against the plant.
Hong Kong is still wary. In May last year, Chinese media reported on a radiation leak three weeks after the fact, making Hong Kong both panicked and indignant over the lack of transparency and security.
On March 20 Hong Kong activists took to the streets to demand the termination of nuclear plant constructions in the region, and urged Hong Kong authorities to stop purchasing electricity from the Daya Bay plant.
In the mainland, bloggers have called for united efforts to resist nuclear power projects, with some blogs receiving multiple pages of supportive remarks. Chinese worry about nuclear leaks and pollution.
"Xinyang is a very bad location for a nuclear plant," Dustinbai wrote on fobshanghai.com about a planned construction in his hometown in Henan Province. "If the [two major] reservoirs became polluted, how could local people live there? … This is totally sacrificing people's wellbeing for profits!"
"I want my hometown's economy to develop fast, but not at the cost of environment and human safety," said another blogger about a planned site in Hubei Province.
Some industry experts also expressed concern over China's ability and dedication to insure safety. The absence of relevant legislation is the biggest issue.
China started drafting an Atomic Energy Act in 1984, but it was never finalized due to disagreements among the many factions involved, the 21 Century Business Herald reported. Without such a basic law it becomes difficult to assign responsibility to specific agencies, and undermines the effectiveness of the entire system, the report said.
Concerns arise from the technological side, too. China's existing nuclear power plants use similar technologies as the Fukushima plant, which rely on electric power to cool the atomic reactor. Vulnerability to power outage is the major defect of such systems.
In order to solve this problem, China is adopting the new AP1000 technology developed by Westinghouse Electric, which features the ability to achieve safe shutdown without an operator and without the need for AC power or pumps. But this technology has failed multiple tests, according to the Guangzhou-based Southern Metropolis Weekly.
In addition to legal and technical issues, corruption in China's environmental supervision agencies also hurts public confidence in the authorities' ability to control nuclear safety.
In her March 18 blog, economist He Qinglian quoted state media Outlook Weekly that "the environmental supervision industry has become a new corruption-intensive zone."
"For a country that can't even control the quality of milk powder, it is hard to believe its nuclear power plants are indestructible," one widely quoted article said .