President Donald Trump said nothing has changed in how the U.S. government will deal with North Korea in light of the communist regime's ballistic missile launch two hours earlier.
"We will take care of that situation," said President Trump in an impromptu press briefing Tuesday afternoon. "We have a very serious approach and nothing changed."
Defense Secretary Gen. Jim Mattis said the ICBM launch revealed a new threatening capability.
"It went higher, frankly, than any previous shot they've taken. It's a research and development effort on their part to continue building ballistic missiles that could threaten everywhere in the world."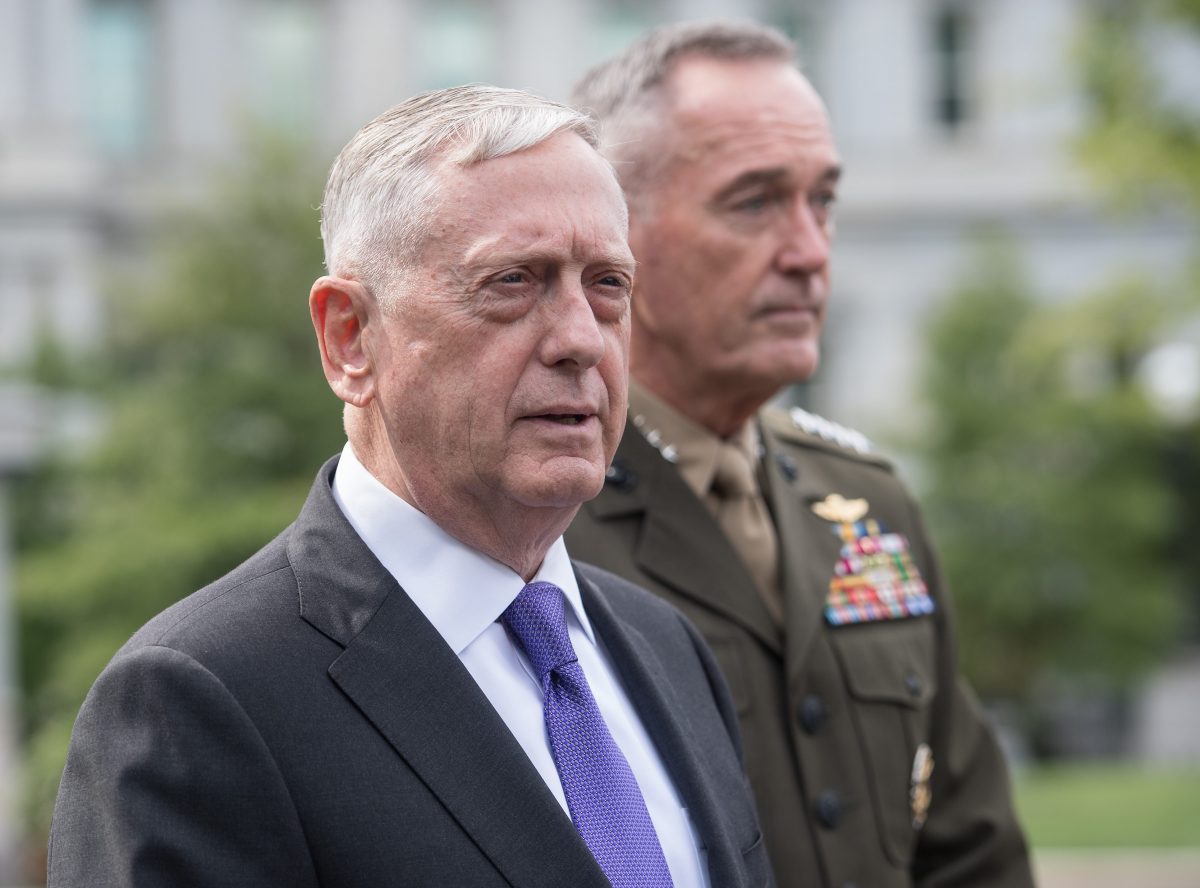 He confirmed that the South Koreans had fired pinpoint ballistic missiles out into the ocean to make sure North Korea understood it could come under fire from the U.S. ally.
"The bottom line is, it's a continued effort to build a threat—a ballistic missile threat—that endangers world peace, regional peace, and certainly, the United States.
The Pentagon released a statement saying the missile was launched at 1:15pm EST from Sain Ni, North Korea and traveled about 1000 km (approximately 620 miles) before splashing down in the Sea of Japan, within Japan's Exclusive Economic Zone (EEZ), which extends about 200km (124 miles) off the coast.
"We are working with our interagency partners on a more detailed assessment of the launch," said the statement.
The Pentagon said The North American Aerospace Defense Command (NORAD) determined the missile did not pose a threat to North America or its allies.

"Our commitment to the defense of our allies, including the Republic of Korea and Japan, in the face of these threats, remains ironclad. We remain prepared to defend ourselves and our allies from any attack or provocation," said the statement.
South Korea responded immediately with a precision missile strike drill.
South Korea's army, navy, and air force staged the 20-minute combined drill close to the Northern Limit Line that separates South from North in the East Sea at 3:23 am, the Joint Chiefs of Staff (JCS) told Yonhap News Agency.
The JCS deployed the army's missile unit, and the navy's Aegis ship, as well as a  KF-16 fighter jet, each firing a missile at a simulated target set based on the the distance to the site where North Korea fired its missile.
The three missiles, a Hyunmoo-II, Haesong-II, and SPICE-2000, hit the target simultaneously, said the JCS
North Korea's ICBM launch breaks the regime's 74-day pause in ballistic missile tests.
Please help support independent journalism by sharing this article far and wide on social media. Thanks!