North Korea Blocks Facebook, Twitter and Youtube
April 1, 2016 2:17 pm Last Updated: April 4, 2016 8:34 am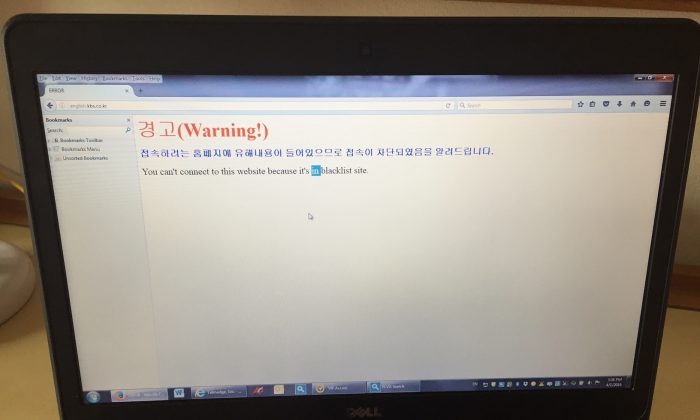 In another effort to seal off North Koreans from the outside world, North Korea has announced it is blocking Facebook, Twitter, and Youtube.
The government will also block Voice of America, South Korean webpages, and gambling and "sex and adult websites."
The Ministry of Posts and Telecommunications posted the announcement this week at North Korea's main mobile service provider, Koryolink, and other places serving Internet users. They said the government will ban the sites "for a certain period of time."
The announcement also said that any individual who tries to hack onto the blocked sites, access them in an "improper" way, or distribute "anti-republic data" from them will be punished by North Korean law.

Although a miniscule number of North Koreans have access to the internet, foreigners had previously been able to use the web with almost no overt restrictions, though they probably had their internet activity monitored.
However, the new internet rule will make it harder for visitors or the small community of foreign residents in North Korea to share real-time information about the nation to the outside world.
The new restrictions from the Kim Jong Un regime will also limit the ability of North Koreans with internet to view information about the country posted from other nations.
Social media sites Facebook and Twitter have been unofficially blocked for months.
Social media sites Facebook and Twitter have been unofficially blocked for months, and could not be accessed on April 1 through a web search in Pyongyang.
In an effort to control how news gets out—and concerned that residents may be looking for ways to get on the internet—North Korea has been quietly experimenting with internet restrictions for a while.
Conversely, the photo sharing platform Instagram was not on the list of blocked sites and was working properly.
However, last year, warnings started to appear on Instagram accounts in the country that said access to the social media site was being denied for "harmful content."
Other websites were also denied through a message on the screen saying, "Warning! You can't connect to this website because it's in blacklist site."
The Associated Press contributed to this report.