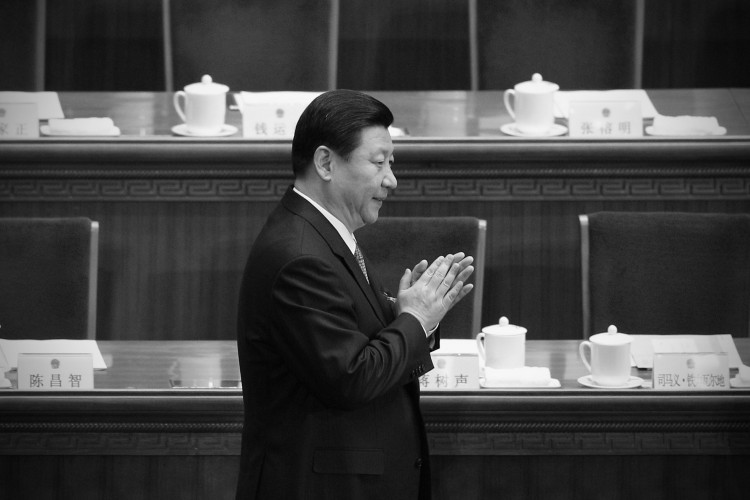 Nature abhors a vacuum. And the Chinese Internet rumor mill abhors a lack of explanation—so they scramble to fill in the blanks. The fact that Xi Jinping, the anointed next leader of the Chinese Communist Party, and currently its vice chairman, has missed several recent important official engagements has been enough to send bloggers into overdrive.  
All manner of explanations has been proffered for Xi's failure to meet with Secretary of State Clinton and other foreign officials over the weekend. On Monday he missed another scheduled meeting with Danish Prime Minister Helle Thorning-Schmidt, an indication that perhaps one of the multifarious explanations about what happened to him has something to it.
Chinese officials reportedly told American officials that a "back injury" prevented Xi from meeting Clinton. But that raised more questions than it answered for hungry Chinese news consumers. The last time Xi appeared in public was on Sept. 1.
He injured his back in an assassination attempt, went one line of thinking (the "Made in China" bulletproof vest was faulty, a netizen jested).
No, he injured it while swimming (or maybe playing soccer), went another two.
But the one that got the most traction is that he injured his back, or worse, in a car accident.
Overseas Chinese dissident website Boxun said with all due seriousness Monday that Xi, and head of the Central Commission for Discipline Inspection He Guoqiang, were injured in two separate road accidents on Sept. 4. It went on to describe the supposed times and places and all relevant particulars.
The report said that the 301 Military Hospital is currently heavily guarded, suggesting that a high-level official is undergoing treatment there.
According to Boxun's narrative, the source claimed that a military officer, who was an ardent supporter of ousted Politburo member Bo Xilai, was behind the plot on Xi and sought revenge over the way Bo had been handled.
The report also claimed that the powerful security czar, Zhou Yongkang, an ally of former leader Jiang Zemin and Bo, was likely involved in the plot.
Then Boxun pulled the article down two hours later without an explanation.
Zhang Tianling, an adjunct professor at George Mason University and a frequent commentator on Chinese regime politics, told The Epoch Times that the Ministry of Foreign Affairs is usually quick to deny it if any high-ranking Party officials are injured or sick, so that doesn't mean much.
"For example, when Huang Ju, the former vice premier of the State Council, was said to be terminally ill—even when it was true—the Foreign Affairs Ministry still claimed that Huang was doing very well and was recovering," Zhang said. A few months later, in June 2007, Huang Ju died from the illness.
The Epoch Times publishes in 35 countries and in 19 languages. Subscribe to our e-newsletter.
Editor's Note: When Chongqing's former top cop, Wang Lijun, fled for his life to the U.S. Consulate in Chengdu on Feb. 6, he set in motion a political storm that has not subsided. The battle behind the scenes turns on what stance officials take toward the persecution of Falun Gong. The faction with bloody hands—the officials former CCP head Jiang Zemin promoted in order to carry out the persecution—is seeking to avoid accountability for their crimes and to continue the campaign. Other officials are refusing to participate in the persecution any longer. Events present a clear choice to the officials and citizens of China, as well as people around the world: either support or oppose the persecution of Falun Gong. History will record the choice each person makes.
Click www.ept.ms/ccp-crisis to read about the most recent developments in the ongoing crisis within the Chinese communist regime. In this special topic, we provide readers with the necessary context to understand the situation. Get the RSS feed. Who are the Major Players?