New York City's First Micro-Apartments Designed
January 23, 2013 12:56 am Last Updated: January 26, 2013 10:56 am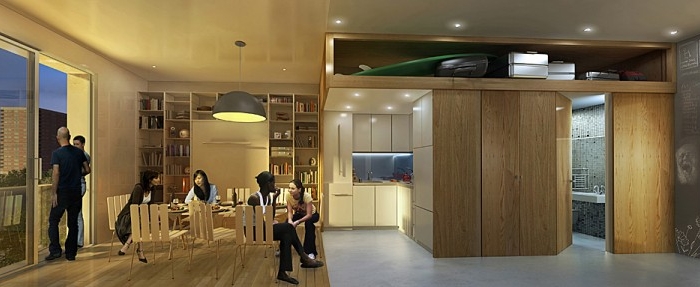 NEW YORK—Singles and couples make up most of the city's demographic—nearly half of New Yorkers are single. But most living spaces in New York are built for nuclear families, where two parents live with children under the age of 25; yet only 18 percent of the city's housing is occupied by an actual nuclear family.
The city's population is expected to increase in that direction by 1.1 million residents by 2030, and the city is currently short of around 800,000 houses, according to the Mayor's office.
The city plans to build 55 micro-apartments on a block of land in Gramercy as a pilot test for micro-apartment development in New York—which would require a building code change in current regulations. On Tuesday, Mayor Bloomberg announced the winner of design competition for the micro-apartments.
Out of 33 proposals, New York City development team Monadnock Development LLC won the design competition with its My Micro NY.
The floor to ceiling measurement will be 9 feet 10 inches. The micro-units can be as small as 250 square feet, while the largest will be 370 square feet. The smallest studios in New York are currently 400 square feet.

Forty percent of 55 new micro-apartments will be available for low and middle-income New Yorkers. A lottery system will decide which low-income residents will be able to move there. The rent for low-income residents will cost $940. Higher income residents will pay $1,700–$1,800.
"It's a lot better than the apartment I lived in for the first 10 years," Bloomberg joked.
The 55 units will be built on 335 E. 27th St., a plot of government-owned land. "This lot is typical city lot, so pilot is easily replicated," Mayor Bloomberg said. After the development, the land will be sold for half a million dollars.

Because the units are built on government land, the mayor is able to waive certain zoning regulations. Under current law, the micro-apartments do not abide by the city's building code for density and unit space.
Many single New Yorkers cannot afford a nuclear family home in Manhattan and the shortage of suitable housing has led to illegal living situations.
Sarah Watson, senior policy analyst for Citizens Housing and Planning Council, said the density and unit space regulation is unrelated to fire hazards or physical safety, but exists to meet the needs of nuclear households.
"These regulations are value based, but not based on [our current] reality," she said.

The Design
The design aims to make use of every single inch possible. In the exhibit, the kitchen wall can turn into a broom closet, and its cabinets can hold enough kitchenware to serve 12 people. The apartment's storage will include a 16-foot loft space. Its kitchen can hold a full-height pullout pantry, a fridge, and a convection microwave.
The developers will use modular construction to build the micro-apartments. Modular construction is said to be more environmental-friendly and efficient since the plumbing, electrical, and building development is completed indoors.

The cost savings from modular construction allows the developers to house low-income residents without government subsidy.
The modules will be prefabricated at the Brooklyn Navy Yard and will be the first multiunit Manhattan building to develop with modular construction—which will take two weeks to hoist into place.
Construction, however, will not begin until the end of 2013. Residents are not expected to move in until September 2015.

It will be a few years before it can be determined whether the micro-apartment concept works and can be replicated on a large scale.
In the meantime, the Museum of the City of New York offers an exhibit called Making Room: New Models for Housing New Yorkers, which displays the winning proposal and four notable submissions.

"With this exhibition, the Museum of the City of New York and the Citizens Housing & Planning Council are giving New Yorkers a glimpse into the future of housing in our city," said Susan Henshaw Jones, Ronay Menschel director of the Museum of the City of New York.
Notable proposals include mini-studios for single adults, new shared housing options, and accessory units for extended families for various housing market niches.
Sarah Watson, senior policy analyst for Citizens Housing and Planning Council, said the module for units made to cater to extended families will rise in areas such as Queens, where there are a large number of immigrants who live with extended family members. "It's natural, if a mother-in-law loses her husband, where is she going to go?" she said.
The exhibit opens Jan. 23.
The Epoch Times publishes in 35 countries and in 21 languages. Subscribe to our e-newsletter.
Please send news tips to [email protected]