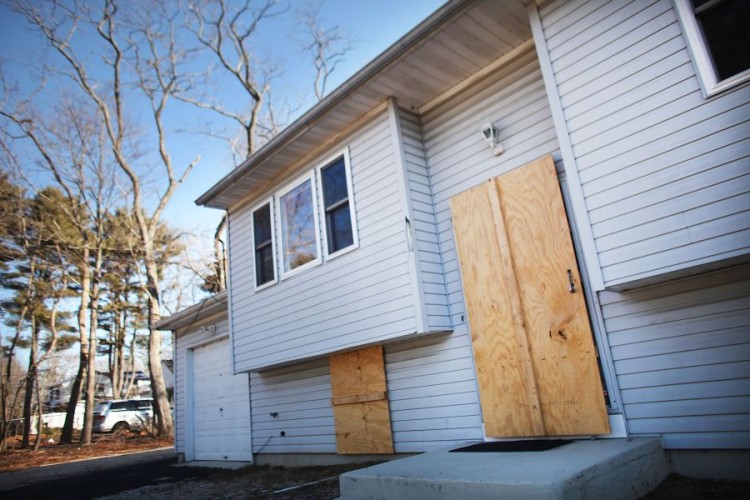 NEW YORK—New York City is joining a nationwide trend—with larger numbers of home foreclosures each month.
Manhattan saw a 92 percent increase in foreclosures between January and February, and the figure is expected to go even higher next month. Updated data from RealtyTrac.com showed 98 residential properties going through some type pre-foreclosure process last month—including default notices, auction sale notices, and bank repossessions. This is a 48 percent increase from a year ago. Statewide there were 1,482 properties in the foreclosure process in February this year.
Nationwide, more than 6600 family homes are lost to foreclosure every day, according to the National Association of Consumer Bankruptcy Association (NACBA). More than 8,000,000 American homes are expected to be lost in foreclosure in the next five years.
Manhattan Mixed

There are mixed opinions about the Manhattan market. Some experts say the situation is dire and about to get worse. Others say they have not seen many homeowners enter the foreclosure process.
Attorney-broker Michele Peters, Esq. has been in the business for 25 years and says she has never seen anything implode as greatly as the Manhattan real estate market in the last three months.
"It took me by surprise, completely. It suddenly went from five investment banks on Wall Street to zero. Wall Street is no more," Peters said, owner of Weichert Realtors-Peters Associates in Manhattan and court-appointed mediator for mortgage foreclosures in New Jersey.
"We're in a bad state of affairs … I think in Manhattan we are just at the very beginning of it."
President of the Real Estate Board of New York (REBNY) Steven Spinola said there has been an increase in foreclosures in the Manhattan area but is positive that Manhattan real estate will bounce back and hold up over time.
"Obviously we're feeling some pain at the moment … [But] the Manhattan market has not dropped as far as the rest of the country has been dropping. And even when you compare Manhattan to the other boroughs in the city the numbers of foreclosures and problems are substantially less," Spinola said.
Coops Helped Stabilize

Spinola said the number of coops in the city has helped stave off higher foreclosure numbers, due to their internal rules for financing. He said some are only allowing up to 50-80 percent of financing.
"So there was this second barrier of protection for coops in the city that was really carried on by the other owners of coops in their own buildings. And so as a result of that you did not have the abuse of the financing at 110, 120, 150 percent of value."
Senior Managing Director of Century 21, New York Metro, Jorden Tepper, said his company has not experienced any foreclosures in the Manhattan market, although it is likely the amount of foreclosures in Manhattan will increase "slightly."
"I think the market in Manhattan, on a comparative basis to the boroughs or certainly other markets in the country we still have the lowest foreclosure rate, possibly in the country," Mr Tepper said.
Full Impact of Job Losses

Thousands of job losses in the past few months are having an impact on real estate in Manhattan.
"There's no question New York City real estate, especially Manhattan real estate very much is tied to bonuses … Wall Street gets in people who go out and buy as a result," Spinola said.
He said the lay-offs have also meant younger people are choosing to live with their parents—changing the rental market.
Peters said a third of the 243,000 job losses in New York were from the financial district. "I know husbands and wives, they've both lost their jobs, the wife is pregnant, they've got babies at home."
"People are losing their jobs and you have a limited amount of savings to cover this. I am very passionate about this subject because it is something that we must all take very seriously."
For those heading into foreclosure, Peters recommends finding a good consumer bankruptcy attorney.
"Do not do any under-the-table deals," she warned.
Senate Bill 61

Peters is pushing for support of Senate Bill 61—"Helping Families Save Their Homes in Bankruptcy Act of 2009"—a measure aimed at slowing foreclosures by giving judges the right to override lenders and allow borrowers to refinance at rates they can afford.
The Bill would give homeowners the ability to restructure their home mortgages by reducing the loan amounts to the value of the home, according to NACBA. The measure would also re-set the current high rates of interest to much lower fixed rates, and re-amortize loans to 30- or 40-year loans.
Last week the bill was passed by the House, but needs to be re-introduced to the Senate this week, Peters said. Banks are lobbying to block the bill, she said.
"There are still lenders out there who are playing hardball—big time. Especially if they think they can still get more blood from a stone. And that's the importance of supporting the Senate Bill 61," she said.

Spinola was more cautious about the bill, but conceded that it is in everyone's interest to try to work out loan payments. "It's in the interests of the financial institution and it's in the interests of the person who borrowed.
"I would have some concerns if the courts are going to have the ability to totally ignore what the contract basically said, and you have to look beyond, what was the reasons for the trouble? Was the trouble because somebody had lost their job? Was the trouble because somebody who was making $100,000 wanted to buy a $2 million home?" he said.
Around the Country

California is being hardest hit with more than 80,000 foreclosures last month, according to statistics from RealtyTrac.com.
Reports of a tent city growing in Sacramento has led public officials to talk of making a permanent site for the burgeoning number of homeless. Eli Tene of Bridgelock Capital and iShortSale.com in Los Angeles said that in California there are many that have lost 70-80 percent of their home values.
Top 15 Foreclosure States for February 2009.
Includes properties that have received default notice, foreclosure auction, or bank repossession.
California – 80,775
Florida – 46,391
Arizona – 18,119
Nevada – 15,783
Illinois – 14,218
Michigan – 12,564
Ohio – 11,231
Texas – 10,527
Georgia – 10,185
Virginia – 4,823
Indiana – 4,406
New York – 4,301
Colorado – 4,219
Pennsylvania – 4,192
Tennessee – 3,691
Data from RealtyTrac.com
Top 15 Foreclosure States for February 2009.
Includes properties that have received default notice, foreclosure auction, or bank repossession.
Las Vegas, NV – 29,419
Phoenix, AZ – 18,074
Chicago, IL – 15,701
Sacramento, CA – 8,745
Los Angeles, CA – 8,347
San Diego, CA – 6,895
Tampa, FL – 6,577
Miami, FL – 6,445
Bakersfield, CA – 6,394
North Las Vegas, NV – 6,330
Indianapolis, IN – 6,163
Atlanta, GA – 5,762
Orlando, FL – 5,665
San Jose, CA – 5,537
Cape Coral, FL – 5,509
Data from Trulia.com