The Shabby Tabby. Catpurrccinos. Meow Parlour.
Other than their cutsie names being borderline annoying, these businesses have another thing in common: they're cat cafes, all located in New York.
The cafe part is easy to understand—teas, espresso drinks, pastries—a cafe.
But a cat cafe?
Picture yourself seated at a table, sipping a latte, and dozens of cats roam around you freely. You can play with them, and if you really want to, adopt one for your own.
The very first cat cafe opened in Taipei, Taiwan, in 1998, but it was in Japan where their popularity grew. Eventually they made their way to Europe and then, only recently, North America. And even more recently than that, New York.
Ryan Shea, owner of The Shabby Tabby in Sayville, Long Island, had her first visit to a cat cafe in Colorado, in 2017. This was followed by the death of her cat, Brody, which inspired her to start volunteering at animal shelters the same year.
It was then she connected the dots and saw Long Island could use a cat cafe, to make it easy to adopt homeless cats. She partnered with Almost Home Animal Rescue and Adoption, and opened The Shabby Tabby in 2018, as Long Island's very first cat cafe. Almost Home provides her with the adoptable cats.
At any given time, there are about 30 cats at The Shabby Tabby and it has an adoption rate of about 30 per month. There's an entrance fee of $15 for one hour, which includes drinks, and the adoption fee of $125 goes to Almost Home.
During the 2020 lockdown The Shabby Tabby was closed, although there were still adoptions by appointment. Shea is also a registered nurse, so she worked in that capacity, which enabled her to keep the cafe in business.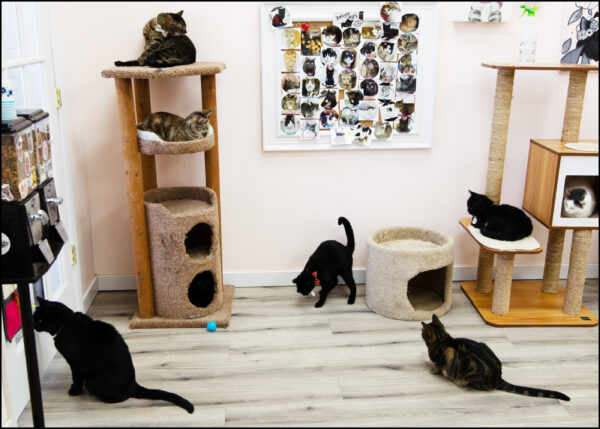 Catpurrccinos is a family affair in Huntington, Long Island, run by Jimmy Oliva, his daughter, Brittany, and her fiance, Christopher Cafiero.
It's divided into two parts. The streetside is full-blown sandwich shop. They have a staff of two cooks on hand to make hot sandwiches, soups, desserts, teas and espresso drinks.
Since Oliva views Huntington as a "foodie town," and with his family's background in the restaurant business, it made sense to him to include an actual restaurant in his cat cafe.
The backside of the building is the cattery. Oliva went to great lengths to ensure that no cat odors, or allergens, spoil anyone's dining experience.
Kayla Proux oversees the volunteer staff at the cattery. She's also the full-time vet tech, who monitors the health of the cats, giving medications when necessary.
There's an on-site veterinarian, Laurie Buscemi, who volunteers every Wednesday.
Unlike most other cat cafes that rely on rescue/adoption services to supply them adoptable cats, Oliva runs his own, called Feral to Family.
As a legitimate charity, Feral to Family relies on donations to operate. However, over the years Oliva has spent almost $100,000 of his own money for the care of the homeless cats he takes in.
Although the restaurant portion of the business helps fund the cattery, many of the expenses are still covered by Oliva himself, who also works in the technology industry.
Catpurrccinos, which celebrates its second anniversary on December 1, can have more than 40 cats roaming the place on any given day.
Catpurrccinos and Feral to Family go through about 10,000 pounds of litter, 4,000 cans of cat food, and 400 pounds of dry food, each month.
The staff just doesn't handover a cat to anyone who wants one. There's a vetting process to confirm the humans and the felines are a good match.
Having the cattery, where potential adopters can get to know their potential adoptees over a period of time, is the first step.
Someone from the staff will also pay a visit to the houses where the cats will live, to ensure they're a safe environment.
They do background checks and check both references and vet records.
They've turned down hundreds of applicants who they deemed as not good fits.
Catpurrccinos found homes for about 300 cats this year and around 400 last year.
Oliva and Cafiero debunk the myth that it's only "crazy cat ladies" who take in strays.
Jennifer Rose Sinz owns All About Pets Rescue in Lake Ronkonkoma, Long Island.
She and her husband, Bill Sinz, opened A Kitten Kadoodle Coffee Cafe in Selden, Long Island, in July of 2019.
The cat cafe lasted a year-and-a-half and shuttered its doors in December 2020, a victim of the Chinese Communist Party (CCP) virus lockdown. In that year-and-a-half, patrons adopted more than 200 cats.
As with Catpurrccinos, A Kitten Kadoodle and the rescue/adoption service were the same people.
Sinz had a similar vetting process for adopters. She continues to run the charity out of her house.
In New York City, Brooklyn is home to Brooklyn Cat Cafe and Manhattan is home to Meow Parlour, and Koneko, which means "kitten" in Japanese.
Koneko bills itself as "America's first Japanese-inspired cat cafe." It's is partnered with Anjellicle Cats Rescue, and Meow Parlour is partnered with the rescue, KittyKind.
Meow Parlour, which opened in 2014, has the distinction of being New York City's first cat cafe.
At the end of the day, it's the love these cat cafe owners have for the animals that makes them do what they do.
"There's no profitability in rescue," said Oliva. "There's a bigger mission here, you know?"