Qantas will add a raft of new flights on routes to and from Canberra, the nation's capital, as it expands its network following the reopening of some of Australia's interstate borders.
The airline announced on Friday the new routes, which have never been serviced by Qantas before, will see flights operating from Canberra to Cairns, the Sunshine Coast, and Hobart.
The Flying Kangaroo will operate flights three times per week from Canberra to the Sunshine Coast in sunny Queensland starting on Nov. 19.
Additionally, Canberra to Cairns flights will operate twice per week starting from Nov. 21, and flights from Canberra to Hobart will operate three times per week starting from Dec. 4.
Qantas has launched a three-day sale on one-way fares for passengers travelling on selected travel dates—Canberra-Cairns from $199; Canberra-Sunshine Coast from $169; and Canberra-Hobart $159.
The announcement comes after the airline successfully began servicing a flight route between Canberra and the Gold Coast.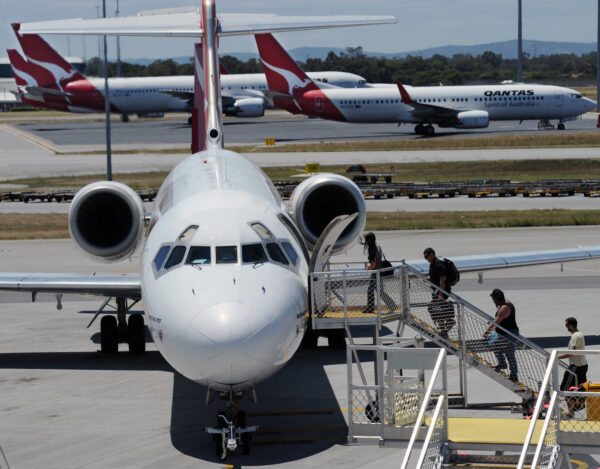 Qantas Domestic and International CEO Andrew David said that Australians had been inspired to explore their own backyard more than ever while the international borders remain close.
"We've taken a fresh look at our network, creating new direct services, which were previously only available by connecting via another city, saving customers up to two hours travel time," David said in a media release.
"These flights are great news for travellers who will now have more direct flights between Canberra and Cairns, Noosa and Hobart. It will also mean we can get more of our people back to work."
The airline will service the routes with a fleet of Boing 717s that will feature 12 seats in business and 98 seats in economy.
In the wake of the CCP virus pandemic, Qantas downsized its operations to survive. But now that state and territory governments are lifting restrictions the airline is hopping onto opportunities to open new routes.
Earlier in November, Qantas announced that it would soon operate flights between Hobart and Perth, for the first time in its history, following the easing of border restrictions between Western Australia and Tasmania. The Hobart-Perth route is due to begin from Nov. 14 with flights operating three days per week on a Boeing 737 aircraft.