New Guidelines for Treating Depression Emphasize Everyday Ability to Function
February 28, 2010 6:52 am Last Updated: October 1, 2015 8:40 pm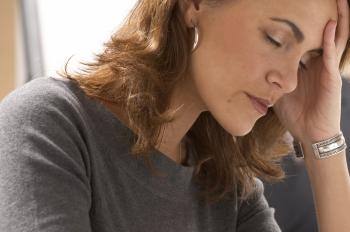 Canadian psychiatrists and family physicians have a new set of guidelines for treating depression focusing on the use of structured questionnaires to emphasize patients' improvement and help increase dialogue between doctor and patient.
The Guidelines for the Management of Major Depressive Disorder in Adults, released by the Canadian Network for Mood and Anxiety Treatments (CANMAT), are the first revisions since nationally recognized depression guidelines were last published in 2001.
"In 2009 we reported on new treatment advances, but we also took a stronger position on measuring outcomes in a more structured and formal way," said Dr. Sidney Kennedy, founding chair of CANMAT.
"That would apply to the measurement of changes in symptoms while somebody is treated. Also we put an emphasis on evaluating people's functional outcomes and how they're performing in their everyday life, at work, in their social activities, and so on."
Dr. Kennedy, Psychiatrist-in-Chief with the University Health Network and a professor of psychiatry at University of Toronto, said that despite the severe impact depression can have on a person's ability to function in daily life, patients are not always discussing these symptoms with their doctors.
To address this challenge, the new guidelines recommend, for the first time, the use of "validated scales" that allow patients to self-report or indicate to an interviewer how they are responding to treatment.
For example, at the start of treatment patients might indicate on a scale of zero to 10 whether their symptoms have disrupted work, social life, or home life.
Measures focus on different aspects such as people's energy, concentration, irritability, ability to make decisions, and workplace performance, including productivity, quality of work done, number of errors made, and interpersonal relationships.
Patients then give responses against the same scales every few weeks during the course of treatment.
"These kinds of structured questions help [the doctor] to provide feedback to patients who don't even realize sometimes that there's been a marked improvement," Dr. Kennedy said.
Researchers have always used rating scales to measure outcomes with new treatments, but "the point we're making is that everyday practice needs to include measures of work, activities, and symptoms."
These measures help give both patients and healthcare providers more concrete information on how treatment is helping people physically, such as in terms of better sleep and mood states, as well as in practical ways related to their ability to function in everyday life.
Canada is one of the leading countries where both primary care family physicians and psychiatrists are adopting more measurement tools to evaluate outcomes with psychiatric patients, Dr. Kennedy said.
Nearly three million Canadians will experience depression in their lifetime, and most people affected are in their working years, between ages 24 and 44. The illness is the largest cost in the workplace in terms of both presenteeism and absenteeism, said Dr. Kennedy.
"By presenteeism, I mean people going to work and performing at a much lower level than they're capable of, or is probably acceptable in the workplace … It's a huge cost burden."
A 2009 national survey conducted by Leger Marketing found that 87 percent of people living with depression exhibit at least moderate impairment, and 59 percent exhibit severe or very severe impairment as a result of the disorder.
In addition, depression is frequently recurrent and must be treated properly as early as possible to minimize risk of relapse, Dr. Kennedy said.
Treatment can also help minimize risk of other medical conditions, since people with depression are more likely to develop diabetes, heart disease, and many other physical illnesses, he said.
The guidelines cover treatment advances in psychotherapies; medication; neuro-stimulation, such as trans-cranial magnetic stimulation and more experimental treatments like deep brain stimulation; and complementary and alternative medicine treatments.
"We explore the evidence for everything from fish oils, to St. John's Wort, to yoga, to light therapy, to exercise," said Dr. Kennedy.
He encouraged people living with depression to work with their doctors to track their progress against how they're functioning in different aspects of their life.
"We know that when you get to a level where these things have been taken care of, people are less likely to have a relapse or a recurrence," he said.